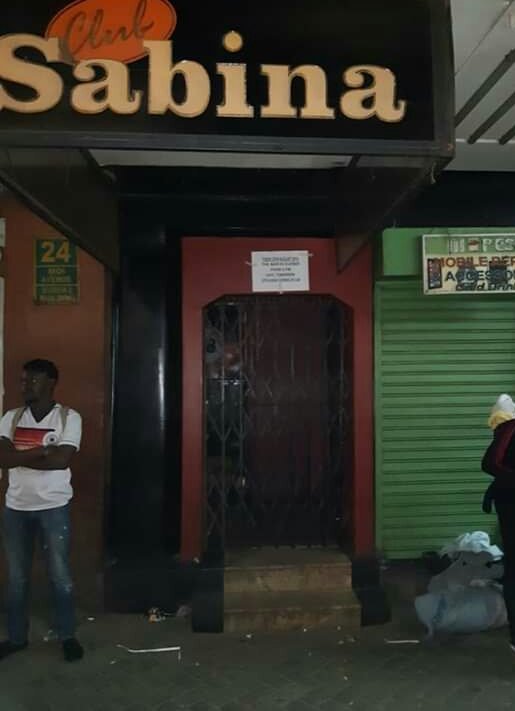 For a while now, Kenyans have been known to break rules but it seems our habits are slowly going into the drain. Many would have thought Matiang'is directive to have bars and clubs closed for the much awaited census was a joke, but not anymore. Sabina Joy Nairobi, is not new to most oldies as it has been in existence for as long as one can remember.
Men looking for adult entertainment outside the harsh eyes of the public mostly visit Sabina joy club Nairobi. This is the place where men let loose and enjoy a good time with women of their choice.
The women at Sabina joy pub Nairobi are receptive and ever eager to please the men who come to them for this kind of fun. Had a tough day?  The place was formerly known as karumaindo. This place is feared and many whisper that it is a joint with its own crew.
However, Sabina Joy bar and joint Nairobi Kenya is one of the most interesting places to visit in Nairobi. With the directive to have bars closed for the weekend census, the famous brothel in Nairoi's CBD, remained closed.
Sabina Joy closed for the second time in history. First time was during the 1982 attempted coup.
Matiangi has successfully managed to stop reggae.. Sabina Joy has closed its doors.. Last time those doors were closed was during the attempted 1982 coup

— Mr. Kimaru (@roba2099) August 24, 2019
Many were shocked about the closure and ths sparked some excitement among Kenyans. Check out their reactions.
Hadi wamefunga Sabina Joy juu ya census?
Hii ni Breaking News.
This is the club that closes once every 5 years, enyewe Matiang'i is powerful! pic.twitter.com/9gObsTv0fX

— Philip Mwaniki (@Mwanikih) August 24, 2019
Sabina joy imefungwa. Reggae has been stopped

— Droo (@droopyndoch) August 24, 2019
Since independence @FredMatiangi ensured that the doors are closed i thought they will defy him, this is the kind of leader we want to have come 2022,Sabina Joy club broke history yawa. pic.twitter.com/S0ROdJUZa4

— Hillaire Lilechi 🇰🇪 🌍 (@hills_prince) August 25, 2019
So today for the first time Sabina Joy will be closed…#census2019

— Mukolwe Frankline (@mukolwefrank) August 24, 2019