The half-life of quality performance in the English Premier League is frankly a mysterious thing.
Some players can leverage a good display into a free ride for quite a while; some barely get the leeway of one poor game before the critics re-emerge.
Manchester United is a good example for our said statement. It is evident that the Red Devils do not receive equal treatments from the entire club's fraternity.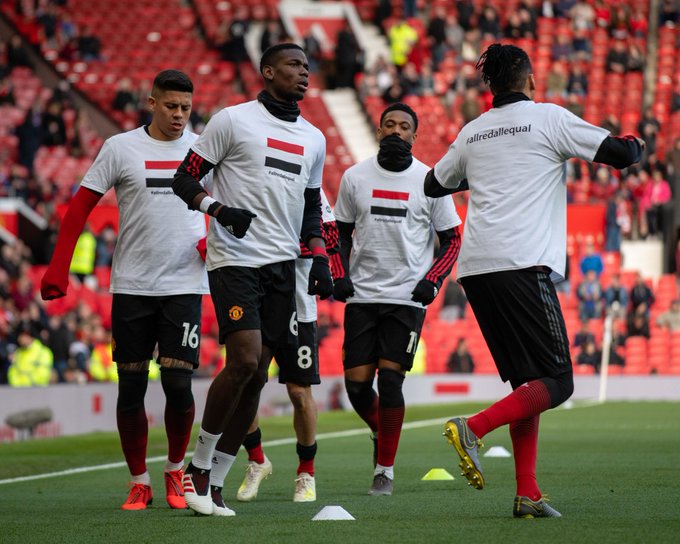 Let's have a comparison of two United players- Paul Pogba and Jesse Lingard to build our case.
Vilified and adored in equal measure, Pogba plays a very significant role in the dressing room of Man United. He is an on and off player, but that is the nature of football.
The Frenchman usually receives a lot of praise when he scores or makes an important assist in a match. But this praise is always short-lived as he becomes a subject of abuse and troll for a little mistake, which is common to any human being. This is the time when his colour becomes visible to fans with many calling for his release.
Lingard, on his part, is one of the players who are considered 'golden boys' in the club as their mistakes or meagre shows have never been visible to many.
For instance, since May last year, the English midfielder has only provided 4 goals and 2 assists but was never mentioned among the players that need to be released in the summer.
So the biggest question is- Why is he still a starter yet he has no goal or assist in 2019?
Fans had this to say regarding the troubling question;
He is English player from United academy with United DNA.
And they shipped of Lukaku while Lingz earns fat pay weekly for doing nothing.
Shameful!

— Olamide (@olajideobe) August 23, 2019
YOUNG? Turning 28 in 3 months😂😂😂😂😂

— Neo Legodi (@NeoLegodi1) August 23, 2019
Dude will be 27 years old by Christmas he's literally in his prime

— chigzi_travis (@iamchigzi) August 23, 2019
Masa..goals win games…He's the central attacking midfielder for the team, he should be doing either one of those

— Darth_Vader (@Godbless_Gabby) August 23, 2019
If you're happy with Ole and Lingard you have no standards

— Idk FC🔰 (@geniusLUHG) August 23, 2019
Because he's got potential. World class prospect.

— Brian (@CFCBrian_) August 23, 2019
His nationality

— Yaser (@Yaserlfc2) August 23, 2019
Cause he's a good cheerleader pic.twitter.com/8Jx1cax6RD

— Seri D (@SeriD) August 23, 2019
Because he does a "cool" dance and probably sells a few jerseys to the kids on the back of it. Beans, beans, beans. Thick

— John Dunney (@dunney_john) August 23, 2019
I agree with you, if lingard not from academy, he'll have many criticism

— Jan Esteh (@Deva_Anjas) August 23, 2019
Who do you think should replace him in the United line up? 🤔

— Free Super Tips (@FootySuperTips) August 23, 2019
True that! Pretty much underrated in recent times.

— Osita Crownwell (@ositacrownwell) August 23, 2019
Simply because he's English….. pic.twitter.com/6l3SHoBDDz

— Rashid LK (@Rashid_LK) August 23, 2019
What's with bashing kids just out of the academy all the time? Give him a chance will you.

— The Pink Echo (@ThePinkEcho) August 23, 2019