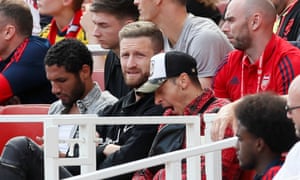 Arsenal manager Unia Emery categorically stated in his Pre-Liverpool press conference that he has told Shkodran Mustafi and Mohamed Elneny they can leave the club.
The two have been Arsenal's worst performers in the last few seasons and were left out of the team's first two Premier League match squads despite being fully fit this season.
"They are very big players but for one circumstance or another they are going to have fewer chances to show their capacity or to be happy with us and the minutes they play in matches," Emery said. "But they know the situation and really I am wishing the best for them. I think now the best for them is to be protagonists in another team and to get another challenge for themselves."
The news have been positively received by the Emirates faithful..
"Unai Emery tells Mustafi and Elneny to leave Arsenal this month for the good of their careers" -Charles Watts

"They know the situation. I think it's positive for them [Mustafi and Elneny] to leave." – Unai Emery

Arsenal fans to Emery right now 🔽 pic.twitter.com/gKuL6mzXV8

— HighburyAFCSoul🔴 (@lordsanogo_afc) August 23, 2019
I salute Emery for having the balls to tell Elneny and Mustafi what I'm sure Wenger wouldn't have been able to pic.twitter.com/w10MdfVliH

— Joseph Asuquo (@kjasuquo) August 23, 2019
https://twitter.com/buryhigh1/status/1164817501223395329?s=20
https://twitter.com/fabianmansson_/status/1164794501287665664?s=20
Mustafi, in particular, seems to not have a future at the club after falling out with the fans. He was booed during Arsenal's preseason tour in the United States and again in the Emirates Cup clash with Lyon at the Emirates Stadium.