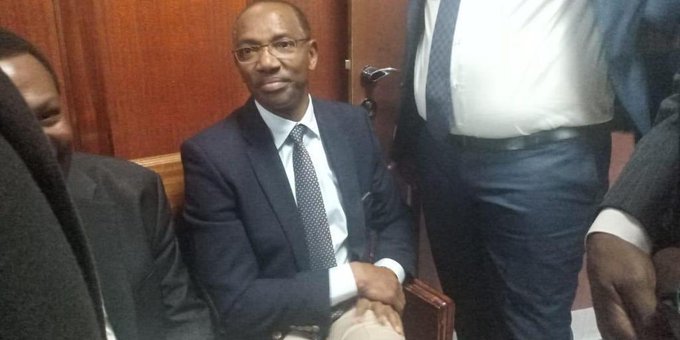 Just how incompetent can our detectives be? For several days, they have made us believe that wanted billionaire Humphrey Kariuki is on the run.
Detectives said Kariuki was hiding in London and DCI George Kinoti even threatened to issue an arrest warranted for the business mogul who is wanted for tax evasion.
But alas! Kariuki mysteriously presented himself at the Milimani Law Courts on Monday morning. It is not clear how he managed to do that with everyone on his trail.
Billionaire Humphrey Kariuki appers in Court. At the same time kenyan detectives are looking for Him in London #MtkenyaforRuto pic.twitter.com/dSHMFSOymG

— Mt Kenya for William Ruto 🇰🇪 (@MtKenyaforRuto) August 19, 2019
The Director of Public Prosecutions (DPP) ordered for Kariuki's arrest on 8th of August after investigations and an audit by the Kenya Revenue Authority (KRA) revealed their company had evaded tax amounting to Sh41, 539, 038, 448.
Kinoti then sent a stern warning to the controversial businessman, threatening to use Interpol to catch him.
"We shall go for him from wherever he shall be, as long as it is on this earth.  There is no option. He must face the law," he said.
It was rumoured that he had been in South Africa and then travelled to London. Mainstream media reported that he was on his way to Cyprus, where he is a citizen.
But how did he find his way back to the country with everyone after him?
Msito Humphrey Kariuki is in Court Today..

Jamaa operates in his own way.
Sai yuko kortini not many people got wind of it.
For a case of 41B, yet he goes to court without the fanfare ya DPP or DCI hehe. Huyu ni master. pic.twitter.com/qjvSZoGBeS

— MuthuiMkenya 🇰🇪 (@MuthuiMkenya) August 19, 2019
Billionaire businessman Humphrey Kariuki in court to face Sh41b tax evasion charge. pic.twitter.com/nI4uLo7jub

— MulembeFM (@Mulembe_FM) August 19, 2019
Last week, the court once again ordered the freezing of his bank accounts. But the freezing order was suspended on Thursday after his lawyers assured the court that he would present himself.
Similar orders to freeze Mr Kariuki's accounts were made on March 24.