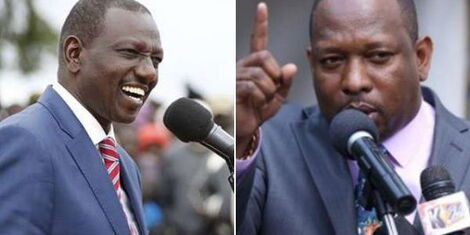 Deputy President William Ruto outburst after Nairobi Governor Mike Sonko's vowed to announce deadbeat dads in the political sphere has invited mixed reactions among Kenyans.
Speaking on Friday, the second in command argued that it was senseless to create drama while exposing children sired out of wedlock since children belong to all of us.
Ruto claimed that cases of misreporting those involved will probably occur not unless it is the mother of the child making such allegations.
"Nobody knows for sure who the fathers of any children are, apart from the mothers themselves. Hence, if the mother says that the baby belongs to a particular person, then, that's what holds," Ruto argued.
In response, Sonko took to his Facebook page to post; 'Thank you, Your Excellency, for the gentleman's response. Hope we all follow suit".
Ruto's remarks have attracted mixed reactions from Kenyans with some questioning his interest in the matter if he wasn't involved.
Others went forth to support him claiming that if Sonko makes the expose as he had promised, many families will end up broken.
Here are reactions from Kenyans;