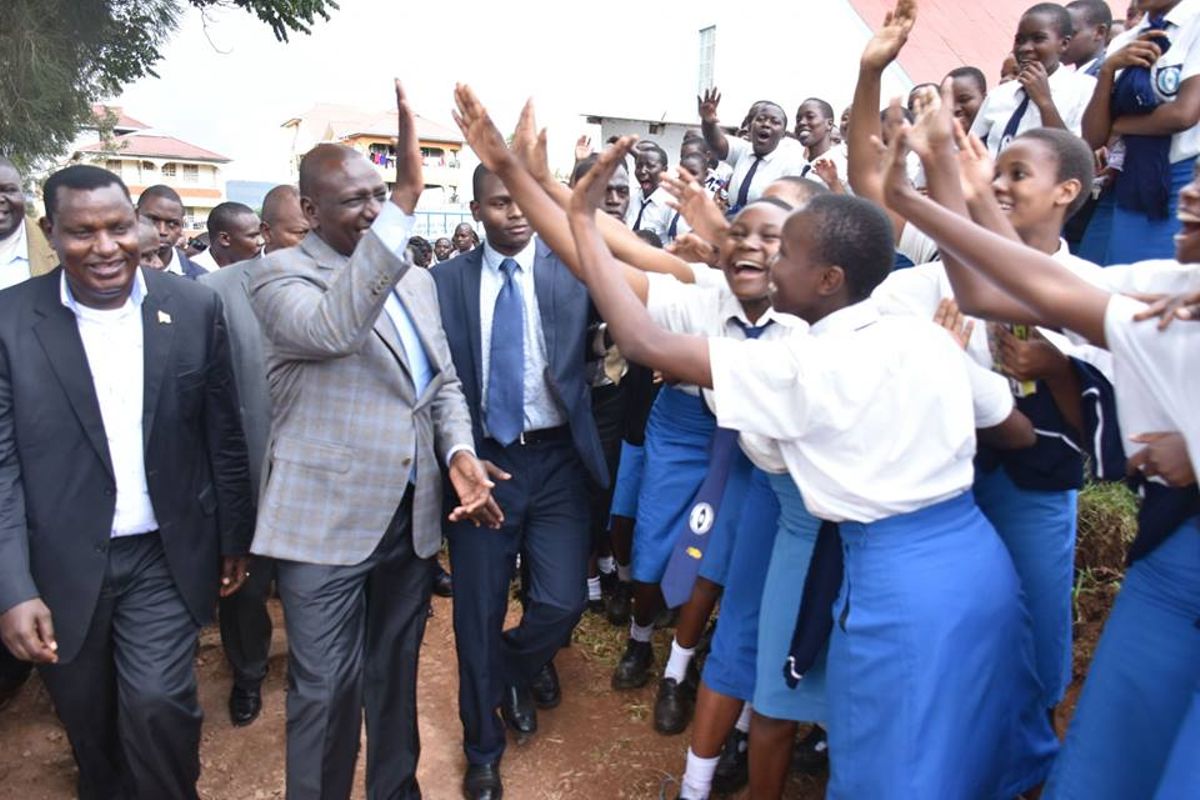 A viral photo of a letter from Maria Immaculata Education Centre Kamiti to parents demanding for extra charges ahead of Deputy President William Ruto's visit has caused an uproar on social media.
According to the letter dated 1st August 2019, each parent is required to contribute Ksh.3000 on top of the school fees for the purposes of welcoming the second in command into the institution.
"Through the providence of our God, the Deputy President has promised to visit our school on 14/09/2019. Through the  School Advisory Board, we kindly request you to be part and parcel of this occasion. Therefore we are requesting each parent to contribute an additional amount of 3000/- to welcome the visitor," read a section of the letter.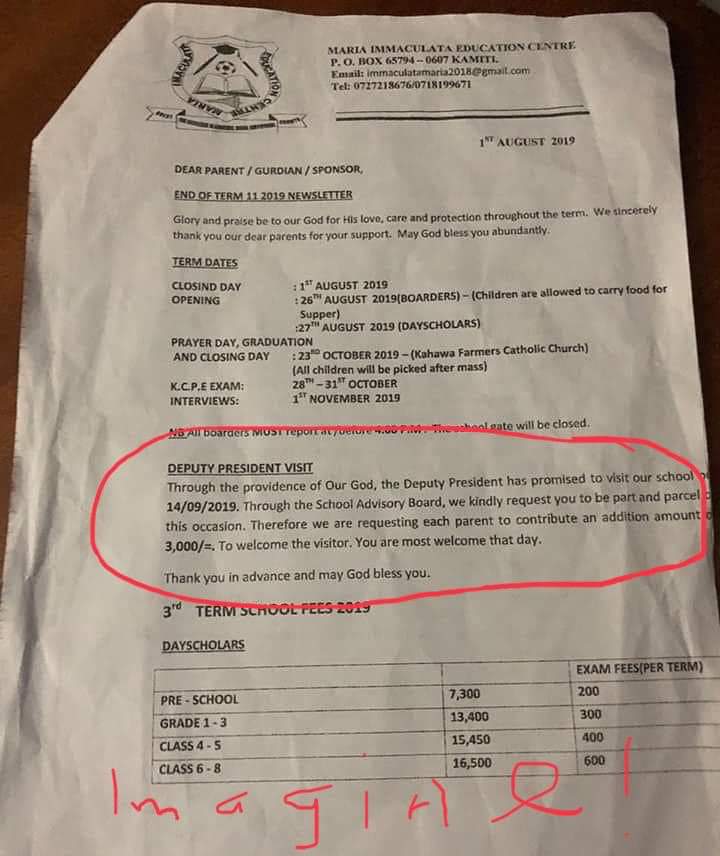 Kenyans are crying over repeated cases of exhortation in schools are calling on the Education CS George Magoha to intervene in the matter arguing that forcing parents to facilitate politicians visits is a form of corruption.
"Kenya is becoming an extortionist country,why would parents pay to facilitate a visit by the deputy president or any other politician for that matter?. Some Kenyans only condemn corruption because they haven't had a chance to swindle others", one Mutichilo Mike lamented.
Here are more angry reactions from Kenyans;
Someone please intervene and stop this madness pic.twitter.com/LZ9ndaATKd

— Lord Abraham Mutai (@ItsMutai) August 16, 2019
How do you invite guests in your home and then ask your children to contribute money to buy the guests' food. If you cannot afford it, leave it.Parents of Maria Immaculata Education Centre, Kahawa West, should resist such impunity. 3000 my foot!#StopImpunityKE #kenyacensus2019 pic.twitter.com/ewWtAUpwgn

— Francis Ndegwa (@DeltonNdegwa) August 16, 2019
Kenya is becoming an extortionist country,why would parents pay to facilitate a visit by the deputy president or any other politician for that matter?.

Some Kenyans only condemn corruption because they haven't had a chance to swindle others..🤔👇🏿 pic.twitter.com/Sv7YbxGsAa

— Mutichilo Mike (@MutichiloMike) August 15, 2019
In fact the visitor should be coming with something but not impoverishing parents and guardians..the headmaster of this school is a loots big time

— Pius (@Pius542) August 16, 2019
The head teacher could use the name of the Dp to con parents, maybe even he is not aware of the said visit.

— Murgoh Ndege (@itsndege) August 16, 2019
Why should they be paying for the visit in the first place? Kwani wanapea DP? Hii ni ukora ya matapeli wa hio shule…

— Stanley Ngaira (@stannngaira) August 16, 2019
How does 3k welcome Ruto? @Chepkut_William @WilliamsRuto @RobertAlai @OleItumbi

— Deogracious Ekwaro (@DeograciousEkw2) August 16, 2019