Most relationships fail simply because someone isn't doing enough. But one could be putting some effort and it's not being appreciated. Even the tiny things that are often ignored like sharing a laugh or regular communication can go a long way.
Most men are often to blame when a relationship lacks the spice it needs to stay alive, and that is because most men lack the quality of being romantic. They can do anything to get a girl, but the moment she's in their nest, they switch off their romance buttons.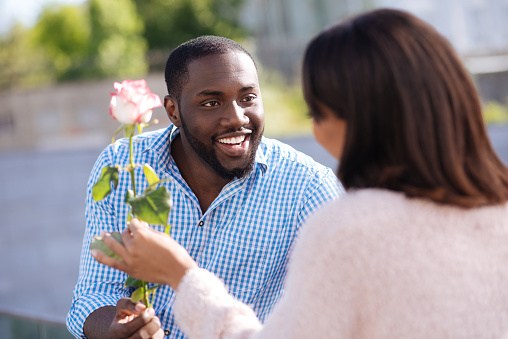 Millennials have been setting standards too high and possibly why most people are not engaging in relationships. Nobody wants to give, all they desire is to have an easy way out and just like a parasite, take the most they can from their partner living them for dead. Most men would say they would rather give their women flowers and some would offer gifts. So what do African ladies prefer the most?
Why is that African ladies don't value flowers as gifts?🤔

— Royal Lady (@RoyalKenyah) August 14, 2019
Here were some reactions.
We've seen enough flowers in our father's land in the villages.

— Doryn Marl (@DorynMarl) August 14, 2019
i love things that gat value even the day after i receive them

— Tivah the first (@TivahF) August 14, 2019
They grew up eating a lot of greens, flowers remind them of poverty 🤣🤣🤣🤣🙊🙊🙊🏃🏾‍♂️🏃🏾‍♂️🏃🏾‍♂️🏃🏾‍♂️

— ~AgentOfChaos~TheJoker~ (@WixxyF) August 14, 2019
They need to go to a flower shop and ask the price then they will know better. They think flowers are cheap

— Акисонья Олуватойоси 💚 (@oyinsola_mii) August 14, 2019
"Mauwa niza nyuki"
She told me that lol

— 𝐁𝐫𝐚𝐯𝐨 𝐇𝐮𝐦𝐩𝐡𝐫𝐞𝐲 (@bravo70637356) August 14, 2019
African women only want food, drinks and money. How will flowers help me? Always broke, always demanding something from their guys…always!! She will be like what have you brought me today???? If it is flowers… She will be line so…I do what with this twigs ❓❓❓❓

— Eng. John Oranja (@john_oranja) August 14, 2019
We do value flowers. If they come with something else. Like a chocolate. I literally wouldn't know what to do with just flowers. Replant them maybe?🤦🏽

— IAmKaka 🇰🇪 (@Ednakaka) August 14, 2019
They are obsessed with the love for money and believe if a man loves you then money plays as the best gift

— Duke Maranga (@DukeMaranga3) August 14, 2019