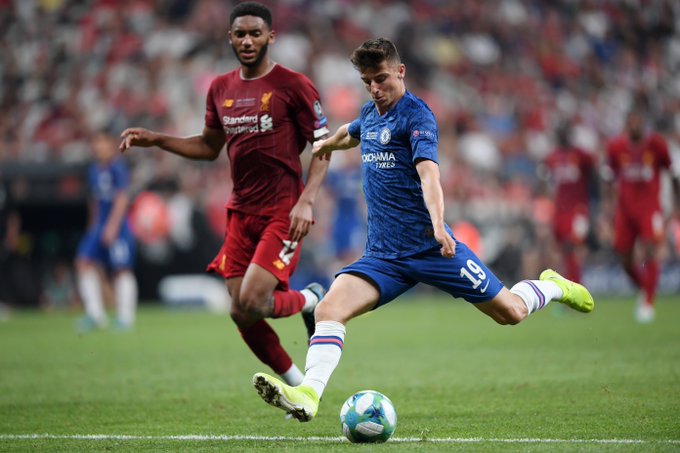 Chelsea fans have realized one important feature about their midfielder Mason Mount in the two matches he has played since his debut for Chelsea.
He has been featured in all the two Chelsea games since this season started. But his superb performance during their Super Cup battle against Liverpool on Wednesday gave Chelsea fans hope for a better time in future.
Fans have described him as a look-alike to Lampard during his (Lampard) playing days. This was more evident when he scored a penalty kick against the Reds. He was confident, tough and delivered a heavy, well-calculated shot.
Mason Mount pic.twitter.com/DZF0rcmlnd

— s (@qwertydkdkdk) August 14, 2019
Check out what fans had to say about the wonder kid;
Lampard's school

— Diego (@Diego_Negrete) August 15, 2019
Glimpses of lampard

— Chicken Tikka Mosalah (@ShahmoonAliShah) August 15, 2019
Degree in lampard technique

— Faris🍁 (@FarisKhairol) August 15, 2019
Here I was thinking Ross should start because of his set piece ability…
Screw that. @masonmount_10 should be starting in any Chelsea team I watch this season

— imperiuM (@mkdk100) August 15, 2019
Didn't expect that from him 😳 he is brave enough to bang that top corner, for sure our future is in a good hands 🔥

— malo. (@aimalzamri) August 15, 2019
Unreal Penalty

— Alex Thomas (@ImAlexThomas) August 15, 2019
Sublime

— KaaayAt (@AtoLyrical) August 14, 2019
Lampard has confirmed his approval of the star and has been ready to defend him at whatever cost. It can be remembered that Jose Mourinho severely criticized Mount after their 4-0 defeat to Manchester United at Old Trafford on Sunday.
The Portuguese suggested that Mount, the 20-year-old midfielder making his first debut for Chelsea, striker Tammy Abraham, 21, and defender Andreas Christensen, 23, did not offer enough for "a match of this dimension".
Lampard, on his side, said that he would not care what his critics said and was more surprised to hear Mourinho had singled out Mount, who shown encouraging moments.
https://twitter.com/Zwode4/status/1161740965566197760?s=20
Mount joined Chelsea at the age of 6 in 2005. He then went to Dutch Eredivisie club Vitesse on 24 July 2017 on a season-long loan before joining Derby County on 17 July 2018, where he met Lampard as the coach of the club.
He then made a senior debut at Chelsea on 15 July 2019 on a five-year deal.