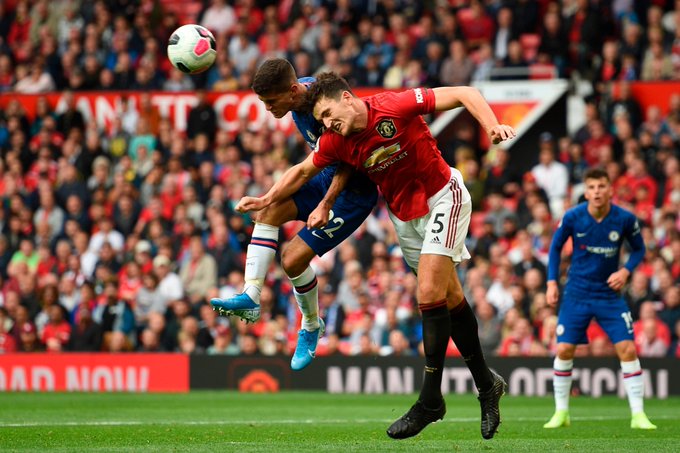 Harry Maguire could be the solution to the pretty disorganised Manchester United defense line if Sunday's statistics against bitter rivals Chelsea is anything to go by.
Marcus Rashford scored two goals with Anthony Martial and Daniel James each scoring one goal to see the Blues succumb to a humiliating 4-o defeat. A clean sheet achieved!
https://youtu.be/klmtQk6xlUY
Maguire's Sunday debut at Old Trafford was fine. Possibly, the best of United's defender, but not definitely.
Of course, he was part of Leicester City's squad that conceded 48 goals last season. But his stats against the Blues proved otherwise that he can settle at United.
Harry Maguire vs. Chelsea

86% Pass accuracy
1 Key pass
4/6 Aerial duels
7 Clearances
4 Interceptions

A fine debut. If today is anything to go by, the World's most expensive defender will have no problem settling in at United. pic.twitter.com/5oMNJEahns

— The Tactical Times (@Tactical_Times) August 11, 2019
Football fans also had this to say about his fine debut at Manchester United;
It's because he plays for United, he's bang average

— healthy dinosaur (@gum_gumo_no) August 12, 2019
Shows you he is a leader in the team already… Jones, Smalling or even Bailly won't do that

— David Ekong (@daveek10) August 12, 2019
With him being an England international and now a United player,he's suddenly gone from being a good premier league player to being the Kaiser

— James O'Leary (@Liverpoolcallin) August 12, 2019
Not on your own mate. Apparently he's kind to puppies too.

— Stephen Blakeman (@StephenBlakeman) August 12, 2019
Maguire's superb display with the help of Victor Lindelof, Luke Shaw, and Aaron Wan-Bissaka ensured the strikers would only concentrate on attacking Chelsea rather than coming back to help fortify the backline as it was in the last season.