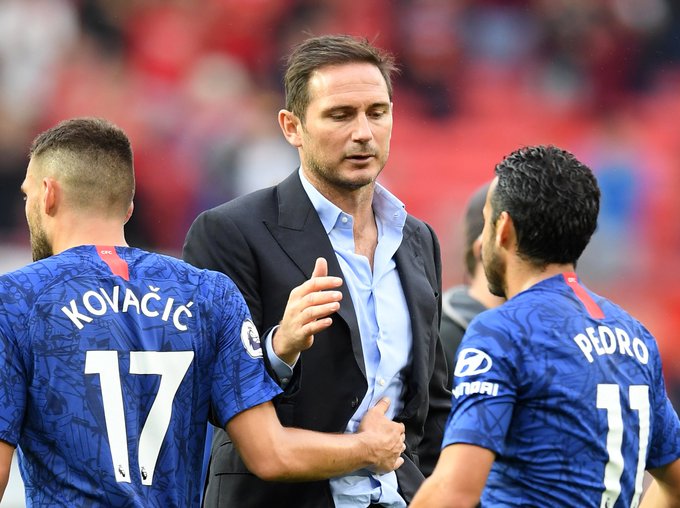 Chelsea suffered the heaviest opening day defeat in history after succumbing to a terrible 4-0 defeat to Manchester United on Sunday at Old Trafford. Perhaps this is not what their new manager Frank Lampard deserved for a start.
Despite making some serious advances during the first-half and even Emerson Palmieri rattling David De Gea's crossbar, the Blues' defense was torn into tatters, easily conceding the 4 goals.
https://youtu.be/klmtQk6xlUY
Chelsea fans have applauded United's speed and precision on the counter-attacks, which gave the hosts two goals but have raised serious complaints on their defenders with a section calling them naive.
In a bid to dig out the root cause of their loss, fans launched an online discussion on who to blame in particular. In fact, they have given their plea to Lampard and pointed out various positions that should be worked on.
"4 individual mistakes cost us 4 goals" – Frank Lampard

So lets have a look at these 4 goals closely and isolate the problems.

Goal 1:
– Pedro gives the ball away in midfield
– Azpi slow to react on Rashford's run
– Space opens up in midfield
– Rashford found open

1/4 pic.twitter.com/Au0ABgTLls

— Chelsea Fanatic | The 12th Man (@Miz9Rahman) August 11, 2019
This not a reaction to yesterday's defeat but I feel Azpilicueta is hugely on the decline & it's sad to see. A fantastic player for Chelsea winning many trophies but maybe it's time to introduce Reece James when fit. Experience is vital but I feel Azpi will continue to struggle. pic.twitter.com/77crfhHIU2

— Chris Wright 🏴󠁧󠁢󠁥󠁮󠁧󠁿 (@chriswrightzz) August 12, 2019
Now that I've had a proper chance to reflect on yesterdays defeat, here are my views.

• Azpi isn't the RB he once was.

• James needed.

• Pedro shouldn't be starting.

• Rudiger needs to come back ASAP.

• Zouma just isn't good enough.

• Need to work on our sloppiness.

— Chelsea Spotlight (@Chels_Spotlight) August 12, 2019
Chelsea needs to be tight in defence really.
We were just unlucky and couldn't convert our chances. My ideal defence team going forward would be.
Kepa
Azpi Chris Rud
James Kante Jorg Kova Emerson

— Zeeq (@ZicoBoz) August 12, 2019
Azpi's name is all over each goal. The guy has become a liability. I would of preferred Ola Aina

— Johnny Opsenica (@jopsenica) August 12, 2019
Zouma is just a scapegoat,but what happened to Pedro and azpi before then,azpi is not the same guy I have known for years,he is depleting. Rudiger and zouma will be fine for now,though we need experience center back, we can't buy and Christensen is too soft.

— MOSHOOD OLUNEYE (@MOORSHUD_CFC) August 12, 2019
And people thinking that Azpi should be a CB – the moment leading up to Rashford's second goal summarises why Azpi isn't even good enough to play CB – slow reactions and shit recovery pace.

— Pulisisst (AmericanWinger) (@Pulisisst) August 12, 2019
Azpi my man, I've huge respect for you but what were you doing here? 🙆‍♂️ pic.twitter.com/48OHYSUlXn

— Nouman (@nomifooty) August 11, 2019
Chelsea's support was absolutely superb today & deserved better.

1994 FA Cup final déjà vu for me. Unlucky with the early chance to score & didn't deserve to lose 4-0, oh & it rained.

Frank's priority has to be fixing the defence. Zouma & Azpi poor.

We go again#cfc#MUNCHE pic.twitter.com/prcVEBUbL1

— Mark Worrall (@gate17marco) August 11, 2019
Chelsea – Man Utd Thoughts:

• Sloppiness A Major Issue

• Defending The Counter, Major Issue

• Zouma & Azpi Extra Worrying

• Man Utd Simply Better

• Only Up From Here. Fix Up If You Are Tweeting For The Manager To Be Out. Honestly.

• On To Liverpool…

— Alex Goldberg (@AlexGoldberg_) August 11, 2019
God Bless Chelsea

Apart from Pedro, Azpi, Jorginho, you can call this Chelsea side a Proper Young Team with a Proper Young Coach
Top 4 finish with this team will be Chelsea's greatest achievement since 2012 UCL triumph #MUNCHE pic.twitter.com/18tSXMYmNy

— The Realistic (@TheRealistic_) August 11, 2019
@ChelseaFC embarrassing. Just shocking. Zumba or Zouma, Mount, even Azpi was awful. Not good enough. Can't wait for Rudiger, Kanté, Loftus, Odoi to get back. Was so painful to watch. pic.twitter.com/19s7oGIXpT

— Claude Makelele (@Claude_9M) August 11, 2019
The Lampard-led team will now face Leicester City on 18 August 2019 at Stamford Bridge in their second Premier League match of the season 2019-20.