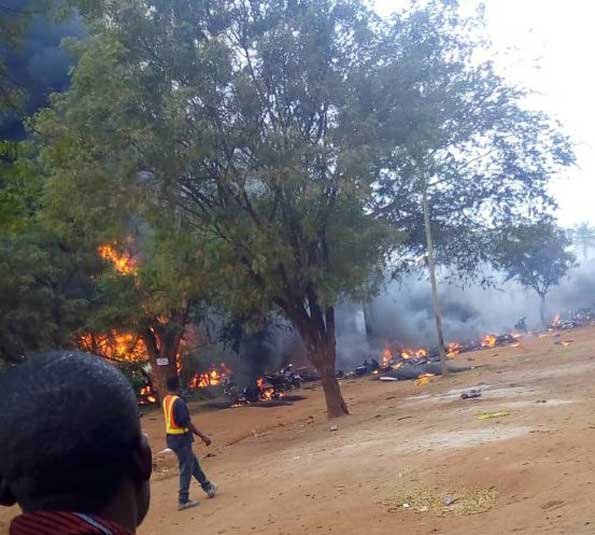 A dark cloud gulped the country on Saturday morning after a petroleum tanker burst into flames in Morogoro town, Tanzania leaving sixty people dead and 70 others seriously injured.
Morogoro Regional Police Commander Wilbroad Mutafungwa who confirmed the reports claimed that most of them were burnt beyond recognition.
In a video, before the accident occurred, the residents had thronged into the scene of the accident where the lorry fuel tanker had overturned to siphon oil from the petroleum tankers and as well collect the leaking fuel.
An eyewitness claims that fire then burst at the scene after one person went to collect the fuel while smoking a cigarette.
Here is the video before the explosion occurred;
Morogoro residents siphoning petrol from a fuel truck moments before the explosion. pic.twitter.com/nJLiesQWni

— K24 TV (@K24Tv) August 10, 2019
Kenyans who have been saddened by the occurrence events have taken to their social media accounts to express their sadness and send condolences to their families.
Damn! Condolences NB! This tankers need chase car because the damage is immeasurably suffering. PS: The industry can afford that, that's safety and jobs. Why not?

— Aaruna Aaruna (@arronnes) August 10, 2019
Meaning some of these people died?😭😭😭😭😭

— Princess Maggie (@Bettiemaggie) August 10, 2019
Our heart and prayers are with the people of Tanzania especially with families and friends of the people of Morogoro.
We, Kenyans are here for any support you need. pic.twitter.com/2F9wIlkDTZ

— Team Kenya🇰🇪🇰🇪 (@teamkenya_) August 10, 2019
‼️‼️‼️‼️‼️‼️

Over 50 people dead after an oil truck caught fire in Tanzania 😢

To the families of the victims, may the good Lord grand you endurance
📷: Courtesy #Morogoro pic.twitter.com/AUnNM0cDYZ

— Bevalyne Kwamboka (@bevalynekwambo3) August 10, 2019