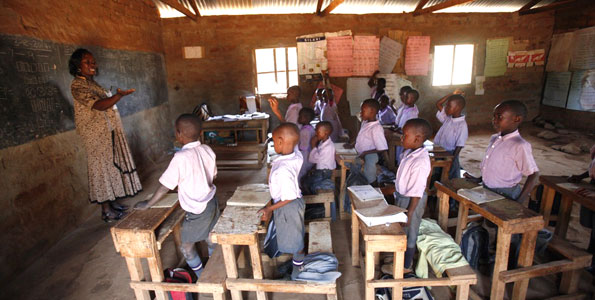 One brave teacher has decided to squarely handle the sex education which most people have always shied away from.
Most parents and teachers find it difficult to educate the young ones on sex education especially regarding their private parts.
In a video which has been shared on twitter, the lower Primary teacher is seen practically demonstrating to pupils their private parts which they should not allow any person to touch.
CS Magoha's new curriculum is just out of this world. Awuoro!!! pic.twitter.com/UZa3HHGB7v

— Robert Alai (@RobertAlai) August 7, 2019
The teacher has actually been showered with praises for educating the children on not allowing people to touch their private parts. This is informed by the fact their are rising cases of rape especially among teenagers in the country. Her teachings are in line with the new curriculum of Kenya.
— @sekise (@sekise4) August 7, 2019
This is very critical training kids on their private parts and no one should ever touch. A good way to put alarm on sex predators. This I applaud.

— Bel Akinyi (@BelAkinyii) August 7, 2019
@RobertAlai you may see the teacher doing something stupid but on the other hand kids are being prevented from rape, sexual favours and homosexual practices@EduMinKenya @StandardKenya

— 𝙆𝙖𝙗𝙪𝙞_𝙜𝙛𝙭 (@kabui_j) August 7, 2019
It's important,my baby sung to me this song and am impressed..kudos to our ECD teachers

— TavetaFinest🇰🇪 (@Tumaini_Nduati) August 7, 2019
Sexual assault is endemic in Kenya, with one in four schoolgirls having experienced it. women and girls experiencing sexual violence more than men and boys.
By teaching the teenagers sex education, a nation is equipping them with tools that will help to root out this 'devilish' act in the country. It actually gives them a voice to even speak up when such criminal act is done.
In the world we are living in today., this is super great 👍🏿 🙌🏿👏🏿

— Peris Keys (@Perryshish) August 7, 2019
This is a critical part of formative learning;with the world awash with paedophilic predators, the child must stay WOKE!

— Walter Chabala (@consciouschabz) August 7, 2019