The Kenya Police has come under sharp criticism from a section of Facebook users after a viral video of their officers badly humiliating an old man emerged online.
In the video that was shared in one of the Facebook pages, an old man is seen running around a troop of officers while being forced to sing a song of blessing asking God to bless the officers.
The officers are heard questioning the old man whose accent if what they were doing was not good before being coerced to raise his volume 'Mungu Saidia Forithi' (God Bless The Police)  while running round in circles
It is not yet clear what the old man (Whose accent suggests he comes from Mt. Kenya)  did to deserve such a humiliation.
Kenya Police badly humiliates an old Man forcing him to sing songs of blessings to them!https://www.facebook.com/620200068163561/posts/1166492813534281/

Posted by Peter Mango on Thursday, 1 August 2019
The assault immediately arose mixed reactions from the facebook with many cursing the disciplined forces for their uncouth behaviour while others finding the video so funny and humorous.
Gitau Nganga Who know he was smoking bang or something and was given a simple punishment…….mungu saidia forithi😂😂😂
Wakesho Mkamwasharia That man is old enough to be their father- such a shame, respect is very important- when God says respect your father and mother so your days will be long it also includes people old enough to play that role
Khotsa Kinsey Salim Kamau afanye mazoezi
Dave Karani Afadhali afanyiwe hivi na asipeanwe kwa folithi
While the Kenya police were busy humiliating an old man in the forest, another Administration officer in Nairobi was busy receiving praises after his selfless act caught the attention of many.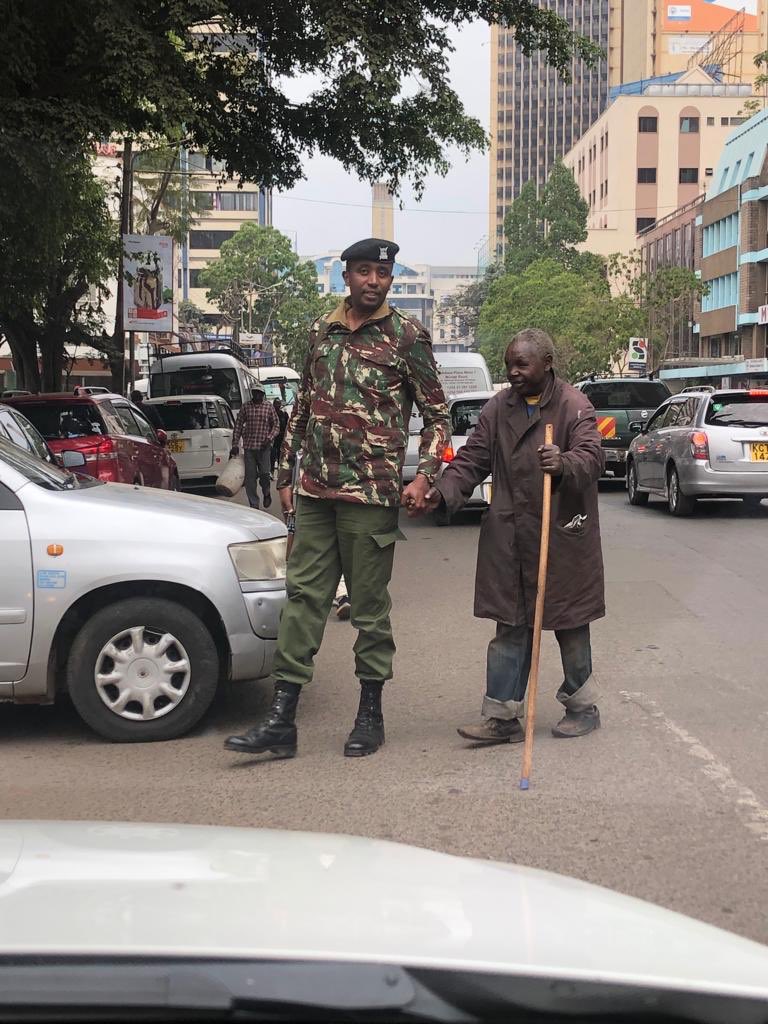 The AP officer by the alleged name George Kimaru was captured on camera assisting an old blind man cross the busy streets of Nairobi. Immediately his pictures were shared online by activist Robert Alai, Kenyans took time to congratulate him terming his act as exemplary.
⁦@APSKenya⁩ salute to him. Always great seeing officers doing wonderful things. Salute! ⁦@NPSOfficial_KE⁩ ⁦@DCI_Kenya⁩ pic.twitter.com/eVVG1yQQqC

— Robert Alai (@RobertAlai) July 31, 2019
A better post out of the politics and the corruption. Well done

— Suzzie Mwangi (@suzjacyc2c) July 31, 2019
🙏

— National Police Service-Kenya (@NPSOfficial_KE) July 31, 2019
It's ain't about the entire @NPSOfficial_KE this particular officers showed what being humane means

— KAMWINGA (@NjeruKE) July 31, 2019
But this guy has a routine, he goes for a meal at city market every evening. He will ask anyone who is on the opposite side to help him cross. such a nice old man, always has interesting stories

That single policeman will not cover up for the hundreds picking bribes on the road, bars everyday, the dozens who put innocent cirizens on trumped up charges to extort bribes from them. They are a colonial relic, their job is to safeguard the political elite

— 𝕎𝕒𝕟𝕘𝕒𝕚 (@NarcosTacos) July 31, 2019
Good deed to the AP ,Iknow that guka ,he's always at Koinange street,akikuomba pesa ya sigara umunyime he'l abuse you.

— Mwangi Dealer🚘 (@Mwangi_Dealer) August 1, 2019