Interior CS, Fred Matiang'i, on Monday, came out to strongly condemn the hacking of a man, that happened close to Khayega Market, in Shinyalu area of Kakamega County, on July 12, 2019.
In a statement sent to newsrooms, CS Matiang'i announced an operation to crack down on the occurrence of the incidence arguing that all those responsible for the act, aiding or watching helplessly will face the wrath of the law.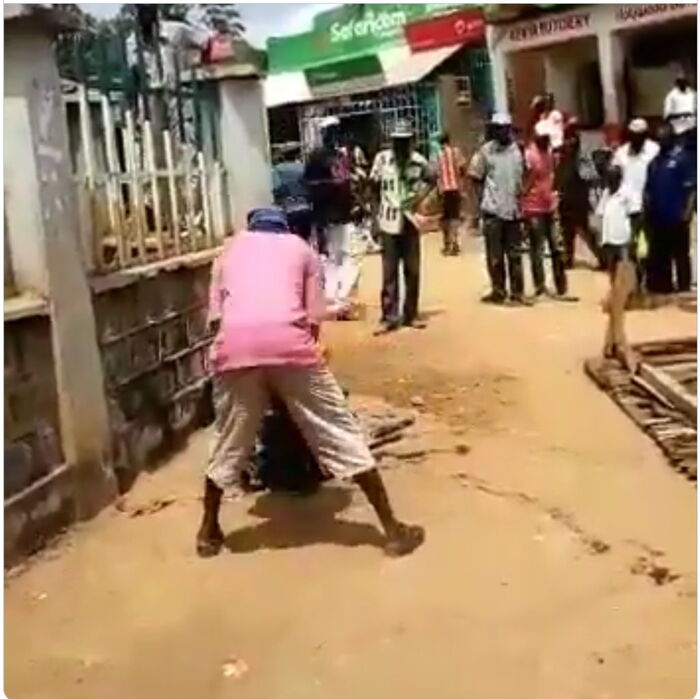 "Until all those responsible for conducting, aiding or abetting these reprehensible acts face the full force of the law. It will no longer be business as usual in Khayega," Matiang'i vowed.
Among the 26 suspects arrested include the acting area chief, the suspected murderer, the owner of the crude weapon used in the murder, as well as individuals who stood by and watched the merciless act unfold without taking any action.
The Government condemns the murder of a man in Kakamega County in the strongest possible terms. The police have already arrested 26 suspects in relation to the heinous cold-blooded murder. Citizens are hereby urged to remain vigilant and report any criminal activity to police. pic.twitter.com/TmdIURiYgn

— Ministry of Interior (@InteriorKE) July 29, 2019
Matiangi's statement has since caused an uproar on social media as netizens clashed with the CS on the spectators of the incidence facing the law.
According to a section of the netizens, Matingi's order of prosecuting those who stood by without taking an action is unfair as they would have been accused of mob justice if they participated.
"People arrested for standing there and doing nothing. At the same time, people should not take the law into their hands. Your statement does not make sense," commented one Kamau Njuguna.
People arrested for standing there and doing nothing. At the same time, people should not take law into their hands. Your statement does not make sense

— Secular Kenyan 🇰🇪 (@kenyanatheists) July 29, 2019
Here is what other Kenyans have to say on Matiangi's order;
Nothing about the totally callous and unacceptable decision by the police to publicly share the gruesome footage?

— Karanja Matindi (@braga_vance) July 29, 2019
Kenyans need to.understand that there id nothing like *mob* this are murderers should be brought to book..this is nilonsense how many times are killing others like they are giving justice.sad..and sir please as a kenyan we want looters sent to jail like @GovernorBabayao #rotich

— Punguza mizigo bill 2019 (@PatrickHook8) July 29, 2019
Sir,you need to roll out public awareness campaign on the importance of the public reporting any crime,recording statement,informing the police of any plan from people who want to commit crimes etcJust Yesterday, a man was brutaly murdered in kayole,yet people a not willing to rp pic.twitter.com/2rh0w2AdYV

— francis mbugua (@MashMMXIV) July 29, 2019
The police have been known to be unreliable as early as the last millennium,big thieves still big public funds and get a pat on the back,we should now start hacking public resources looters like that chicken thief,ama namna gani my friend???

— Ken (@Ken57038546) July 29, 2019
In Nairobi people are hacked mercilessly. And people don't bother at all. Are you Matiang'i genuine? And your boys atimes just pass as if nothing happened.

— Kip (@Kip_justice1) July 29, 2019
Mob injustice has to end in Kenya, pple can kill for other motive, police have to act when such is reported

— Gatonye Gachui Wamwamba (@GatonyeGachuiwa) July 29, 2019
@SecularKenyan it makes sense…they would have stopped the guy with the weapon from hacking the victim to death instead of just watching… someone even went further and recorded the incident as if it was a movie on shooting process

— Human Rights Kenya And Beyond⛲ (@KenyaCid) July 29, 2019