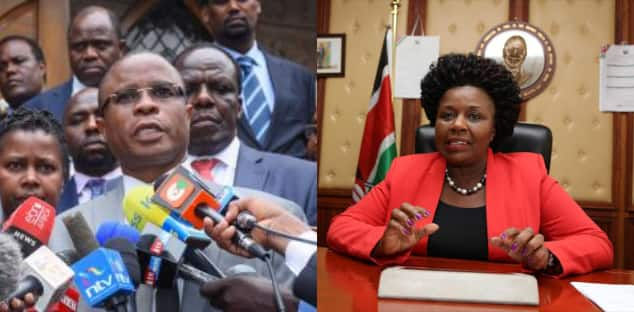 Even as Bomet County residents continue to come to terms with the sudden demise of their beloved governor Dr. Joyce Cherono Laboso, reports from Laboso's husband that the late governor will be buried in Kisumu county has elicited different reactions.
Dr. Laboso who passed away on Monday after a long battle with colon cancer will be buried in her husbands home in Koru, Fort Ternan Kisumu County according to Luo customs and traditions which states that the wife will be buried in her husbands home.
EDWIN ABONYO, husband of Joyce Laboso, says the late Bomet governor will be buried at their Fort Ternan home in Koru, Kisumu County. pic.twitter.com/wbIgWOd2Qc

— NationBreakingNews (@NationBreaking) July 30, 2019
While Kisumu residents think it was justifiable for the family have the late governor buried in her husband's home in Kisumu county, most of the Bomet county residents are of the opinion that their late governor should have been buried in her home county of Bomet.
Views from the two groups have so far kept the social media sites alive with humorous comments flying from the two sides. Here are some of the reactions;
This is what made me pay my wife's dowry this year, sitaki aibu ndogo ndogo

— King Espoir XVII (@blackpimpernel2) July 30, 2019
On their behalf, the Mursik Nation respects traditions and the dead. In this regard, we find no wrong.

If you expect court cases, you'll find absolutely none.

— mukbang (@molucheii) July 30, 2019
Engr Ahmed Mohamed When I hear Koru, I remember the assassination of John Rober Ouko.
Julius Okuto It is only Kisumu County that had two Governors, one is Professor Nyongo, the Kisumu County Governor and the other was Joyce Laboso the Bomet Governor…
Despite this, most of the residents from Bomet county were of the opinion that the late Laboso should be buried in her husbands home county since it was in line with the Kalenjins customs and traditions which also states that the wife should be buried in her husband's home.
Furthermore, we respect the dead. Same we respect when they were alive. She chose to be married there. So we also respect same decision when she is dead.

— Tippy Too👣 (@Kiptoo__) July 30, 2019
We have no problem , tradition should be respected..she is yours

— kirui derick (@derick_kirui) July 30, 2019
Customs of kipsigis and luos remained unchanged

— Ronald korir Mentor . (@ronaldkipngenoh) July 30, 2019
She belongs to her husband and children, and if they decide she be buried in Luoland, so should it be. The rest are busybodies…

— karanja charles (@karnjcharles40) July 30, 2019
In kalenjin we don't bury a woman who was officially married and dowry paid it is a taboo.Obonyo is in order

— Evangelist C Ndoigo (@NdoigoToyoi) July 30, 2019
The lady technically dropped the name " Abonyo " because it was not synonymous with the tribalist elites in the Kale nation to help her become an MP.

— Mr McCall (@KenyanExperien2) July 30, 2019
Did she drop just not commonly use it but her name still remains Abonyo. Hio Joyce Laboso ni ya campaign stop confusing the two

— ALLAN (@Smith_Allano) July 30, 2019