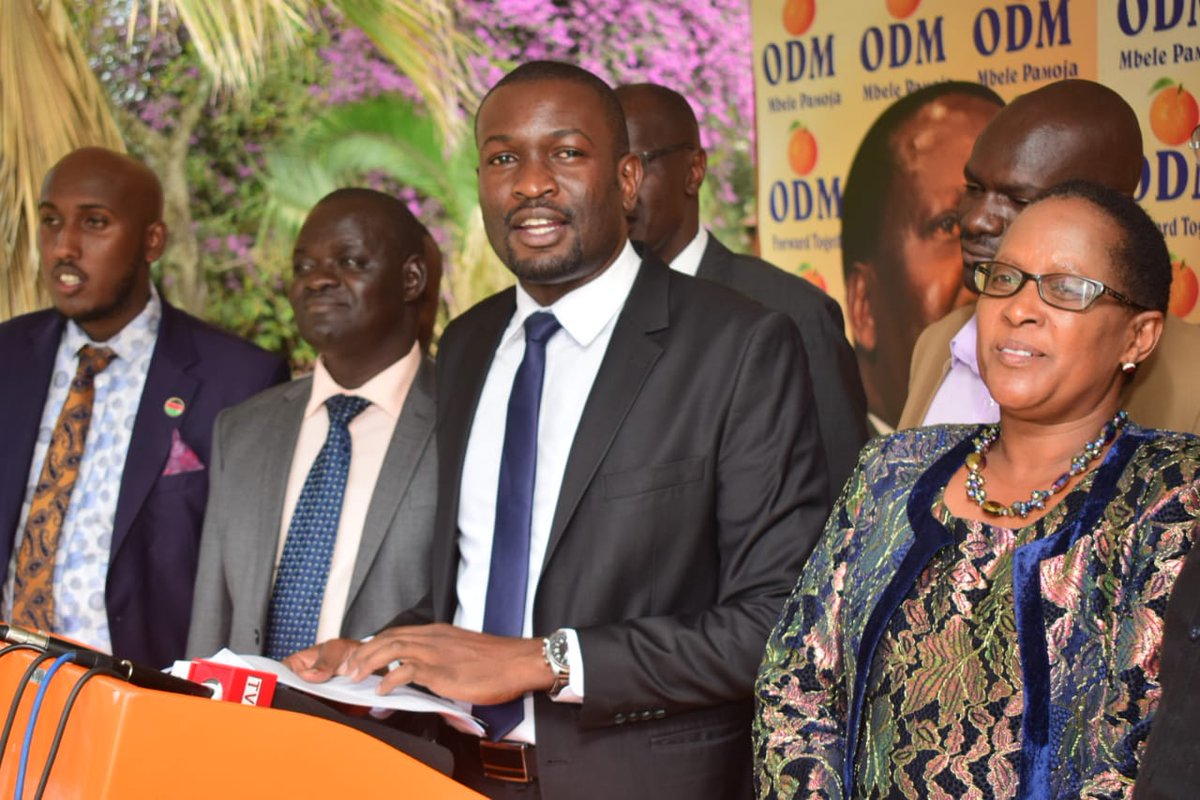 Orange Democratic Party ODM on Thursday found itself on the receiving end after a large number of its supporters promised to ignore the party's decision to reject Ekuru Aukot's Punguza Mzigo Initiative.
Reactions from the angry supporters came on Wednesday after ODM leaders led by Secretary-General Edwin Sifuna dismissed Ekuro Aukot's initiative which is pushing for constitutional amendments.
ODM party leaders comprising of Siaya Senator James Orengo, Ugunja MP Opiyo Wandayi, Rarieda MP Otiende Amollo and Alego-Usonga MP Samuel Atandi criticized Aukot's proposals terming it opportunistic and retrogressive.
Kenyans and mostly ODM supporters who had already embraced the initiative were all up in arms against their decision to reject it terming the leaders as self-centered with their own hidden agendas.
According to most of those who offered their support for the proposal, Ekuru Aukot's Initiative already addressed major shortcomings lacking in the current constitution hence should be fully supported by all mindful Kenyans.
The same was echoed by a good number of Jubilee supporters who joined hands with their ODM counterparts and promised to stand by Punguza Mzigo Initiative. They all vowed to fight as one team never to be swayed by greedy politicians who according to them were all advocating for their own interests and not for Kenyans.

Here are some of the reactions from Kenyans who vowed to support Punguza Mzigo Initiative and not ODM's stand;
Why are other political parties silent?, ODM give us a break.

— Pascal opiyo🇰🇪 (@opiyopascal1) July 25, 2019
For these reasons below 👇 I will vote for #PunguzaMizigoBill2019 early morning at 6am on day of referendum, I am confident punguza mizingo will pass in over 35 county assemblies pic.twitter.com/kbKFTiyY2Z

— Jimmy Ng'ang'a. (@jimmynganga1) July 25, 2019
As ODM party that's the position. But, do you care to know the feeling of Kenyans as regards the punguza mzigo initiative?Well, it's the polar opposite of your position.

— Joseevans (@Joseeva12370640) July 25, 2019
Kenyans know their real enemies.. We don't need any interpretation to understand what @EAukot document all about.. I support it 100%

— Tyrony-Oh (@kimi_044) July 25, 2019
ODM will continue to lose popularity because they have decided to side with the oppressors….The earlier you realize this the better.

— Stephen Owiko (@StephenOwiko) July 25, 2019
Zawadi Emmanuel Naibei Does your BBI cover the same. You only fight for selfish interest not considering the common mwanachi plights. What you know is adding the burden. For your info personally despite of supporting Railas initiative i ditch and support the Punguza mzigo
Tom Odhiambo What Kenyans want is a responsible Gov't which is responsive and accountable to the citizens. ODM should be able to help Kenyans and not preoccupied with fighting status quo in the name of procedures.. Third Party Alliance has taken the carpet under your feet as far as championing change is concerned….Please eat your humble pie and join TPA for a better governable Kenya.
You promised to resign, what happened? That shows how you people are selfish and self centered. The DEMOCRACY in @TheODMparty is a vestigial structure. I am an ODM supporter but I support #PunguzaMizigoBill2019 . You people have no common mwananchi's interest at all. Tamaa tu!!

— Eugene Wangs🇰🇪 (@WangsEugene) July 25, 2019
Juma Kumala These are the steps according to the Constitution:
1. Get 1m signatures-done
2. IEBC verifies-done
3. MCAs from at least 24 Counties pass it. Pending. OUR WORK NOW: To reach out to our MCAs for support. If they do not pass it, INAKUFA hivyo. If they pass it,
4. Parliament- we do not need them.Whether they vote it or not, proceed to Senate. 
5. Senate- we do not need them too. Whether they pass it or nor, WANANCHI.
6. WANANCHI in a referendum- Tukirushiwa, it is SLAM DUNK!WE THE PEOPLE GOT THIS!!
Sifuna we r all behind punguza mzigo as you can see no matter what.

— patrick agunda (@AgundaPatrick) July 25, 2019
I am an ODM diehard, and have been following what ODM stands for for a long time. But on this one, I am with @EAukot. Punda amechoka

— Gideon Barasa (@gidbara) July 25, 2019