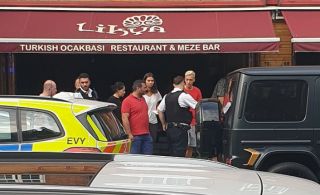 Arsenal stars Mesut Ozil and Sead Kolasinac were involved in an attempted robbery as they went about their activities in London on Thursday. The two were traveling in Mesut Ozil's care when robbers armed with knives attacked them.
Interestingly, the German was left in the vehicle as Kolasinac stepped outside to fight the armed robbers with his bare hands. In the 8 seconds clip that has gone viral on twitter, Mesut Ozil is seen locking the vehicle's door and driving off, leaving Kolasinac all on his own.
Ozil gets robbed, kolasinac jumps out to batter absolute fuck out of the attackers, ozil drives away, kolasinac still continues to batter fuck out the attackers swinging knives at him, What a machine kolasinac is 😂😂 pic.twitter.com/uNRKztR803

— Jack McDonald (@jackmcd976) July 26, 2019
Ozil's actions have not gone well with a few Arsenal fans who have accused him of acting ina cowardly manner.
"LMFAOOO. OZIL RAN LIKE A PUSSY. I WOULDA SMASHED MANS UP WITH KOLASINAC" pic.twitter.com/XQvWULGQjK

— Mike. (@mikesanz19) July 25, 2019
Typical Mesut..
Typical of Ozil to leave the full back with no protection

— Toby Tarrant (@tobytarrant) July 25, 2019
This perfectly sums up the situation..
https://twitter.com/AverageStriker/status/1154489142400524288?s=20
'LOOOOOL OZIL SHAT HIMSELF AND RAN AWAY FROM THE BEEF AND LEFT KOLASINAC WHAT A PUSSY' pic.twitter.com/KBWRNZIW7M

— LWß (@clockendLw) July 25, 2019
Ghosting out
Mesut ozil got car jumped, kolasinac like a bulldog scaring the thugs as usual mesut ozil ghosting out 😂😂😂😂😂 pic.twitter.com/g5R71GlSN9

— Bernardomayne 💯 (@bernardomayne) July 25, 2019
Ozil when Kolasinac got out of the car https://t.co/h3i5d7rPQ2

— Joe Allen (@JAIIen10) July 25, 2019
Arsenal has confirmed that the two escaped unharmed and the incident will not affect their pre-season preparations. The Gunners will face French side Olympique Lyon at the Emirates Cup tournament on Sunday from 515PM Kenyan time.
Let's hope Mesut Ozil will defend this time!
Opera News is carrying out a short survey on the effectiveness of our notifications. Spare a minute and share your thoughts with us Here…