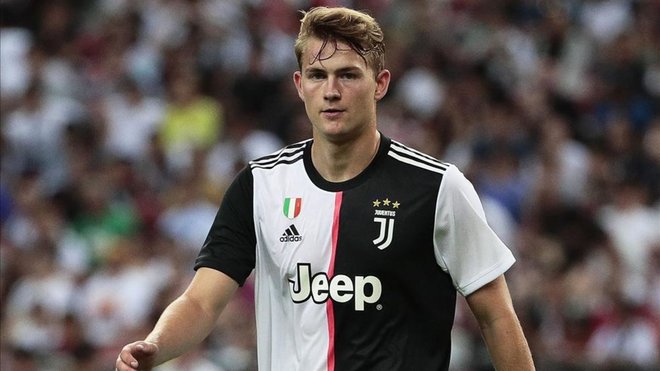 Juventus new signing Matthijs de Ligt is experiencing perhaps the worst moment in his professional career. This is after the trolls that have gone around after scoring own goal on Juventus debut against Inter Milan.
The two Italian clubs were battling out for International Championship Cup on Wednesday where the Old Lady emerged champions after a 4-3 win on penalties.
https://youtu.be/c91vbL7ZB8U
The former Ajax captain scored an own goal in his Juventus debut in the 10th-minute but Cristiano Ronaldo saved his blushes as the Italian champions drew 1-1 in the regular time.
The 19-year-old joined Juve from Ajax for €75m last week, spurning the likes of Barcelona and Paris Saint-Germain to sign with the Turin giants. However, his first start for the club resulted in him beating his own goalkeeper before being taken off at half-time amid a flurry of substitutions.
The Dutch defender failed to deal with an inswinging corner and inadvertently turned the ball past Wojciech Szczesny.
https://twitter.com/LastWordOnSpurs/status/1153998611061104640
And fans have not spared him for the big blunder as they stormed Twitter to make a joke of him;
How Ronaldo be looking at De ligt after recruiting him and calling himself Agent Ronaldo pic.twitter.com/yJKAJbVwv2

— Uncle Drew ⛹🏽‍♂️ (@W1Z_DOM) July 24, 2019
De Ligt's first contribution as a #Juventus player is an own goal… You couldn't make this up! pic.twitter.com/oLE2jFhvvm

— FPL 🇦🇺 (@FPL_AUS) July 24, 2019
What a finish by De Ligt. Not just a superb defender, but great finisher too. pic.twitter.com/I35enviUzL

— M (@ElMessista10) July 24, 2019
De Ligt own goal and Rabiot missed his penalty, think twice before rejecting United

— 🔮™️ (@iseekwisdm) July 24, 2019
Matthijs de Ligt going to collect his salary after scoring an own goal in his first match for Juventus 😂 pic.twitter.com/Q5LIBNfG2S

— Vally (@Valenvalega) July 24, 2019
De Ligt own goal?LOOOOL the levels are staggering I'm afraid. pic.twitter.com/xE9dEQqDli

— 🐐 (@yikesUtd) July 24, 2019