Kenyan Sensational gospel artiste Masterpiece has never shied away from flaunting his looks and style on social media. His fans have always appreciated his sense of style and different hairstyle he puts on occasionally.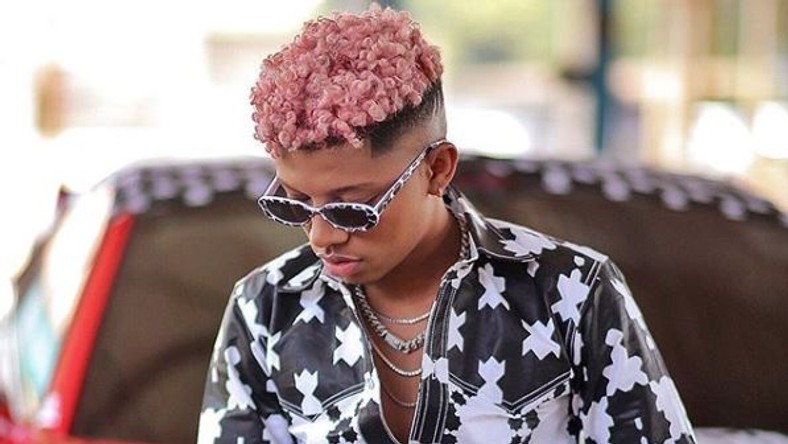 However, this time he found himself on the wrong side after he tried flaunting his shoes on social media, trying to challenge big artistes like Khaligraph jones, Jalang'oo, Otile Brown, The Naiboi Kriskoff, and many others on his shoe game challenge.
Taking to social media, Masterpiece shared a video of himself showing off his many pairs of shoes while still in his bed with captions:
Life gonna be sweeter only if you make yourself happy 🤗
Thanks @urbanwear54 for these amazing shoes 🙆🏻‍♂️😍 (order yours now)
#shoegamechallenge I now challenge @kristoffmwb @otilebrown@khaligraph_jones @djmokenya@thenaiboi @jalangoo @mashmwana@jaydongacb @shaqtheyungin@barakjacuzzi @willy.paul.msafi@octopizzo
Does he know that Jalang'o said that he has over 3,200 pairs of shoes a year ago? Has he even checked on Shaffie Weru's shoe rack? Masterpiece must have invited himself into a challenge where he might end up the loser!
Take a look at Masterpiece showing off his shoes and compare this to Shaffie Weru's shoes as they were featured in an up-close with Betty Kyallo!
Here are Shaffie Weru's Shoes
After flossing the shoes, Masterpiece found himself on the wrong side after fans started trolling him for too many show-offs.
This guy has really changed, he was so humble at first but now only wants to show his wealth .

🙄

🙄

🙄

🤨

🤨

IS HE REALLY SHOWING CHRISTIAN CHARACTER spread gospel nani.
In the Bible how many people displayed " lifestyle "This is a misfit from a gospel artiste
Nikidhani atatuonyesha massionates

😳

😳

😳

viatu niko nazo more than 50 pairs n nice once's
Show me something more of your standard
Spirit and mentality of poverty at work. This how you'll waste your money until it is reduced to what you really need in life. Bure kabisa!
Isaacs Leonards
Only Kenyan celeb wear fake brands. Dude we have a collection of original brand shoes that can fill your bedroom and we are just keeping cool. Wewe na plastics hatupumui

🚮

🤔
Peet Kip
Those rubbers for 200 ksh not worth flaunting