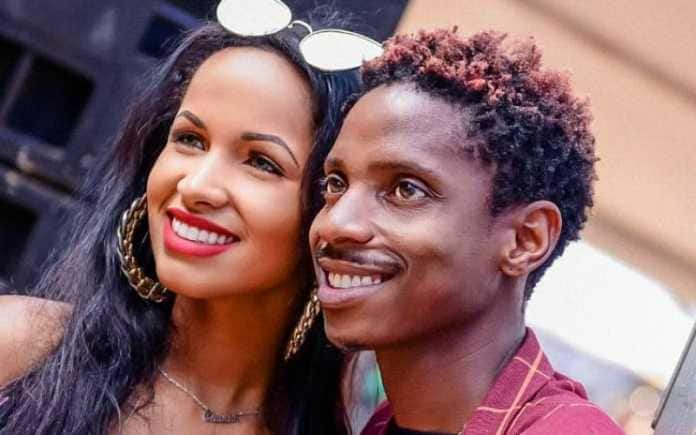 It has been one month since Kenyan comedian broke up with his long-time Italian Girlfrien Chantal Grazioli.
Kenyans have not yet forgotten Eric Omondi's Ex-girlfriend  Chantal Juliet Grazioli. Every post-Chantal does on social media is flooded by weird reactions from Kenyans.
Some telling her to make things work between her and Eric while others informing her about how Eric Omondi has transformed since they broke up.
On Chantal's recent post she shared a picture of herself rocking a red  bikini with captions;
How have you guys been? How was your Monday? Tell me something interesting 😄
Instead of telling her something interesting, fans went on reminding her of her past boyfriend Eric Omondi. With this kind of reactions, it would be difficult for her to forget Eric and move on!
Siku hizi eriko ni baba jimmy
We are drinking lato come back home
Eric omondi is disturbing us with Lato milk. You got to reconcile
Erico is releasing videos of anything he comes around..viti,stools,millk.hes now singing in rumba style,lingala like he's done with everything like just the same way he was done with you.hii shida n ww ulileta.
Eric omondi is cheating on you😀
So far so good lato is doing good we are just waiting for Erick to release lat season 4 ihooe youl be that mama jimmy
 On another post, Chantal shared a short video humming to Willy Pauls Halleluyia song! saying that she still loves the song. The reactions on this post were still hilarious.
View this post on Instagram
Mkunaji wako anauza maziwa…
Na umekonda sana unakaa chupa ya Kenya Cane,,, na izo boobs yawa zinakaa chapati ya muthurwa😂😂😂😂
Cheza na nywele sisi tunakunywa maziwa
Ona sasa ungekua unakunwa saa hii unajikuna mwenyewe
Waaa kumbe Italy hakuna lato,umekonda sana,udaku ni kuwa ericko Yuko na mama Jimmy,…
Mkunaji wako anauza maziwa…