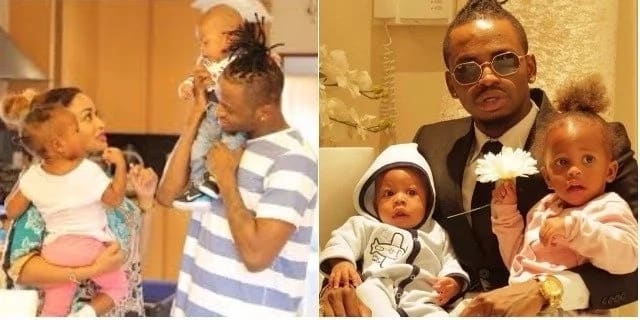 A video allegedly showing Diamond Platinumz and Zari's children falling painfully after sliding into a pool has surfaced online causing a stir.
The two celebrity parents have managed to keep their kids' lives as private as they can, only showing what they choose to leaving nothing to leak. Well, the internet works overtime and something has leaked putting Zari in a very precarious position.
The video showing Tiffa sliding into a pool portrays the parents as being careless as the fall would hurt anyone and looks like it should be for children older than them.
Faith Mugure Minions , see the type of idiocy you worship.A delusional psychopath.
The internet went into a craze but Zari has come out to refute claims that that is her daughter. Taking to her Instagram she warned anyone against claiming it was Tiffa and tagging her on those claims.
Zari has faced a lot of backlash after she has refuted the claims, with many saying she is publicly denying her own flesh and blood. Check out irrate netizens reactions below:
Mum Shreeya hio place Ni suncity SA,and I hear it's just a kawaida place..maybe after peeps pointed out that the place ain't posh,ndio amedeny😂Cheeeiii😂
Shikor Shikor Watoto wamerukwa kimimba 😂
Winnie Chi Ochieng MN Petero alimkana Yesu mara tatu sembuse binadamu
Wambùi Charity Huyu mama is now running mad
Monnique Mallens Mimi nillan kanavyopenda kupanua tumiguu nilikaona live kwenye video tusibishane Nina mimba🚶🚶🚶🚶
Tabitha Monic Weeeeh I thought watu huekelea huyu mama kwani she's bipolar, sai ndio nimeanza kuona ujinga wake.
Winnie Kalondu Ulitufanisha ujinga unaolewa tuka wait izo pic kumbe ni kiki tu ufikishe 6m sasa saa hii hao watoto sio wko sawa 7m loading
Sallyspectra Njeri Huyu anavuta kitu mbaya watoto tuliwaona vizuri pia itakuwa sisi macho yetu mbaya ama basi DOMO ana watoto wengine wanafanana exactly hao
Winnie Kisoi Really 😂😂😂aki mbona anakana watoto ata kama video ilikuwa funny ..
Juliet Wairimu It's so obvious zari come on nakupenda though🙄😅😅😅