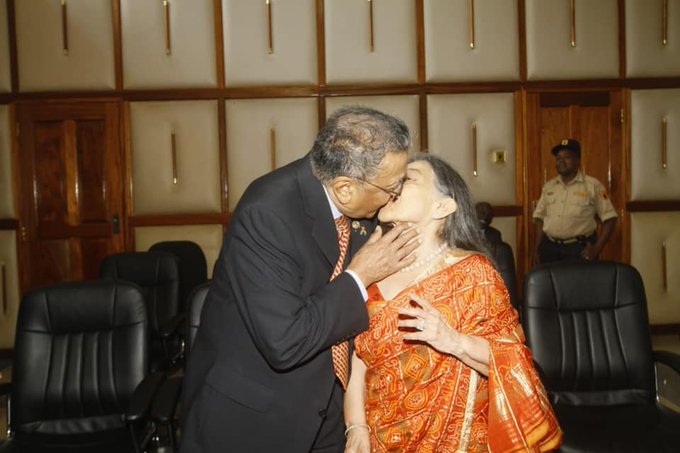 In the past few weeks, we have had a lot to learn from the said Kenyan billionaires. Very few Kenyans knew the other side of Bob Collymore, and it is through his death that we observed his simplicity, humbleness and honesty to be the driving factors towards his successful professional career. Let's not even indulge on his burial cost. 
Manu Chandaria, on the other hand, did a wedding by just paying a visit to the AG's office. Well, the standards have been set way high for the boy child and we now know that how you spend doesn't define who you are, right? Most of you think the standards have been set on the low but honestly quite high for most Kenyan men.
Here is how. Unlike most Keyan men, Manu has been with his wife for 64 years, do you know what that means?
We have no idea what they have endured for all those years and the Kenyan men are here yapping how low the budget was. You see, before you actually settle on whether to do a wedding or not, ask yourself, are you after the marriage or the wedding as an event in itself?
Manu on second thought is quite old, think about it, do you just want him to go through the tiring process of planning a wedding even at his age? All he needed was his marriage to be formalised. And that happened accordingly.
Chandaria, 90, was traditionally married to Aruna, 85, for 64 years, but took the bold step to formalise their union in a civil ceremony. The two well-advanced in age shared hearty smiles as they exchanged vows, much to the delight of those in attendance. Kenyans could not help it and most were left in awe.
What most of you probably don't know, is that Manu and Aruna were both born in Kenya and knew each other through family-business interests. They later parted ways when in college and later returned to Kenya separately before meeting again in 1952, which rekindled memories of their earlier days and they fell in love.
By 1955, they had convinced both families to allow them to marry each other and Manu, who was 26, then married Aruna, who was only 21. So this concludes that they did a traditional/custom wedding which had them as husband and wife for the last 64 years. The civil ceremony was done as a way of rekindling their vows and love and there is nothing wrong with making it simple.
Below were some reactions on Manu simple wedding:
Manu Chandaria has just shown the middle finger to those women demanding for classy, expensive, useless weddings. And the man had been in a come-we-stay and fornicating for 64 years? This is encouraging.

— MK, Murenoni Kangogo 🇰🇪 (@MurenoniKangogo) July 19, 2019
Well…both cheap & expensive weddings serve the same purpose…only difference is that one cripples how you begin your new life.

Marriages do have a purpose…but kama mko on the same psge it doesn't add anything.

— Hadez🔱 (@BrayohadezM) July 19, 2019
Without money, living off loans you are there planning a marriage on debt just because you must show off. Shida ya maskini huwa nini? "Glamourous marriages" will be your undoing. Ona Manu Chandaria na pesa yake yote. pic.twitter.com/KJIZfsERiU

— Bw'Okemwa (@stevekmw) July 19, 2019
What Manu Chandaria did today is to show people that having a successful marriage and having an extravagant wedding are two different things.

— MABUKA JR. AREA CHIEF (@vincad_entuda) July 19, 2019
As though the wedding wasn't enough, some people had to ensure they rubbed it on our face:
Manu Chandaria has given the boychild a blueprint on how it should be done. Nikupate ukiniweka kwa sijui committee ya wedding, budget ni 5M couple wako na 100k ,nipate!

— Африканский (@ougomandela) July 19, 2019
Businessmen and women were not pleased with this move as most of them make their profits from such ceremonious events like babymoons, baby showers, anniversaries, you name it. The mere fact that such a billionaire had such a simple ceremony, was not well received. One Sarah Kabu went on to encourage couples who would wish to wed and are being mocked after Manu Chandaria's move:
Do you think the current folks can live up to Chandaria's standards? Let us get your views in the comments section.