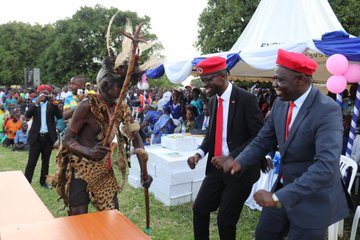 As 2021 nears for Ugandans to go the general polls, possible candidates have started initiating plans of winning the highly contested poll that will see over 70% of voters below 35 years. Among the favorites ready to challenge Museveni's 33+ year rule is Kyadondo East legislator Robert Kyagulanyi Sentamu alias Bobi Wine.
Bobi wine seems too determined to challenge the 75 year old Man from Rwakitula and he has been widely seeking endorsements from different political blocs, he recently made an alliance with the four time presidential candidate Dr Kiiza Bessigye and it's reported the two are yet to announce a great deal ahead of 2021.
The Fire brand politician spent some time over this weekend in northern Uganda traversing and making contacts in Acholi sub-region where he confirmed to the people present that he has no other option of serving this nation apart from challenging President Museveni who has been the helm of Uganda's politics since 1986 when he was just 4 years.
I reconfirmed to them that I am willing and ready to take on the task, and that we ought to unite to make this smooth transition happen. Thank you Acholi for the love.#GetYourNational_ID #PeoplePower_OurPower pic.twitter.com/x6xatwJ6Ud

— BOBI WINE (@HEBobiwine) July 20, 2019
The Acholi sub-region leaders endorsed him to take on the mantle in 2021 and challenge Museveni who feels unshakable when it comes to general elections.
It should be noted that president Museveni has been on country wide tours in the name of spreading Ideas of Operation Wealth creation but at the same time getting endorsed of his 2021 sole candidature deal which will see him contest on NRM party ticket without any resistance from his political party.