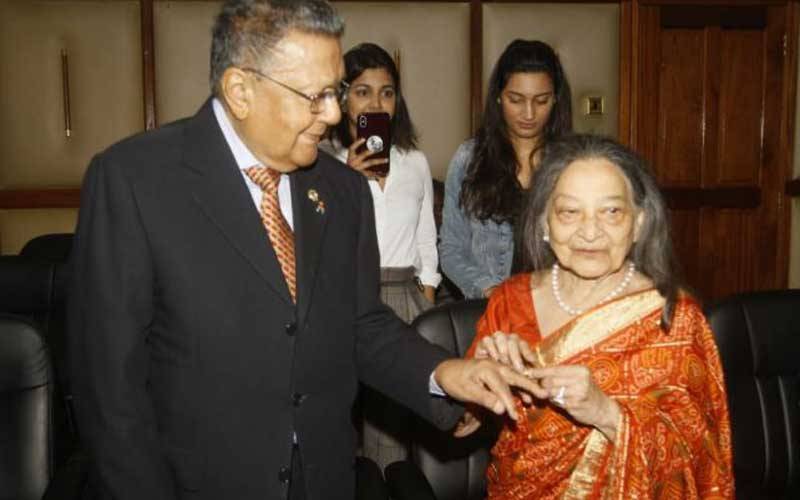 The marriage of Billionaire Manu Chandaria 90 and his wife Aruna Chadaria 85, has received mixed reactions from many people. The two exchanged vows at the Attorney General office in Sheria House Nairobi.
The business Mogul officiated the marriage after living happily with his wife for 64 years and they are still in love. During the ceremony, Manu Chandaria was seen kissing his wife lovingly something that has evoked hilarious reactions from Boychild on Twitter.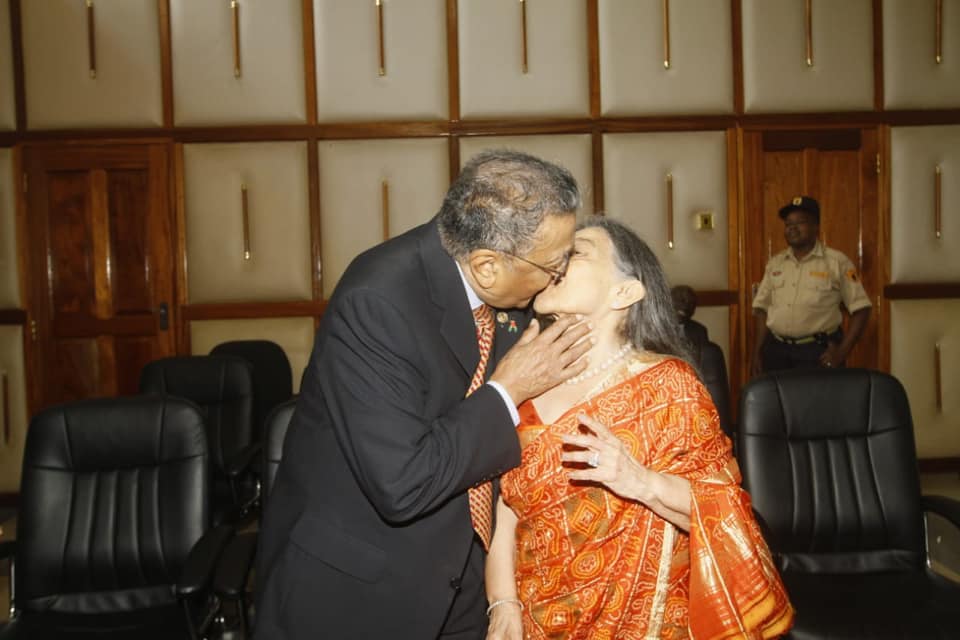 Now men have come out comparing current relationships with Manu's union with his wife Aruna Chandaria. The boychild rejoices over having found an excuse to keep the girl child as a wife without having to worry about the wedding.
Here is what KOT say
Chics who've been in a relationship for 10 years but still ask their man "What are we?" are out of luck thanks to Manu Chandaria.
54 more years to go baybeee!!

— Philip Mwaniki (@Mwanikih) 19 July 2019
BoyChild Manu Chandaria has been chewing her Bae for 64 years and some slaysqueens with community borehole wants marriage in two weeks. Forget that nonsense!

Well done Manu. The bar has been set. pic.twitter.com/aiU1Nqz2RU

— Cyprian Nyakundi Escobar (@CisNyakundi) 19 July 2019
Manu Chandaria has given us the answer on how to go about the "what are we" Question….. pic.twitter.com/X7khtRTStD

— Ian Ochieng™ (@ian_ochii) 19 July 2019
If Manu Chandaria can wait for 64 yrs to formalize his marriage, no one has a right to pester me with hurriedly done wedding! Am only 20 yrs into my come we stay, I have another 44 yrs more to do before one can claim am late to make it official! #Tusisumbuane!!

— THE TRUE PATRIOT™ (@johnnguyo1) 19 July 2019
It took our Patron Manu Chandaria 64 years of dating. 64 years. Na wewe after 24 hours of chatting unataka kujua "What are we"?

— 𝑀𝒶𝒸𝒸𝑜𝓈 🇰🇪 (@Maccoscyrus) 19 July 2019
Please ladies if Manu Chandaria's long time girlfriend can date her boyfriend, Manu for that long, what big deal being loyal to your boyfriend even for 3 weekends.

— Nandwa Isaac (@NandwaI) 19 July 2019
Great Lessons to learn from Manu Chandaria, Patience is key! 64 years.. Hii pande yetu after 5 years, What are we? Who I'm i in your life? 😂😂😂 pic.twitter.com/rFh592USPf

— Martin Wachira (@Martowachira) 19 July 2019
Mi after seeing Manu Chandaria been dating for 64 years but my 3 weeks girlfriend telling me i am not serious only that I said we will get married on September. pic.twitter.com/ygYWnnxBFE

— Nandwa Isaac (@NandwaI) 19 July 2019
Manu chandaria anafanya wedding at 60 slay queens wanataka waoleke on the second date see yoh lives hope volume iko sawa…

— speed.bandit🇰🇪 (@nesbit_official) 19 July 2019
Manu Chandaria amemarry leo after kuishi 64 year's with the now wife. ladies, is the volume loud enough ? 😂

— ✨Ramzie.✨ (@siuye_) 19 July 2019
Billionaire Manu Chandaria Solemnises his Marriage to his wife of 64 years, Aruna Chandaria; at the AG Chambers. Apa Nimedate Dem Two Weeks, Anaanza Kuniuliza, Babe What are We? 😢 Lubbish pic.twitter.com/pSDCM66qzd

— Gerald Ngao 🇰🇪 (@geraldngaopk) 19 July 2019
Other people made it their business to troll people who love calling for wedding fundraisers for their extreme wedding budgets. Citing that Manu only spends less than Ksh. 4000 on formalizing his wedding, they feel that middle-class people should not set high budgets for their weddings.
Manu Chandaria a billionaire has married his wife of 64 at the AG chambers. Please msitusumbue na WhatsApp groups sijui committee to raise money for your extravagant wedding. Kila mtu aende na volume yake please. pic.twitter.com/ExhpkFijId

— Bel Akinyi (@BelAkinyii) 19 July 2019
If Manu Chandaria wedding is less than KES 10K 🙄 who am I to have a bigger Budget 🙄 How?? 🙄 Men collect your Freedom 🙄 P.S "hope my wife doesn't see this one"

— gachoki (@GachokiKarani) 19 July 2019
Hii ujinga mtu anaweka Committee mzima za WhatsApp group ati anaFanya harusi, Learn from Manu Chandaria, with only ksh 3,900 the civic wedding was done.

— Kawangware Finest™️ (@cbs_ke) 19 July 2019
Manu Chandaria and his wife got married back on April 30, 1955, in an informal wedding that was very simple in Mombasa at Visa Oshwal Centre.  At this time, Manu was 24 and Aruna was 21.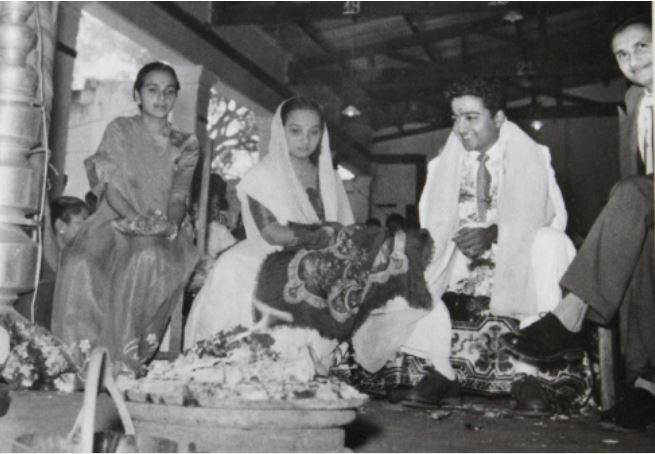 After marriage, Aruna became a housewife who worked smart to build her home. In a previous interview, Chandaria revealed that his wife developed her hobbies while at home which included cooking, tapestry, and growing orchids.