Kenyans were on Wednesday treated to rare photos of President Uhuru Kenyatta and his Deputy William Ruto all in smiles sharing joke moments shortly after the two led other leaders in the official launch of the COMESA Business Council Conference at Kenyatta International Conference Center
The two who over a year now had not been so close to each other unlike before the 2017 general elections were once again featured in public laughing and seemingly
All laughs and giggles here; President Uhuru Kenyatta and his Deputy William Ruto share a joke moments after the official launch of the COMESA Business Council Conference today. pic.twitter.com/XkX539uKjd

— Citizen TV Kenya (@citizentvkenya) July 17, 2019
The event which is running under the theme "The Hallmark of Quality" is set to bring together policymakers and all the private sectors from the 21 COMESA member states who are the drivers of trade and economic development.
Among other things, the policymakers will deliberate on how to promote and advance cross border trade amongst the representative states.
President Uhuru Kenyatta accompanied by Presidents Paramasivum Pillay Vyapoory (Mauritius), @EdgarCLungu (Zambia), @KagutaMuseveni (Uganda) and DP Dr. @WilliamsRuto at KICC for the official opening of the #Source21COMESA International Trade Fair and High Level Business Summit. pic.twitter.com/RpThINP4ht

— State House Kenya (@StateHouseKenya) July 17, 2019
The Trade Fair is also expected to further offer an opportunity to showcase the young minds behind Africa's trending SMEs, who are developing innovative solutions for the continent.
It is, however, President Kenyatta's rare photo's with his Deputy that rocked the internet setting it ablaze, not because the photos were not in order but simply because the two had over the last months had been engrossed in indirect bitter exchanges.
The relationship between President Uhuru Kenyatta and his deputy William Ruto got strained in 2018 after the entry of Raila Odinga into the government through the famous Handshake.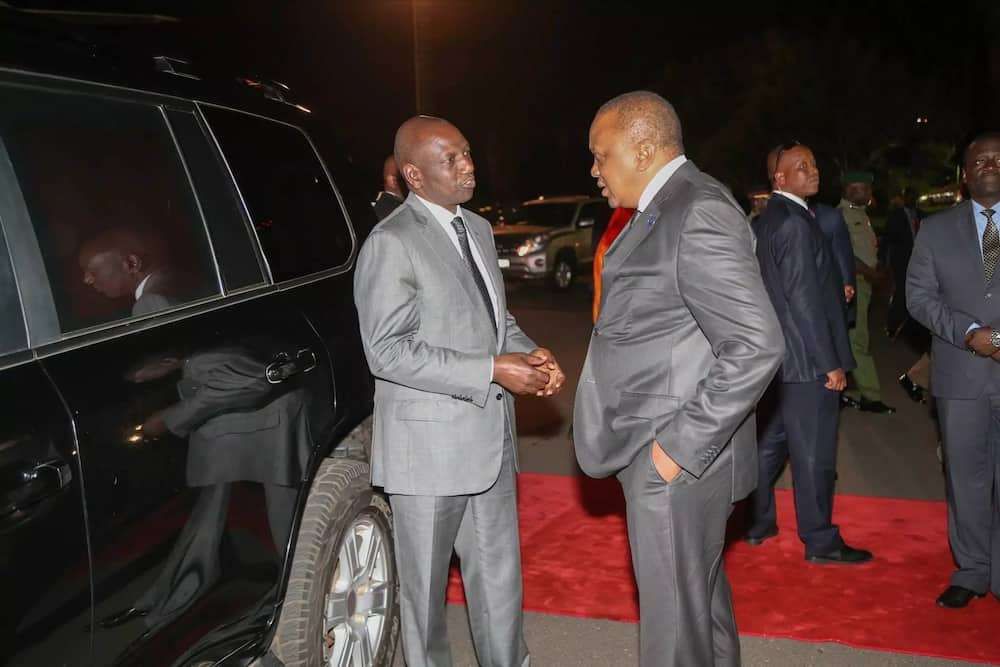 Ever since the launch of the Building Bridges Initiative, the relationship at the presidency has been nothing but tense with each accusing the other of sabotages inside the ruling party.
Here are some of the reactions from Kenyans on Twitter about UhuRuto's rare photos;
We have been missing this

— Mash Kenya (@mashpatoh2) July 17, 2019
Kaka Onyun This is a file photo taken 2yrs ago outside the KICC.My memory is very clear.
Mugambi Eustace Good chemistry for this nation.Politics has no enemies,leave alone the idea permanent.High drama is expected from the handshake side
pictures speak alot these guys are still buddies

— Thomas Odol (@ThomasOdol) July 17, 2019
Perika Prop Politics of friendship, based on a common value, interest and the desire to unify fragmented party members.
Titus Kimbunda Yeah and we want to see the same laughter in 2022, maybe I'll be the one laughing 
No wonder;;
Its a rare phenomenon!!
Hurrah hurrah hurrahing

— Daudi Muya (@DaudiMuya1) July 17, 2019
MK Fred Politics, politics, these two gentlemen are very wise, they contained Raila. Come 2021/2022 someone will know they were taken for a ride
Sylvester Arap Tuwei This is the way to go and don't break again. We voted you in 
Oloo Okello This pic is better than the negative ones mostly posted….
You guys want to kill the Handshake ? some guys may interpret it different ! Mambo Mbaya

— Roba 🇰🇪 (@Robaa82) July 17, 2019