A week ago, the government of Kenya directed mobile money service provider including Safaricom, Airtel and Telkom Kenya to withdraw pay bill numbers and SMS codes of 27 betting companies in the country which had not renewed their betting licenses.
Among the major betting firms affected by the ban included the country's mega Sport Pesa and Betin companies. The directive saw over one million daily gamblers significantly affected with Sport Pesa reporting that the company was loosing over 54 million shillings in profit that the company usually makes on a single day.
The company through its official statement accused the government through the Betting Control and Licensing Board of trying to 'discourage' Kenyans and 'disrupt' business terming the ban as illegal, abrupt, malicious and prejudicial.
But despite the giant Telco company Safaricom withdrawing its pay bill number (955100), reports show that Airtel money, Equitel together with PayPal Paybill numbers are still active and transferring money to the Sport Pesa's individual accounts.
kenya government wants "MPESA" dead not sportpesa

safaricom shud think twice on this. VISA is working AIRTEL is betting, EQUITEL is depositing to sportpesa, PAYPAL is transfering money to the same………….. THEY WANT MPESA DEAD

— MuthuiMkenya 🇰🇪 (@MuthuiMkenya) July 15, 2019
According to one online user, the government was only trying to kill Safaricom's MPesa services, urging the giant company to think twice on their decisions to remove Sport Pesa's Paybill numbers.
On the same note, Sport Pesa through its CEO Ronald Karauri also accused Safaricom of being swift in withdrawing their services terming the move as illegal and malicious.
SportPesa is highly disappointed by the recent BCLB's illegal action to block our shortcodes for deposit and withdrawal despite the High Court order." reads part of the statement from Sport Pesa.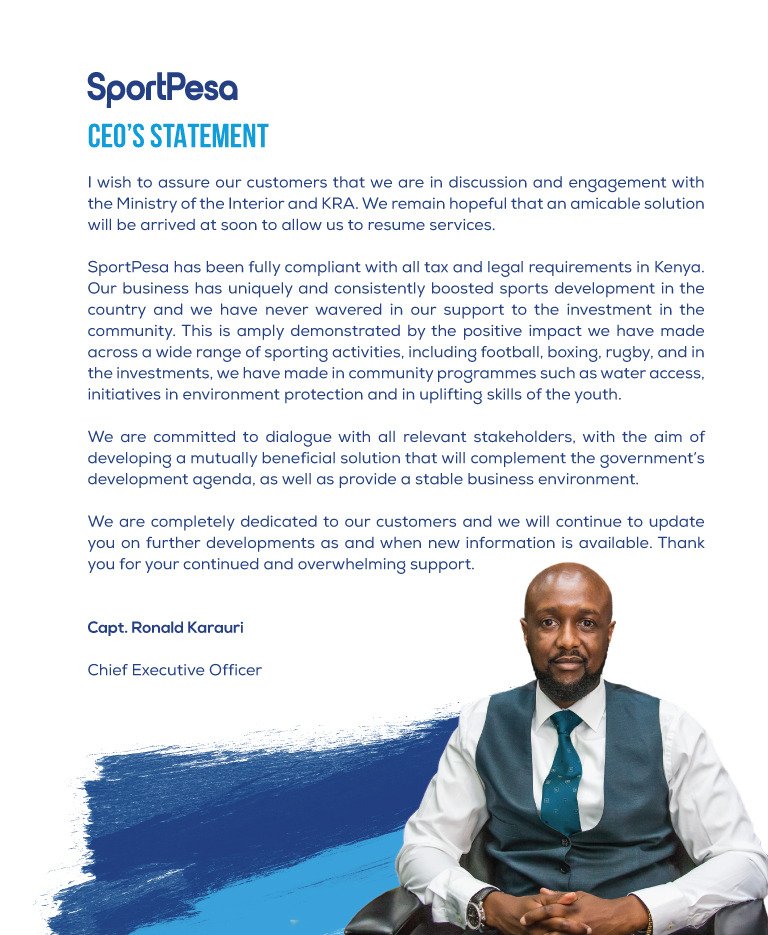 A report from the multi-agency team which had been mandated by the government to probe all betting companies in Kenya indicated that the 27 non-compliant companies made a cumulative amount of Ksh.204 billion in 2018 but paid only Ksh.4 billion in taxes.
There were also reports that the companies were allowing the underage children in the country to participate in gambling a report that Sport Pesa strongly denied.
Official Statement

SportPesa does not have any underage players on our platform neither do we own any betting shops. pic.twitter.com/vHvBijFnNw

— SportPesa (@SportPesa) July 16, 2019
As gambling, and especially sports betting, becomes pervasive in Kenya and Africa at large, its adverse effects continue to get acute. Researchers warn about the compulsive nature of gambling and lack of proper controlling mechanisms on underage gambling.
The betting menace has also caught on in countries like Uganda where the expansion of satellite TV and the creation of a national lottery has lured many jobless youths into gambling.
Even telkom is depositing money to sportpesa

— oscar nzamba david (@nzamba_oscar) July 16, 2019
Mpesa is for the poor bro, it can't die… Let the rich enjoy visa…😀😂😂😂

— Paû Muchiri™🇰🇪 (@NjorogeMuchiri) July 16, 2019
CEO Sio Mkenya… pic.twitter.com/YmOJw7FmtL

— FieldMarshal🇰🇪™️ (@machetevga) July 15, 2019