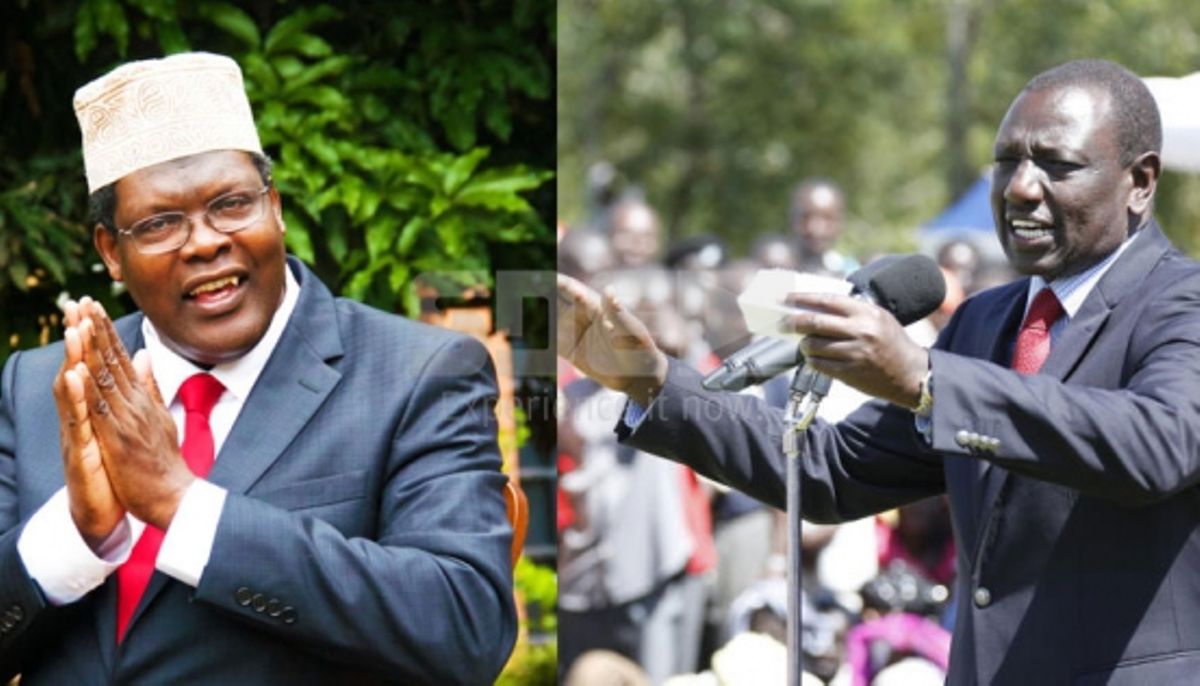 Embattled City lawyer Miguna Miguna has come to the aid of Deputy President William Ruto defending him against accusations made against his camp over the alleged loss of money set aside for the construction of Arror and Kimwarer Dams in Elgeyo Marakwet counties.
Through is Twitter account Miguna wondered why Uhuru' government was so much interested in the alleged loss of Kimwarer's money only when his friends and family had stolen billions of money from the SGR, Eurobond, NYS and Fake gold scandals.
He took swipes at ODM party leader Raila Odinga whom he accused of being 'bribed' with billions of shillings by the Kenyatta family at the expense of taxpayers money. He termed Raila as a Castrated Hypocrite who had betrayed Kenyans when they highly needed him.
When the People's Con-Man @RailaOdinga EMBRACES the more than 500 billions of shillings Uhuru Kenyatta, his family and their cronies have stolen from the SGR, Eurobond, NYS, Fake Gold & other huge scandals but only focus on Arror and Kamwarer, Kenyans see a CASTRATED HYPOCRITE.

— Dr. Miguna Miguna (@MigunaMiguna) July 13, 2019
According to Miguna, Raila had no right to betray Kenyans but he did. He said that he also had no right to embrace a tyrant like Uhuru Kenyatta who according to him had made Kenya a living hell for 55 million citizens. He added that Raila had no right to sacrifice millions of Kenyans in pursuit of his selfish financial gain.
Miguna's attacks on the two leaders came after reports emerged that Raila Odinga together with President Uhuru Kenyatta had attended a traditional wedding of Kirinyaga's Governor Ann Waiguru.
Miguna through a satirical conversation observed that there was a plot for Raila to have Waiguru as his running mate in 2022. according to his thoughts, the House of Mumbi was doing everything to remain in power even if it means 'doing away' with Deputy President William Ruto.
MAFIA PLAN

Prof. Kagwanja to Despot Kenyatta: Marry out @AnneWaiguru to Waiganjo and make her the con-man's running mate.

Muhoho Kenyatta: Yes, Kamwana. We must do everything to retain power within the House of Mumbi.

Nancy Gitau: When do we Saitoti Ruto?

Despot: Done!

— Dr. Miguna Miguna (@MigunaMiguna) July 14, 2019
"Congratulations, The People's Con-Man, Raila Odinga, for having been appointed by Tyrant Uhuru Kenyatta as the official Kikuyu NGURARIO collector. Among Indians, that job was reserved for the ENUCH. Among Luos, it is for the Village Buoch. It is a LOUD FALL. #DespotsMustFall" he Tweeted
He went ahead to accuse Raila of collaborating with Uhuru who had murdered his supporters in 2017. He observed that Ruto was just becoming a sacrificial lamb for the two who had siphoned the country dry.
By attending the wedding of Anne Waiguru – the architect of the #NYS scandal that resulted in the theft of more than She. 50 billion public funds – Despot Uhuru Kenyatta and The People's Con-Man @RailaOdinga have given green mark of approval for looters to continue their PLUNDER.

— Dr. Miguna Miguna (@MigunaMiguna) July 13, 2019
"Let me say it in very simple terms for everyone, including the semi-literate, to understand: Despot Uhuru Kenyatta and The People's Con-Man @RailaOdinga cannot claim to be "fighting corruption" and "uniting Kenya" when they EMBRACE one of the worst LOOTERS in Kenya" he added
Miguna's sympathy and soft stand on William Ruto comes just days after Ruto's close ally Oscar Sudi promised to marshall the country in support of Miguna's return to Kenya. Miguna had welcomed the move saying that every Kenyan including Sudi had the right to push for his come back.
All Kenyans including Oscar Sudi have absolute rights and duties to DEFEND the Constitution, fight against those SUBVERTING the Constitution and PROTECT democracy and rule of law. They don't need my permission to do so. And it doesn't matter that they supported despots yesterday. https://t.co/RvxDGncZdL

— Dr. Miguna Miguna (@MigunaMiguna) July 10, 2019