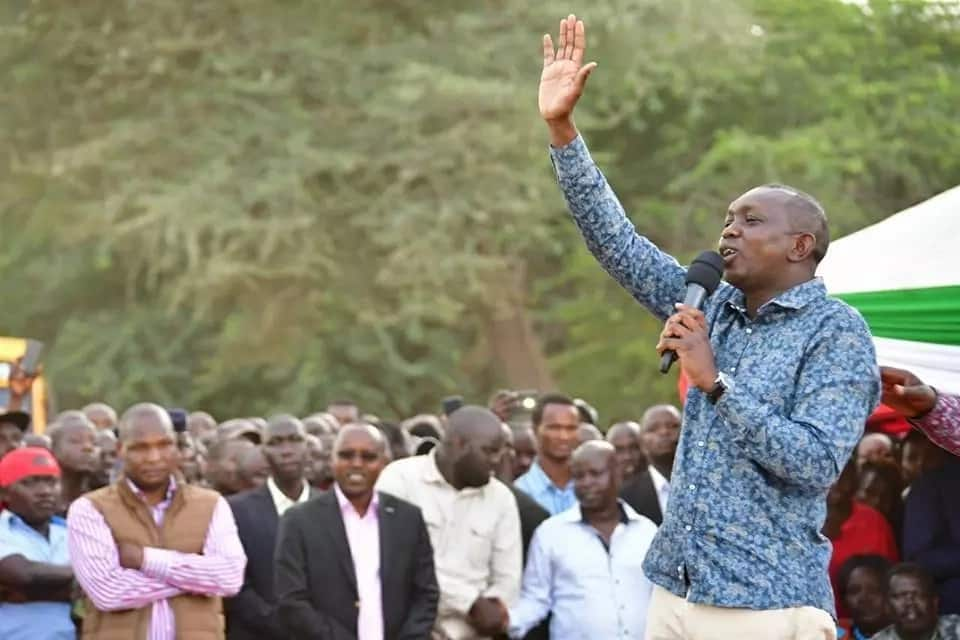 Barely hours after the arrest of Dennis Itumbi who is the former Secretary of Innovation, Digital and Diaspora Communication in the Office of the President, Kapseret member of parliament Oscar Sudi has come out to lecture both the President and his Deputy concerning the arrest.
The vocal MP warned both President Kenyatta and his Deputy saying God will not forgive the two for what he termed as forgetting where they had come from since t5he time the two were facing criminal charges at the Hague based court ICC.
He was reacting to the government's arrest of blogger Dennis Itumbi who according to Sudi, played a major role in the liberation of the two leaders from the ICC monster.
Sudi laughed off the idea that Raila Odinga, a person who according to him played a major role in fixing the two at the ICC was currently being glorified and embraced by the government at the expense of those who stood with them during their hard times.
"Both of you guys are free from the jaws of ICC courtesy of Dennis Itumbi. Itumbi provided you with information that secured your freedom until now you are enjoying your lives together with your children and families.
It is more laughable that the same person who stirred up the ICC issue and used it as a campaign tool against both of you is the same person being glorified now." read part of the statement.
Sudi told the two, in an indirect reference to the President that God was definitely not going to forgive them for biting the hand that fed them during their hard times.

According to Sudi, the government was sacrificing Itumbi just to divert the attention of a meeting that is alleged to have taken place in the basement of La Mada Hotel. In the meeting, the four ministers from Mt. Kenya region are alleged to have discussed Deputy President William Ruto's assassination plans.
"Are you trying to make us believe that the meeting took place in Harambee House Annex?" posed Sudi
The simply agitated Sudi claimed that Raila who he referred to as The Lord of Poverty didn't believe in God and wondered why people who were going to church claiming to know God could be misled into forgetting what God had done for them.
"Last but not least, I want to tell My President who doubles up as my friend; Lies don't last long, think twice and reflect back where we've come from. God is watching you," he added.
Sudi's remarks drew a lot of mixed reactions from a section of Facebook users with some believing Sudi was right and others rubbishing his sentiments. Here are some of the reactions;
Ndungu Joseph Karanja Ndoch Great words.But as for me,I totally refuse to be part of the betrayal! I'm standing with Ruto to the very end!
Dickson Muiruri My friend the president is more concerned about their family business than what you are telling us here, the sole purpose of the handshake was to make sure the Kenyatta family businesses flourish
Kimani Charles I concur with you 100%.this kibicho issue will tear this country apart.uhuru wants to cling to power by all means that's why he is frustrating his deputy
Hussein Fundi But I thought you said you don't know English. Who penned this piece for you?….please Make sure that what you pay him is commensurate to his work, He has really done a good job for you
Dangote Sisi kama tangatanga we better divorce this Uhuru …hes nowadays fighting his Deputy left right n center….Najua Ruto anavumilia tu buh deep inside hes really hurted by the drunkard kamwana
Evans Ochieng "We are all aware that the Lord of Poverty doesn't believe in God but it is astonishing that some of you go to church but you don't seem to believe in God either. " smh
You are the reason Jesus Christ has delayed His second coming.
Omondi Steve Kama ingekua sisi during our time the government by now would be running out of teargas
But nyinyi ni kelele tu si muandamane you are in opposition na hamwandamani so what do u enjoy?
Sudi I want to see u and some hundred people on the road kesho SAA TATU puga
Victor Owiti Address the President wacha uoga ya kuingia Arap Kimwarer ili ujione umebalance.. Smell the coffee Mr. Illiterate,stop relying on history.. ICC cases are gone and Uhuru is slowly putting the baggage down and he will fall down with a thud.