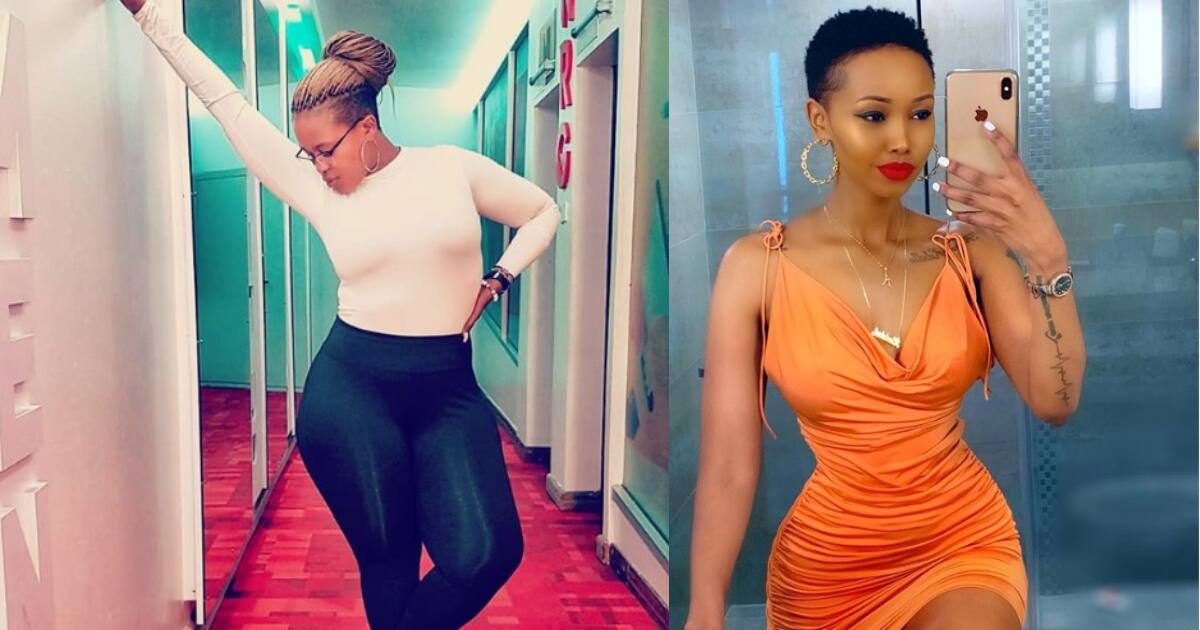 The battle between Kamene Goro and Huddah Monroe is officially on and netizens have picked sides. The war started after a video of ex NRG Radio host Kamene Goro was taped saying Huddah has class three English and the only thing she does is hawk her 'puddesh' for her rich lifestyle.
Many have come after Kamene calling this a low blow on her part as a graduate with a law degree.  If you are unfamiliar with the leaked video, check it out below:
☕️ ☕️ for the cold. Kamene Goro taking a jab at Huddah's lifestyle 💀 pic.twitter.com/SZ5FXJJeXy

— KOT Tea Server (@KOTeaServer) July 3, 2019
The video has rubbed the internet the wrong way and Kamene is on the receiving end of netizens' full wrath. Who would have thought socialite Huddah Monroe has so many fans as many loyal fans have bashed Kamene in her defence.
Huddah who had almost nothing to say to the news except brand Kamene a peasant saying queens don't get off their thrones to address peasants.
Check out KOT's reactions below:
I've always cautioned young ladies who copy anything from these 21st Century Sellers . We Know what they go to do in Dubai . Shame on them #huddah @naiblogger pic.twitter.com/e2BBlGTIhp

— MICHAEL WAMUNYINYI (@MikeWamunyinyi) July 3, 2019
There is only one difference between Kamene Goro and Huddah, Both sell their things, Huddah for millions while Kamene for Mzinga ya wine. Cheap prostitution vs expensive one.

— NaiBlogger🇰🇪 (@naiblogger) July 3, 2019
Kamene Goro should be going after the likes of akina Vera Sidika. Going after Huddah is a suicide mission cause tuko nyuma yake kama mfuko ya jeans pic.twitter.com/5ThhbgRhKO

— Gifted Baby (@Denogrant_) July 3, 2019
Akina Vera, Huddah and that entire Instagram 'models' who fly first class, go shopping in Dubai but without tangible jobs, this is what most go through behind the scenes. #Huddah #CongratsKalonzo #TeamWanjikuScam @HUDDAHMONROE pic.twitter.com/1YCeaipFaW

— MICHAEL WAMUNYINYI (@MikeWamunyinyi) July 3, 2019
Agreed with your sentiments. Huddah's silence will really hurt the attention seeking Kamene. Kamene just wanted to seek attention and we better not give it to her. Huddah has been very quiet and now being insulted. Huyo dame hajamature up to now. Shame on her https://t.co/qnqmuFL37c

— Kelly Andrei Gitahi (@KellyGitahi) July 3, 2019
https://twitter.com/waicha_/status/1146360458645057537
Honestly Samra, i find Kamene so childish. How can one make a clip on IG and start insulting someone unprovoked? Huddah has been minding her business. Enyewe Kamene has not grown up up to now https://t.co/YPcP6xPV8p

— Kelly Andrei Gitahi (@KellyGitahi) July 3, 2019
Xtiandela's IG stories…Kamene amesema anauzanga pudesh and her English Ni ya class 3. Huddah naye amesema a Queen doesn't get off her throne to address peasants so I guess imeisha hivo 😭

— 𝓝𝔂𝓪𝓶𝓫𝓾𝓻𝓪 (@Nyambusideh) July 3, 2019
Huddah :A queen doesn't get off her throne to address a peasant. 😂

Kameme Goro👇👇 pic.twitter.com/T6dRFeClFS

— Pere E.S (@emmanuelperuz) July 3, 2019
Do you really believe Huddah cares about this at this point of her "Career"? 😂😂😂😂😂😂😂

— Genius Blonde (@Sc0fy_) July 3, 2019
Kamene Goro once said she has slept with 27 men then asked people not to judge her. Now, the lady has said there is no way that Huddah Monroe can afford her expensive lifestyle bila kugawa manini. pic.twitter.com/Q97vlGg4G9

— Meshack | Motivational Speaker (@meshack_speaker) July 3, 2019
Huddah Monroe as A baby. She Was Just Too cute😍😂 pic.twitter.com/2Hlw59RbeQ

— YOU CAN DO IT KIPCHOGE (@itsRapeesmo) June 28, 2019
https://twitter.com/KapukaFacts/status/1145245382294810624
Huddah is the most beautiful woman in Kenya and it's not even debatable

— G (@HICCUP_o) July 3, 2019
Huddah: Nimefunga duka and I urge all ladies to close their shops.

Huddah 2 days later after meeting a filthy rich sponsor. pic.twitter.com/OczhLpnyFb

— THE INCREDIBLY TERRIBLE! (@allen_arnold) March 20, 2019
https://twitter.com/orscrz/status/1139441032825843712
Huddah is the 20 litre Jerry can where as Kamene is the 100 litre roto tank. The one that holds the most water has the capability of taking the white ink in plenty. The bigger they come, the harder they fall.

— Tijey (@Tijey5) July 3, 2019
You know Huddah is influential coz she has all these no one really remembers personalities trying to drag her for 5 mins of fame

— Mwende Ngao (@mwendesusu) March 6, 2019
LADIES!! You are your own enemies…. You don't need empowerment to be equal with men. You need empowerment to learn to empower yourself.

Kamene Goro is some overweight chick trying to grab attention from anywhere.

Let Huddah mind her own business

— Tough Kenyan 🇰🇪 (@Taff_Kenyan) July 3, 2019
I'm still wondering why Xtain shared that IG Story of Kamene insulting Huddah. It tells alot about his character https://t.co/bKGcjSb0fz

— Kelly Andrei Gitahi (@KellyGitahi) July 3, 2019
https://twitter.com/iainfelipe/status/1146344550878928896