Githeri doesn't have to be boring, it's the high school meal that many people didn't appreciate. At the same time, it's one of the cheapest meals you can cook, enjoy and it will fill you up. You don't need many things but these top 3 recipes will probably make you excited.
1. Githeri recipe 1: What you need:
½ kg of boiled githeri (boil beans and maize before until they cook and get your preferred softness)
1 large onion (Finely chopped)
Garlic(3-4 Cloves chopped)
A small piece of ginger
chopped Curry powder to taste(1-2 tablespoon)
A small bunch of coriander
2 tomatoes chopped
Salt for seasoning
1 carrot
Half green pepper
What to do:
1. Fry your ginger, garlic and onion in a pan with oil.
2. Keep stirring to prevent burning.
3. Add curry powder and stir for at least 2 minutes on low heat.
4. Add chopped tomatoes and carrots and stir then allow to cook when covered.
5. Allow it to cook for another two minutes and add water whenever necessary to avoid making the sauce dry.
6. Then add the githeri and stir.
7. Let it cook for two minutes and add the peppers and cover.
8. Your githeri is ready when the peppers are crunchy.
9. You can add water to make the stew a bit thick plus you can put some beef stock cubes if you want it thicker.
10. Add coriander in the last stage and there's your meal.
2. Githeri recipe 2: what you need:
Vegetables (Onion, tomatoes and sukuma wiki)
Royco cube
Boiled Githeri
Oil
Salt
Meat
What to do:
1. After oil is hot add onions until they turn brown.
2. Add tomatoes and wait until it's cooked and soft.
3. Put meat to allow it to cook for some time and become soft.
4. Put beef stock plus githeri plus sukuma and a bit of water.
5. Add salt.
6. Garnish with coriander.
3. Githeri recipe 3: What you need:
Veggies (onion, garlic, tomatoes, cabbage, green pepper, coriander, avocado)
Boiled githeri
Oil
Soy sauce
Beef stock
salt
water
Black pepper
What to do:
1. Heat oil and add onions and garlic.
2. Add beef stock plus blended/grated tomatoes.
3. Add cabbage plus a tablespoon soy sauce let it simmer for 5 minutes.
4. Add green pepper plus a dash of salt (remember soy sauce has salt).
5. Add githeri plus some water, not too much water though.
6. Garnish with coriander and take your meal down with an avocado. Yummy right?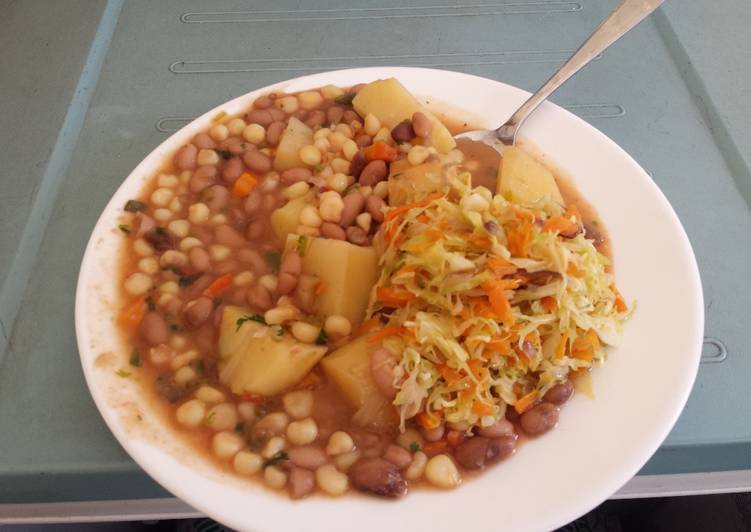 Githeri doesn't have to be boring, it's really up to you to make it interesting and as fun as possible. If you mix it with meat or even minced meat it gives it more flavour plus if you mix with veggies it's obviously more nutritious and also tasty.