"We support you, we stand for you, we love you Dennis, we apologize on their behalf" These are the words that have been trending in Egypt after Harambee Stars player Dennis Odhiambo was reportedly racially abused by Algeria fans.
According to reports, Odhiambo was subjected to a strange and non-justified racist campaign from the fans of Algeria because of his distinctive form and he demanded to leave Egypt and return to his country. No report from the Football Kenya Federation has confirmed that he has returned to Kenya.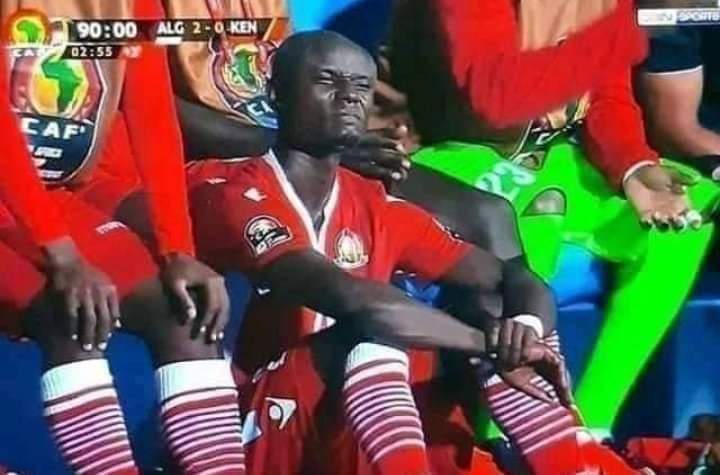 However, many have expressed their disgust with the act terming it unacceptable in this century. In a hashtag #dennis_odhiambo_one_of_us Odhiambo has received overwhelming support and have encouraged him not to leave Egypt.
From Algeria#dennis_odhiambo_one_of_us
Welcome in Algeria any time brother !! pic.twitter.com/W3dTANgHP7

— mohammed lakhdar khezazna (@KhezaznaLakhdar) June 27, 2019
We are so sorry, you are better than us. #dennis_odhiambo_one_of_us pic.twitter.com/FoTxrUfuFD

— MohamedBekAlQaffas (@MohamedAlQaffas) June 27, 2019
God doesn't look to your colour or your shape.. God looks to your soul and I bet it's a pure one #dennis_odhiambo_one_of_us pic.twitter.com/SapTX6TRbd

— RedaZ™ (@Dr_RedaZ) June 27, 2019
No place for RACISM !!#Dennis_Odhiambo_one_of_us pic.twitter.com/BoXfVNkWz5

— Mohamed Badr (@Mbadr14) June 27, 2019
Thread…..
A story has been doing rounds about Dennis Odhiambo having left Egypt because of racist trolls by Algerian fans during our first match. Of course he hasn't left…….#HarambeeStars #Tunaweza #AFCON2019 #KENSEN #dennis_odhiambo_one_of_us pic.twitter.com/76VZqbMmRJ

— Snowy Secret (@SnowySecret10) June 29, 2019
Shame on Algerian fans!! they are well known for their racism against other Arab & African nations.

Absolutely disgraceful.

I stand with Dennis, stay strong my friend. #dennis_odhiambo_one_of_us

— Rakan (@Rakan_sj) June 29, 2019
We support you
We stand for you
We love you Dennis
We apologize on their behalf
Keep going brother and do not listen to these ugly racism
You're welcome in Egypt brother♥️#dennis_odhiambo_one_of_us pic.twitter.com/vID4lLJV5i

— AhmedHafez93 (@AhmedBatista93) June 29, 2019
Racism has been a stain on the soul of soccer for generations but a series of high-profile incidents in recent years has prompted calls for tougher action from football's governing bodies to kick it out completely. In the past season, black players like Pierre-Emmerick Aubameyang suffered numerous case of racial abuse from white fans.
And it is tantalizing that this kind of ugly act has found its roots in Africa. It is high time for the Confederation of African Football to take drastic measure to tackle this stain before it harms the unity that has always been seen in Africa.