Do you want to start a business in Kenya with very little capital?
There are several business ideas in Kenya that you can start and benefit from.
Any business regardless of how much you use as capital has the potential to grow into something big.
Job searching in Kenya is not a new factor with over 1.4 million Kenyans looking for employment.
According to a survey by the Kenya National Bureau of Statistics (KNBS), seven million Kenyans are unemployed. The survey, released in March last year, paints a grim picture of the country's unemployment levels while shattering the 40 percent unemployment rate myth.
With Kenya's unemployment rate at 7.4 percent, Kenyans are now opting to venture into businesses that will bring income and keep them going. With different amounts of starting capital, there are several options for those willing to quit the job hunt and be their own bosses.
Here are top businesses that you can start in Kenya whether you are employed or simply trying to make ends meet.
Small Bakery
Starting a small bakery business can be a profitable small venture in Kenya. You need baking equipment (pans, ovens, mixing equipment, cake decorating equipment, and measuring equipment), raw materials (flour, eggs, sugar), consistent recipes, business permits, and licenses and good marketing skills to start this business. As you make more profits, there is always an option of scaling up.
Create a Facebook page, Twitter account, and Instagram account to display the product.
Movie shop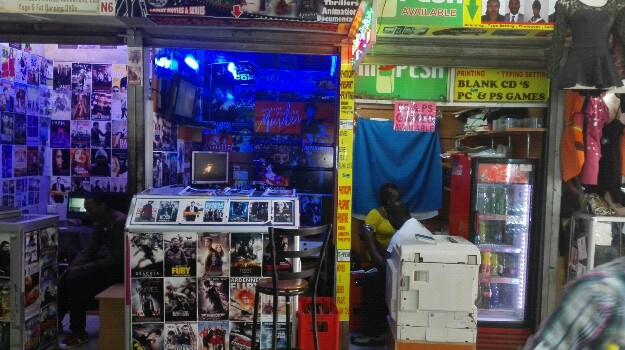 To start a movie shop, you will require renting a stall and purchase equipment. Reliable internet is also key to running the business so you can keep up with emerging videos for clients. Locating your shop close to Universities will obviously place you in a better position as they are willing clients.
Second-hand clothes and shoes (Mitumba)
Buying and selling second-hand clothes and shoes has been around for years. You have to be creative on what to sell so as to stand out and meet the demand and with less competition. The following are second-hand items you can focus on:
Kitchen cooking aprons (comes in variety and demand is high for home use, market traders, small kitchens, and many more)
Women shoes (demand is always high – you must be updated on what is trendy)
Unisex rubber/sport shoes
College bags
Mens Shirts
Men's & women's Khakis
Men's & women's Denim (they are trendy)
Laundry Business
Laundry is easy to start a low-cost profitable business. In Kenya, this business has high growth potential. You just need a washing machine, pressing irons to start this business.
Fresh Juice & Smoothies
Fresh juice and smoothies have become popular among both the young and the old. You can either bundle it with your vegetables and fruit supply or run it as an independent business. You need a juice blender and a few other pieces of equipment to get started. You can learn from Youtube and practice on how to make the best fresh juice and of different flavors.
Find a good location and buy fruits from the cheapest outlets. Get a vending machine, where buyers can purchase their favorite fruits by inserting coins and select the options available without any hassle. This is one of the good business ideas in Kenya to start-off with.
SEO or link building business 
In Kenya, internet related businesses are booming. Every day hundreds of websites are established. You can develop an online community, web page designing and SEO or link building services. Initial investment of this business will be less than Ksh 35,000 approximately. This business is one of the top business ideas in Kenya.
Eggs Supply
Find a farmer who can supply eggs to you at an affordable rate. Position yourself at estates entrance and other busy areas. Demand for eggs is always constant and with a good strategy, you can build customers loyalty. Proper hygiene and packing are required. Create delivery option where you delivery to homes, and offices on demand.
Other honorable mentions
Farming Chia seeds
Event planning and party planning
Professional cleaning service business in Kenya
Making beaded handbags and sandals
Hair Stylist (e.g Dreadlocks specialist)
Start a daycare service
Dance Teacher and Personal training
Boiled eggs and smokies
Manicure/Pedicure business
Milkbar
Milk, being perishable requires careful handling. To venture into this business, you will need a refrigeration system, reliable supply of milk and an identified market gap. With the coming of milk ATMs, you can be able to grow the business to supply milk to a large group of clients.