Sonford chicken is a part of Kenyan history, as illustrated by thousands of Kenyans today. The iconic takeaway fast food joint has been in the country for as long as many can recall.
If you take a drive around Nairobi CBD down Moi Avenue in the wee hours of the morning when it's darkest outside, Sonford is usually full of people coming from a club drunk and hungry. Some are usually blacked out on the counters while many enjoy their fish and chips.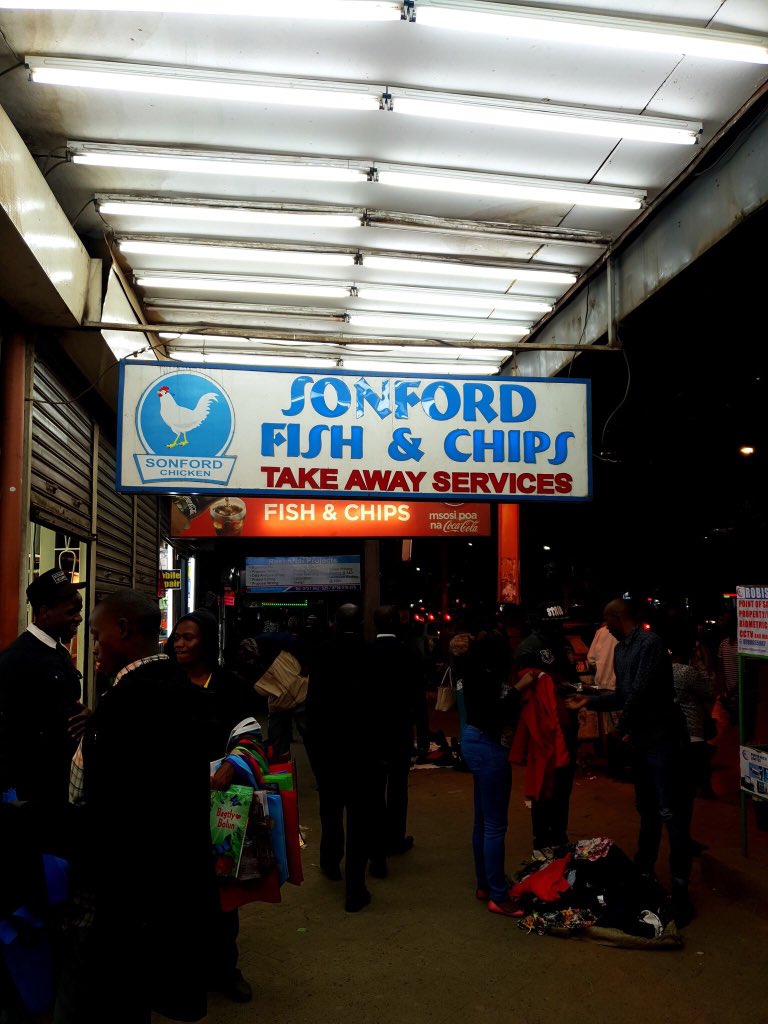 During the day, the joint is usually jam-packed especially during lunch hour as hundreds flock their daily during their lunch hour breaks. It has warmed its way into Nairobians hearts despite any bad press that has tried to slide its way into the public.
Sonford is exactly where the craziest memories are made in Nairobi. One netizen posted the question and hundreds of Kenyans have come out to share their hilarious memories at Sonford.
Sonford stories, everyone has one, what's yours?#SonfordStories

Share below pic.twitter.com/5vkGjoz0ti

— Übermensch (@Trackmann) June 26, 2019
Prepare your ribs for a rib-cracking experience below:
2nd year UoN a couple started fighting after they had sat down to eat and the lady stormed off. The guy followed her.A friend and i were having fries only and there next to us were bhajia and half kuku. It was a good day.

— Mue (@philmue) June 27, 2019
@RiccSims should we share our story of how we danced for the kuku guy odi dance so he could add us an extra piece?

— Drebin (@wellikarucey) June 26, 2019
Sonford chicken turns folk into crackheads😂

— Drebin (@wellikarucey) June 27, 2019
My ninja alionekana na manzi yake akikati dem kwa line throu hizo vioo, to make the story short iyo kuku niliikula solo 🤣🤣🤣 @saiga_karega

— Full Mrui (@Takso_G) June 27, 2019
Wacha siku moja sijapatana na manzi fulani wa "i only eat at KFC and the likes" hapo sonford akiorder chipo samosa😂😂, ile aibu aliskia after kuniona, hata hakunisalimia😂, but nayeye after akae chini ile speed yenye hizo chipo zilikuwa zinateremshwa ungedhani ni njugu aliorder

— Leshan (@Leshinkadrian) June 27, 2019
There was this guy waweru on the chicken counter , we'd give him 300 or 250(on a bad day) chini ya maji and he would give us a whole chicken chop it up and wrap it.
Months later sonford fired him probably got wind of his deals 😭

— brad (@Bradcean1) June 26, 2019
One night after Blankets we went all the way and bought munchies then when we got to the house everyone was too tired so we slept. Asubuhi tukapata paka ilikula kuku ikatuwachia chips tatu na paper bag 😭😭😭 @EricoNeymar

— Makeups & Skincare Stuffs @oserianbeauty (@shinanigans_) June 26, 2019
If they have cameras it would make a great documentary 😅😅😅

— Consciously Aware (@Iankixs) June 27, 2019
I was arrested in a Mungiki sweep in the early 2000's They though all rastas ( I had like 6 on my head at the time) were Mungiki. Anywho, on the rounds in town we picked a couple that were just leaving here at midnight, the officers shared their chips & chicken as they watched.

— Kuumirio kuumirio (@kavsmaina) June 27, 2019
After tarrus riley we went to get some 🐓 🍗 with @njaaaaagee & @chekibuda after eating we all just blacked out there 😂😂😂😂😂😂😂

— Waihenya 🏇🏾💨 (@_k0walski) June 26, 2019
@Mwisiwa, remember the night we left Vineyard then drive through town to see what Koinange looked like in the dark then ended up here then watched a mama and her mans get beat up and robbed but we were too drunk to do anything anyway?😂😂😂

— Katy (@KatyMkalama) June 26, 2019
Ayayaya nianze wapi.. Kerigo do you remember bumping into Fundi Frank pale kwa kuku? Alafu tunamuita 'Frank? Ni wewe? Fundi Frank!' as if he is our long lost mulamwa.

— Murugi Joy (@jmuruggi) June 27, 2019
My 1st spot to have lunch when I visited CBD for the first time and I was shocked when they served me using papers and not on a plate.. 😂

— Maina (@JCharn_) June 26, 2019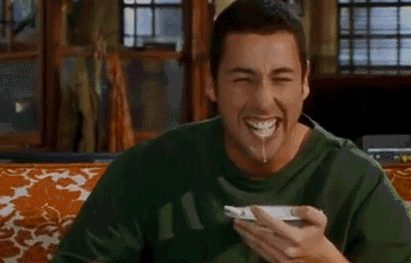 One early xmas day called all the street kids, around the corner. Ordered for like 10chicken/fries. Was high like a Kite but it felt good

— Ng'ash (@ngash254) June 26, 2019
Ordered food and forgot my phone on the counter,one of the ladies kept it for me and I got it back the next day.Forever grateful for her. 😭😭

— ⚡MountOlympusEvents⚡ (@M_suqie) June 26, 2019
I finished all my money on a stripper at Lidos with a fake gold tooth and hadn't realized my boys had left me. I had no cash at all my phone was dead. This was prolly 2009. 2am I ran towards Sonford as that side of town is crazy. At Sonford I met some jungu explained to him 1/2

— City Boy Bazza (@barazamwabe) June 26, 2019
What had happened. He looked British Army. Luckily he was like after I buy my chicken you can keep the change. When he gave me the cash rather than leaving, I decided to buy my own chips kuku too. Before heading to Kencom to get my 46 City Hoppa. 😂😂😂😂 2/2

— City Boy Bazza (@barazamwabe) June 26, 2019
Arrived in town broke and as hungry as fk early one morning with a friend and decided to share chipo za 80 bob plain…but God was there for us cashier alitupea receipts za bhajia mbilli…ata hatukukulia hapo na hatukubeba sauce tulikua tumelipia😂😂😂😂😂😂😂

— 《Th€-wick£d♟》 (@GatonyeGitau) June 27, 2019
I once chipod a hot mama from there ,but before that she really enjoyed my chips

— the man (@111theman) June 27, 2019
Niko stage nangoja matatu. A couple is standing outside Sonford arguing, the guy is holding their takeaway in a small paperbag. Suddenly 3 pieces of chicken fall on the street. Mans looked right, left, then picked up their dinner, and they both started walking home.

— Fifi Hearts (@fifi_hearts) June 27, 2019
Found myself without fare back to campo at around 10pm.A few calls couldn't help the situation. Nikajiwekela hapo Sonford hadi 5:30am nikatembea kaguu hadi KU…

— Jerry (@Jerrirono) June 26, 2019
Tulikua spree with my boy and he picked this chic there and exchanged fluids kwa club, you know how dark it is. They left before us and went to grab fries sisi tukatoka later and headed there too. My boy kucheki ni nani waliexchange fluids kwa mwangaza ikabidi amemlenga maze 🤣

— Black Sabbath (@brian_depioneer) June 26, 2019
Nilibeba vinegar , kuenda nayo home , tukabuy tei zikashika tukaanza kuitumia ka chaser. Kumwaora nayo!! 😂😂

— Whatwillitellpeople (@Kimoseth) June 27, 2019
My high school crew and I tukaingia kula before heading for Jam Session pale F2, got seats waiting to be served. Only to see the sign self-service

— ★Lord of Yards★ (@JNGathu93) June 27, 2019
Mimi sijawahi buy toothpicks.. hapo ndio joint yangu ya toothpick na salt.. who came up with Sonford has enough wisdom to propel this country to another levo..😷😄😄😄

— įㄹㅇㅐğéé (@godwine1zaq) June 27, 2019
https://twitter.com/marvinandru/status/1144134884329426949
https://twitter.com/MumbiMwari/status/1144053814489767936
@rickynjosh @Collokeyo Back in the day we'd party all night, and remember to keep aside mullah kwa socks for fries and ngwetes in the a.m before tuende home. Life was blissful, 🤣🤣🤣

— kevin kuria m 🇰🇪 (@kevohkush) June 27, 2019
A friend used to live alone in Ngara while we were in college and every time we went in for a meal, he'd steal toothpicks, a whole bottle of chili and vinegar pic.twitter.com/e5vXetHP6u

— GATHONI 🇰🇪 (@QueenGathoni) June 26, 2019
My "whoever" at the time insisted on getting Sonford Chicken and Chips at 2am in the morning after the dunda. He got what he wanted, devoured the meal and slept (passed out). 3pm next day Dr. says he has food poisoning. Alcohol masks things 🤣🤣🤣

— Naiye (@NaiyeLoretta) June 26, 2019
The rats in the upstairs sitting area are huge af! 😅

— Empress Sativa🇰🇪 (@__Waithera) June 27, 2019
was there after clubbin at Changez, we eating then the nigga next to asks for the salt,the lid opens and his whole meal is fukd. Nigga put the meal in that polythene bag pricked some holes with a toothpick and rinsed the food kwa hizo taps LEGEND

— Kachero VII (@Kachero7) June 27, 2019