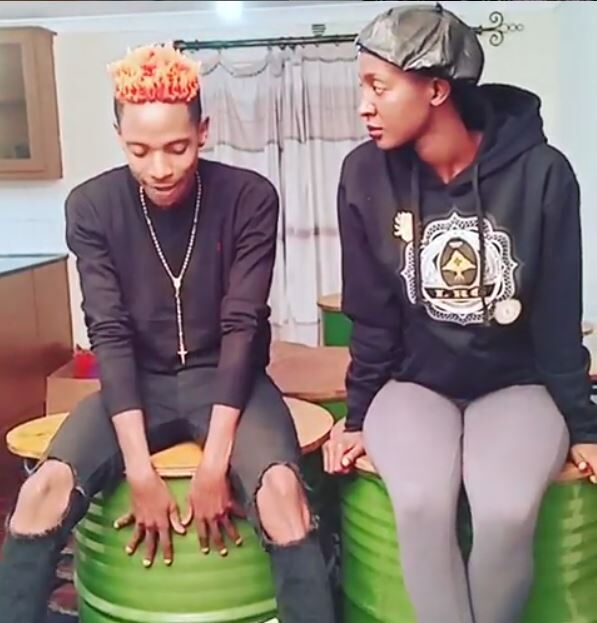 One of the best African comedian Eric Omondi has not had the best of luck this year when it comes to the matter of the heart as he and his long-term Italian girlfriend Chantal split up a couple of months back.
But it seems like the funny man has overcome the heartbreak, of late Erico has been doing projects with his fellow female counterpart Eunice  Mammito and as usual, Kenyans are being suspicious of the two.
The duo has been seen hanging out together more often, they have also done a number of comic projects, they started by doing Parody of Sauti Sol's song dubbed extravangaza which has attracted a huge number of viewers.
They later did Parody of Gloria Muliro and Willy Paul's song dubbed Sitolia
And today Eric was forced to bathe in a drum with beer after losing the bet to Mammito on Kenya's opening match at the 2019 Africa Cup of Nations (AFCON).
Prior to the match against Algeria on Sunday, Eric had placed a bet for Harambee Stars against fellow comedian Mammito who pegged Algeria to win.
View this post on Instagram
As fate would have it, Algeria won the match 2-0 and the price Eric had to pay was to bathe in a drum with beer.
The chemistry of the two has raised eyebrows with most their fans asking whether they are an item or it just works.
It's remembered that the two once worked together at Churchill show before Eric Omondi ditched the production and focused on producing funny clips independently.
Here are some of the reactions;
maryelsematenge……Tangu Erick akue single mammitto hatumuoni poa😂😂😂😂😂😂😂😂ama Ni Mimi nmenote some changes Kuna ka bond kamegrow😂😂😂😂😂but si Bora uhai😂
Erickmwangi……Ni shidaaaaaaaa😂😂😂🤣🤣🤣🤣
robinsonbenja……Aki atanona by force 😂😂😂… Next mweke ndani ya unga
jaynic rack…..Wenye tuli view ile rough copy ya kwanza tuko wangapi tujuane na kulike hapa
Peace loice…… Nataka niishi kwako kwako wewe😂😂😂 Literally every boychild na hii baridi.