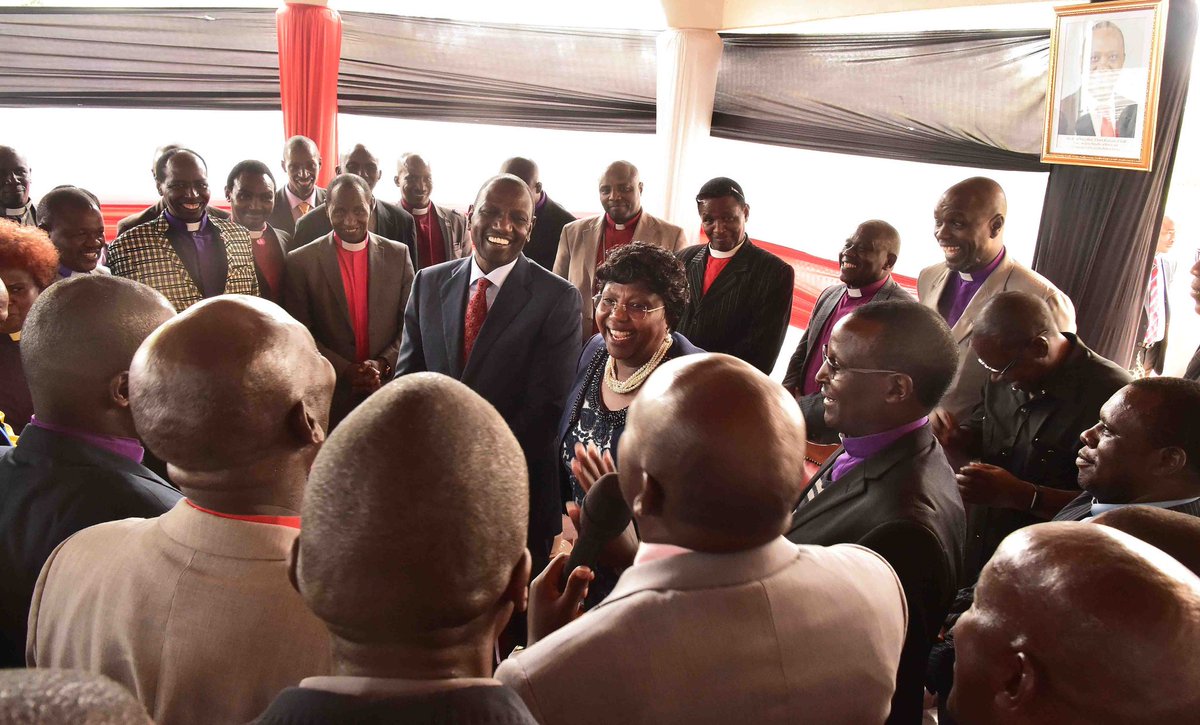 Deputy President William Ruto was on Tuesday held up in his Karen home hosting a number of Bishops from across different inter-denominational churches in Kenya.

Through his Tweeter account, Ruto said posted pictures of him with the bishops holding prayer sessions and consultations in his home. Ruto had earlier on insisted in his countrywide church donations that he values God more than anything else and was not ready to cut short his humorous donations to churches as that was a way of investing in heavenly riches.
With bishops from inter-denominational churches led by Bishop Jonah Kariuki of Rock of Christ Gospel Church at Karen, Nairobi County. pic.twitter.com/R19QfYAnah

— William Samoei Ruto, PhD (@WilliamsRuto) June 25, 2019
While addressing the Bishops, Ruto maintained that as a government, they value the partnership between the State and the Church, especially in education and healthcare, which according to him are crucial for a country's advancement.
"We will continue to deepen our collaboration with the church and enhance quality service delivery in the country to realize holistic development." said Ruto.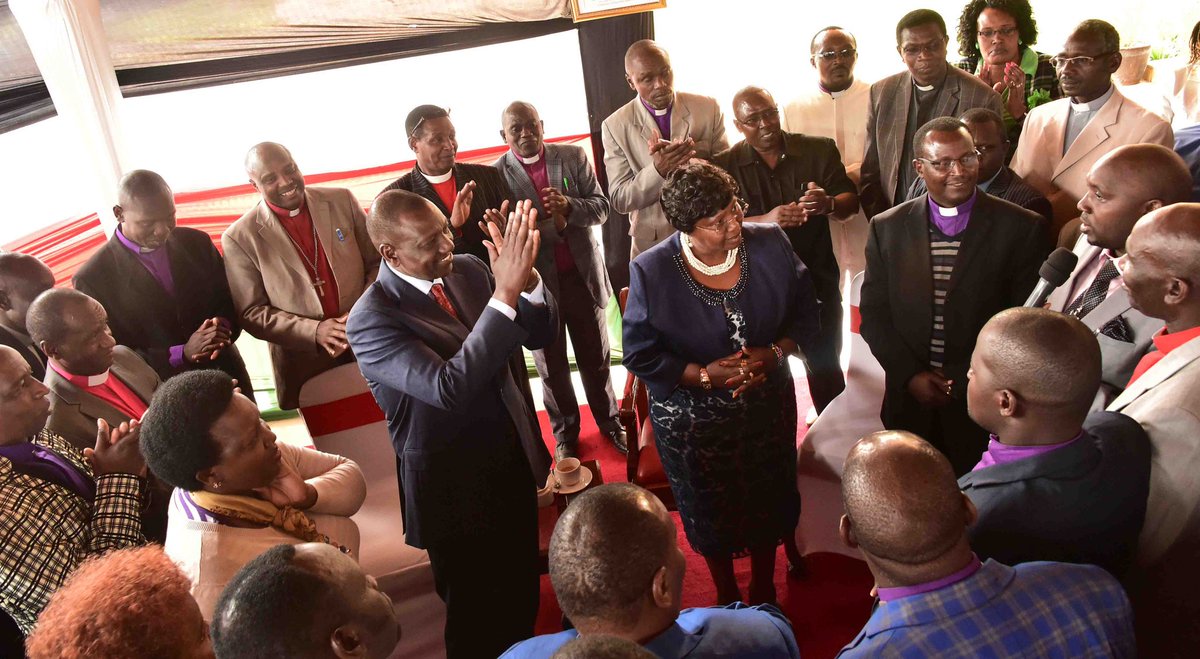 Ruto's meeting with the Bishops comes just a day after he called the DCI to report of impending assassination plans by some cabinet secretaries. Ruto's meeting was interpreted to serve as spiritual seeking guidance from the men of the cloth.
William Ruto's relationships with men of the cloth had been flourishing overtime thanks to his weekly church contributions across the country.
Ruto has appeared at past religious events in the specific spiritual uniform of the sect or denomination in question, perhaps to show his respect for the faith or just being in tune with the ceremony of the day.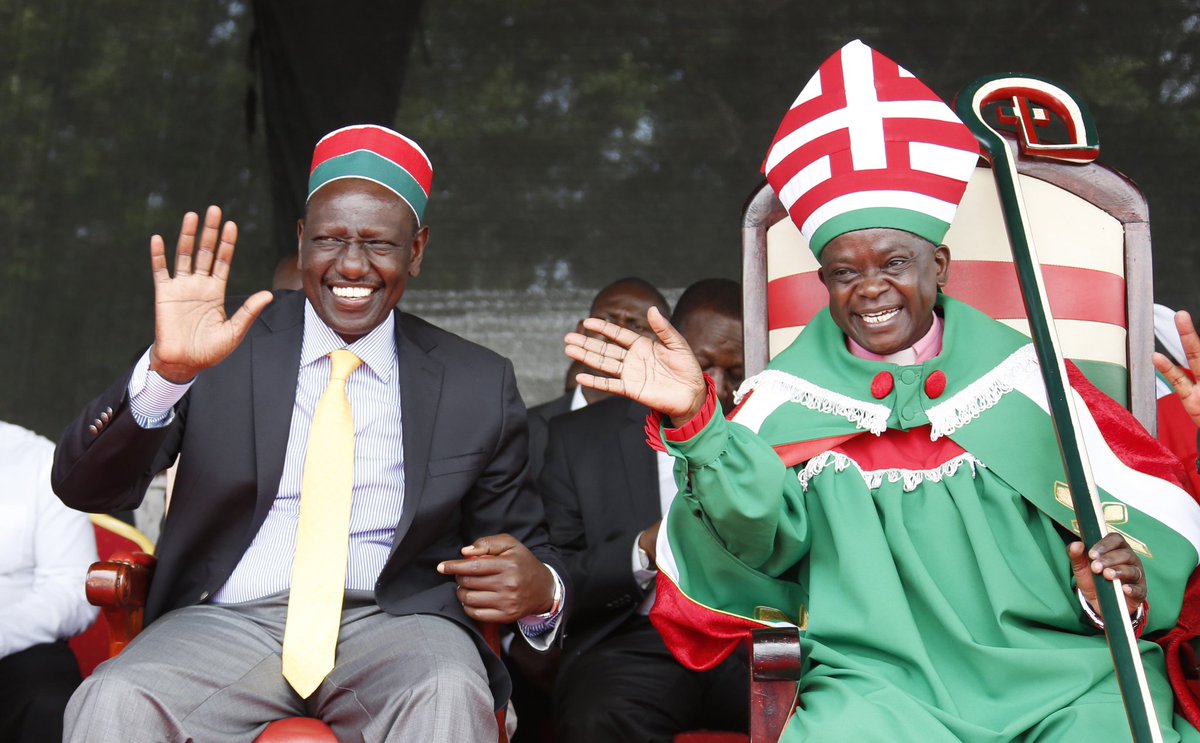 On Sunda, the self-proclaimed Hustler was in Vihiga county for a Sunday service at the African Divine Church Boyani and later laying the foundation stone for the construction of a cathedral in Hamisi.
"Let built churches to make it a better place of our fellow to worship there, Thanks H.E for this good beginning..Dr. Ruto is untouchable & unstoppable both in churches he ensures worshippers get right place & also on political fields he has always possible win , just Join HIM" Tweeted one of the tweeters users while congratulating Ruto.
In May this year, a prayer meeting organized by a section of bishops from Mt. Kenya for William Ruto at Murang'a flopped after some leaders from the region strongly opposed the function.
In an act of defiance, the 11 bishops from the region were prepared to host Ruto through an interdenominational prayer rally a meeting that Ruto was expected to be ordained as the region's kingpin ahead of 2022.
Earlier in the day, deputy president had a busy schedule at his Karen office hosting Serbian Ambassador to Kenya Dragan Županjevac, where he discussed important diplomatic relations between the two countries.
Held discussion with Serbian Ambassador to Kenya Dragan Županjevac, Karen office, Nairobi County. pic.twitter.com/e551HYf16T

— William Samoei Ruto, PhD (@WilliamsRuto) June 25, 2019
No harm will hinder the child of God,,,,, because God protect them.

— Gideon Kipkirui (@GideonK72145197) June 25, 2019
Be blessed your Excellency,,Interdenominational prayers most welcome, God will reveal to you much blessings for you to achieve much for our beloved country,Kenya,Amen

— @silatei Sam. (@silatei1) June 25, 2019
We know what you're targeting there, piece of land to grab

— Anthony minoti (@MinotiAnthony) June 25, 2019
Those who depend and cast their burdens unto calvary will indeed be forever victorious

— Kemboi, PhD (@kemboiku) June 25, 2019
Someone to check for me if the verse really exists. Remember also the commandment "Do not steal "

— Okioi Jr (@OkioiProf) June 25, 2019
Hizo ni za ku brain wash watoto pic.twitter.com/w8C7q9y1j5

— DJRES🇰🇪 (@res_nation) June 25, 2019