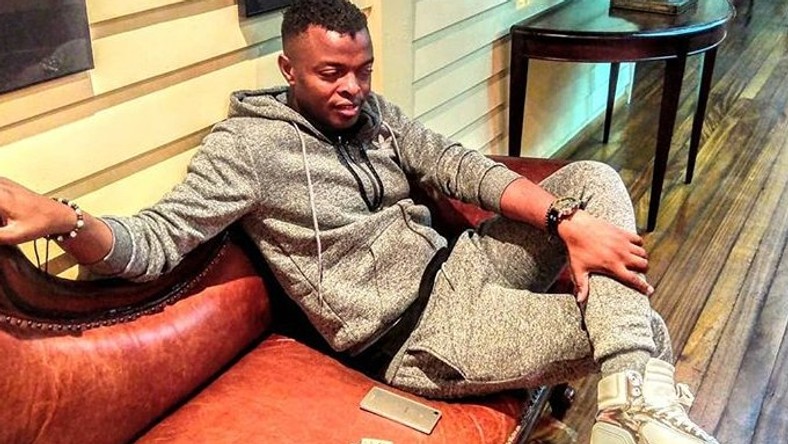 Controversial artist Ringtone Apoko has been on the hunt for a wife for as long as netizens can remember. His hunt has been quite disappointing as today, in 2019, the successful musician is still seeking a warm heart to beat to his drum.
Despite all the possible ways to meet a partner in today's world, including the internet, the singer took on a rather unconventional method of walking around Nairobi streets with a placard. His move which was cited as a publicity stunt went on for a while but was stopped by the blue army.
He was recently arrested by police under the crime of prostitution, a move that cracked netizens up. That, however, didn't stop the musician as he went on to Jalango's show to continue his quest, from the streets to the radio.
Jalang'o posted a picture asking netizens to help in his quest, but the picture has since been made fun of.
Sisi tunatoroka hawa watu wewe unatafuta 🙆‍♀️🙆‍♀️ asake ule Pamela wake
wengine hatuna kakitu na watu karibu mia wanataka tuwaoe😂😂😂😂😂na huyu ana kakitu hakuna mtu anamuona???? Saitan asiiindwe!!
Msimwachilie mpelekeni mathare 😮😮
Hata sisi tuko na qualities tunaangalia kwa wanaume sasa huyu tungemkubali but hana hizo qualities
This guy is mocking God…speaking in tongues is a gift sio hiyo ufala yake hapo..
Wamama wawili watakaa aje kwa nyumba😐😐
Yaaani na ii baridi boychild analala peke yake 😂😂😂
Angekuwa ajionyeshi angekuwa na Bibi lakini ju anajionyesha wacha atafute God's time is best
this guy is crazy
We need to view all the inbox ndio tumuchagulie wife material,apost zote hapa
The search has come to the end, am very much available with one kid holla😎😎😎😎😎
Haka kashaito kanasumbua watu bure kabisa labish sitiupiti nonsectarian shindwe awache upuzi wanawake wengi huku na huyu ni upuzi hapa na banners upuzi kabisa labda hata hajui hii maneno ya kitanda tununue kuku na mahindi awekwe mahindi kwa tanye kuku ikule moja moja ndio ajue kurusha hiyo chuma awachishe watu upuzi mingi he needs wazee apigwe nyahunyo apate adabu vinoma 🤣😎🏃‍♂️🏃‍♂️🏃‍♂️
Mwambie ache ujinga bibi ataftuangi na billboards aingie mahali wako, dakika moja aipiti
Enda koinange wamejaa sana😂😂
My friend ringtone look for another alternative of getting a wife, that wouldn't work,don't look for A celebrity like u, just marry someone & make her celebrity under your care