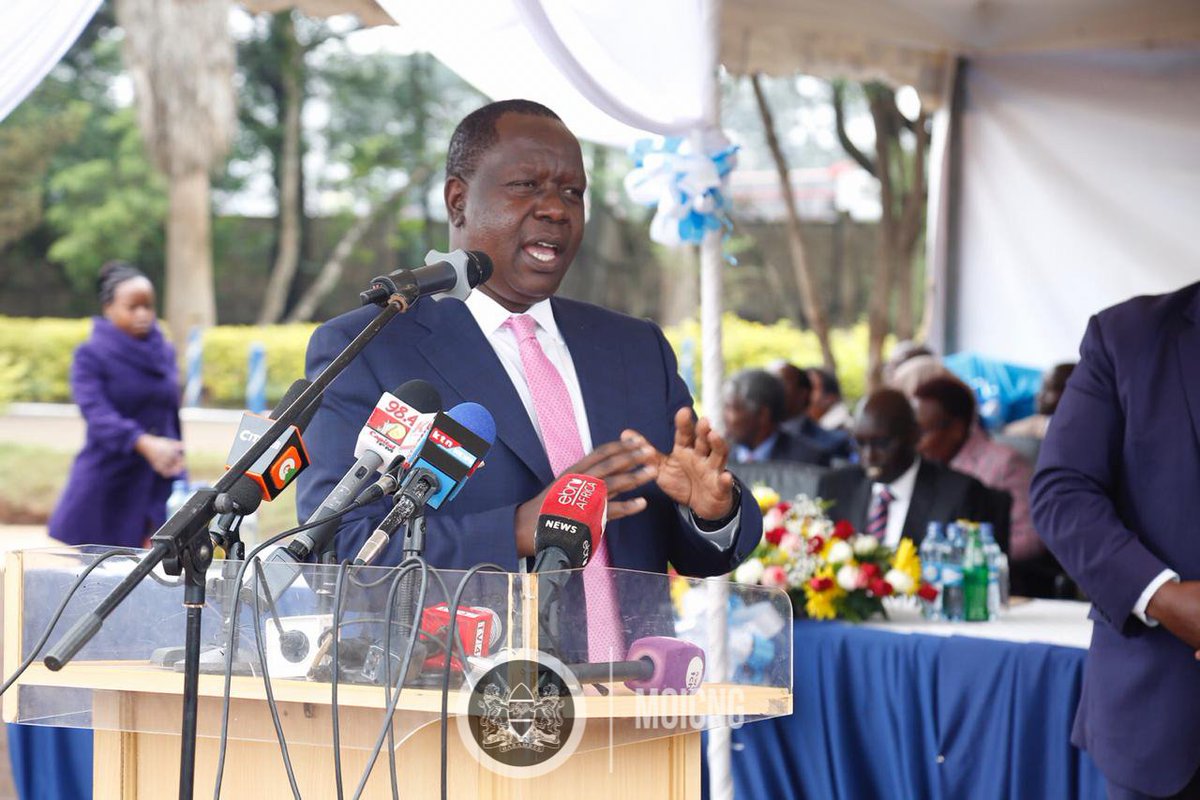 The debate on legalization of Marijuana has been slowly gaining momentum. The light of its use being legalized in Kenya was turning brighter until CS Fred Matiang'i came and dimmed it.
Dr.Fred Matiang'i  rejected an application from certain investors who requested to set up a cannabis factory in Kenya for pharmaceutical use. He went ahead to describe the investor as "lunatic."
"We have an application on my desk right now by some lunatic who's saying they need a license to build a factory in Kenya that processes cannabis for pharmaceutical use," said CS Matiang'i.
The idea of legalization of Marijuana have received back up with Raila Odinga Junior, Kibra MP Ken Okoth among other activities who thing its legalization will have great benefits to to the nation.
However CS Matiang'i argued that legalizing Marijuana will ruin the life of the youths.
But the CS has been treated to harsh reactions from Kenyans who think otherwise.
ODM Secretary General Edwin Sifuna has questioned Dr Fred Matiang'i level of reasoning. Marijuana who pharmaceutical is not harmful, so according to Edwin Sifuna, CS Matiang'i is acting out of ignorance.
The ignorance in this clip overwhelms. Which hole does this one live in? How is it the science of it all hasn't reached him? https://t.co/JCq3tl88ql

— Edwin Sifuna (@edwinsifuna) June 8, 2019
The powers of CS Fred Matiang'i has been questioned. Some have boldly accused Dr Fred Matiang'i of overstepping on the law following his latest stand on legalization of Marijuana.
Has CS Matiangi become a policy making organ and legislative arm of the State? Although I sue for caution on the calls for legalization of cannabis, it is my view that the decision should be made by the right organ of the State, following comprehensive public participation.

— Joshua Nyamori (@Nyamori_Joshua) June 7, 2019
The smart minds have asked Dr Fred Matiang'i to borrow a leaf from Uganda which has strike a deal with other countries for exportation of Marijuana. The scientific research and benefits on the use of Marijuana have been cited to lure Dr Matiang'i to change his stand.
Mr. Matiangi needs to see this chart, all this has been scientifically researched by Ivy League universities. He should borrow a leaf from Uganda 🇺🇬 who have made a deal with Germany 🇩🇪 and Canada 🇨🇦 to export 600billion worth of cannabis. Cannabis is a billion dollar crop. pic.twitter.com/Lb5Yz9b8ha

— Donald oyomo (@DonOyomo) June 7, 2019
NASA strategist David Ndii has also hit on CS Matiang'i for being too drunk with power. David Ndii has stated that Matiang'i's stand depicts his level of sycophany.
My friend @FredMatiangi.You are losing it. I'd expect you know that cannabis has medicinal uses,just morphine is derived from opium poppy. We were together in SUNY and you saw how Aringo struggled to live down his Moi sycophancy. Don't go there. You will be back with us soon. https://t.co/QXfnj8EnBY

— David Ndii (@DavidNdii) June 7, 2019
Lesotho became the continent's first country to offer legal licenses to grow marijuana, signaling a wider shift toward more liberal policies.
Zimbabwe followed suit in legalization of the one illegal plant.
From Morocco to South Africa, there is growing interest in cashing in on a valuable crop. But in each case there are unique challenges to face.
HERE ARE MORE REACTIONS FROM KENYANS
To have so much power and so much ignorance is a very dangerous combination. The story of Matiangi will not end well https://t.co/wKe7tJZWPy

— Dr. Michael Odero (@oderomichael) June 8, 2019
Matiangi's utterances are evidence enough of the tremendous ignorance that exists within government circles.

Meanwhile:
1/
Global consumer cannabis spending to rise by 38% in 2019 to $16.9 billionhttps://t.co/BbUCeyhyZv https://t.co/jdBKzRyDmV

— Sura Mbaya (@surambaya) June 8, 2019