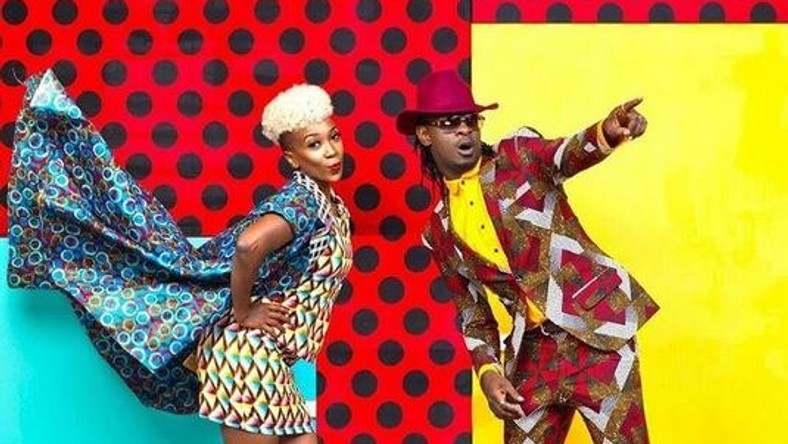 Couple goals! Wahu Kagwi posted a cute mushy photo showering her husband and fellow entertainer Nameless with praise and so much love taking everyone's breath away.
The couple who have been together since we can even remember keeps proving why they are Kenya's couple goals with their consistency and growth as partners.
The two who are parents to two beautiful girls continue illustrating that love always wins as they keep their fire burning bright.
She captioned the photo:
When I think of all the blessings God has given me, you and the girls are indisputably and by far, way up there.
I love you my husband@namelesskenya I know you absolutely dont enjoy SMDM (Social Media Display of Mushiness) …but you'll live 😄😄😄😂❣❣❣
#mceveryday
#seeyoulaterbabe💋
Happy Monday fam!
Nameless had the sweetest response to her post, calling her his matuta girls since day one. aww
namelesskenya Haiyaaa…Si niliwaambiya alikuwa ametumiss alipoenda retreat Nanyuki…😜…hehe.. Love you to babes!😊 #MyMatutaGalfromdayone
This comes a few days after the Groove Awards ceremony where she bagged her first award since transforming from Secular to Gospel music, under the much-coveted category of Music Video of the Year for her song 'Nifanane Nawe'.
Check out fans reactions below:
mwendepuryt Nyinyi mnajua vle mnakuaga favourite pale kilimani mums😍?? I thought you should know😂😂
moniekarocho ❤️❤️❤️❤️Power couple since 1900 Kamande
eva.wangu They never grow old, always looking beautiful.❤️❤️couple
exodusruth Our very own Jay-Z and Beyonce 😍
mercy_ramsey_ Yaani nawapenda hadi raha
nelly.okello 🔥🔥🔥🔥 The celebrity couple that should be accorded all the respect they keep their love life very private no show offs no beb beb every where much respect wahu and nameless
mugabelinda May God bless you Wahu and Nameless… the most mature couple in 254
molly_kristel Best couples ever because u don't advertise yourselves and affairs in social media,you are always the🔥🙌
wanjiru_kihia I see you I see goals 💞
bigalaw_bigalalaw I respect you people good example to the public.long live.
nyarrajuai Power Couple God bless your family
And it goes on and on!
View this post on Instagram
Her husband was very proud of his wife's new accomplishment he couldn't help but gash all about it on his Instagram page to his fans. He congratulated her with a sweet message, even calling her 'My person'. Check out his cute posts below.
View this post on Instagram
As they continue serving Kenyans the legit couple goals, check out Wahu's award-winning song below: