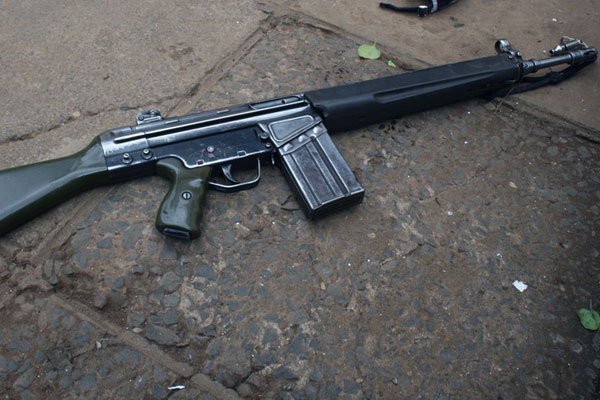 Police have sounded an alarm over the escape of a prisoner who escaped with two loaded police guns.
The Marakwet East detainee, identified as Abel Kilimo Rop was taken in at the Liter Police Station for theft and attempted suicide.
SUSPECT DETAINED at Liter Police Post, Marakwet East, over theft and attempted suicide stages dramatic escape after stealing two loaded G3 rifles. pic.twitter.com/ovPBmTu2vv

— NationBreakingNews (@NationBreaking) June 4, 2019
According to a police statement, the man had been taken to the police station by his brother after he was caught stealing and had threatened to kill himself.
Kilimo, while in police custody managed to slip his hands from the handcuffs and forcefully made his way out of the cell.
Taking advantage of the absence of officers at the post, the suspect ransacked the building and accessed the two G3 rifles that he took with him.
The suspect ransacked the building and accessed two G3 rifles no. J 69958 and f 95925 with four magazines fully loaded," said the police.
In an effort to stop the suspect from escaping, the OCPP is reported to have hurriedly locked the main door of the post from outside but the suspect took control and started firing.
This forced the officers to scamper for safety while raising alarm and back up requested from the neighboring Chesogon Administration Police post.
However, by the time the police arrived, the suspect had already escaped.