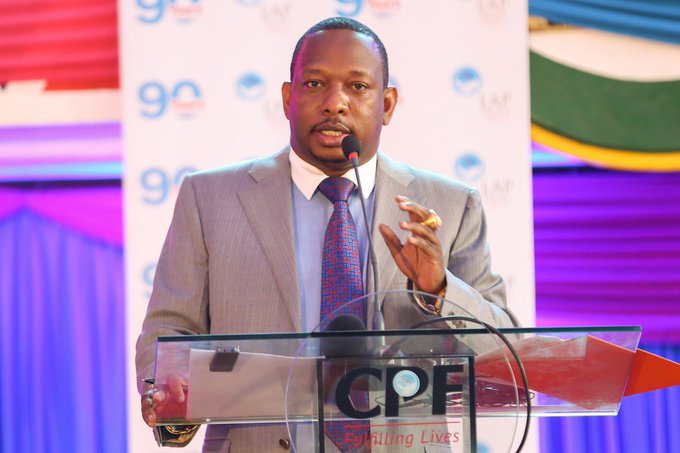 Just how brutal is Nairobi Governor Mike Sonko? Days after having an ugly confrontation with Nairobi Women Rep Esther Passaris, a confrontation that would see the City chief leak a damning recorded phone conversation between them, Sonko has maintained that he will not offer an apology to Passaris.
This comes even as a number of Kenyans and leaders have called on the Governor to apologize to Passaris for embarrasing her in the manner he did.
Sonko has said that in as much as he respects women, he will not be pushed to apologize to Passaris.
The Governor has said that he had to respond to Passaris' wild accusations against him on the same podium on which passaris accused him on.
"I will not apologize, mimi napenda wamama sana na ntaendelea kuwapenda na kuwaheshimu na kufanya kazi na nyinyi. Kwa hivyo sababu alikuwa ameniaccuse kwa same podium, ningenyamaza ingekuwa kweli mimi ni gavana mfisadi so lazima mimi ningerespond,2 Said Sonko. (Watch Video Below)
On Saturday, during the Madaraka Day Celebrations in Nairobi County, Passaris claimed that Sonko has sidelined her and other leaders in the running of the City. She even accused the Governor of neglecting the people of Nairobi and instead shifted his support to other parts of the country like he did in Turkana County.
Passaris claimed that despite having lots of money, Sonko has neglected the people of Nairobi and has resorted to corruption that has seen him dish out money left, right and center to the youths of Nairobi.
According to her, the woes of the people of Nairobi were to be blamed on Sonko's leadership that was shrouded in corruption and misuse of public funds.
She even claimed that her attemps to reach Sonko on phone so as to discuss the way foward on problems affecting Nairobians had not bore any fruits since the Governor time and again avoided her calls.
An angry Sonko would then take to the podium to tear Passaris apart in a harsh worded response.
The Governor told Passaris that he was willing to help her finance her County projects but only if they followed the physical planning act of the Nairobi County Government.
Sonko would then hit the last nail on Passaris' coffin when he claimed that he was not at any liberty to pick her calls since he was not her husband.
"I do not pick up calls when I am in a meeting like this one. Sometimes I ring president but he does not return my calls. I am not your husband to receive your phone calls whenever you want," Said Sonko
This proved to be the last straw on Passaris who walked out of the meeting.
Before Passaris could even heal her wounds, Sonko dropped another bombshell that saw him leak an audio conversation between them. The audio that has since gone viral has seen Passaris become the talk of town over the manner with which she went about asking for money from Sonko to an extent that she even betrayed Dr. Evans Kidero.
WATCH SONKO AND PASSARIS' CONFRONTATION BELOW
LISTEN TO THEIR LEAKED PHONE CONVERSATION BELOW: