A military raid on sit-in site has left at least nine dead in the Sudan capital, a move that is likely to heighten the ongoing revolution that ousted president Al-Bashir from power.
During the raid, the was heavy gunfire reported at the site as security forces forcefully moved in to clear a protest camp that has been the central point. The government forces attacked from different directions and started raiding the square using military vehicles using teargas, live bullets and sticks.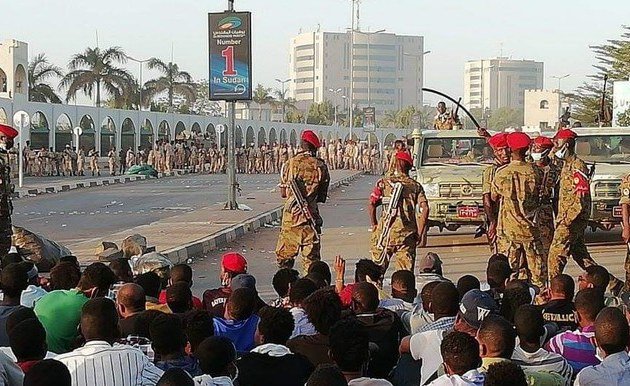 Mohammed Alamin, a journalist in Khartoum, newsrooms that as the protesters resisted troops from the Rapid Support Forces (RSF) first used tear gas then sound grenades to disperse protesters. Soldiers then fired live rounds at the remaining protesters.
BREAKING: The Sudanese Doctors' Association says at least 5 people have been killed and many more are seriously injured, after heavily armed troops opened fire on protesters in the capital Khartoum.

Developing story: https://t.co/Q42iDj8MNT https://t.co/IyYVmRqgW9

— Al Jazeera News (@AJENews) June 3, 2019
Videos posted online amid the early-morning assault show civilians who are demanding the transfer of power from the military to civilians running through streets lined with sit-in tents with their heads down, as the sound of gunfire filled the air.
witnesses spoke of soldiers being heavily armed and of using live ammunition against protesters who were peaceful and did nothing to provoke the troops.
"We are being attacked by the Rapid Support Forces and the police," Mamadou Abozeid, a protester in Khartoum, told Al Jazeera over the phone.
Mohammed Elmunir, another protester in the Sudanese capital, said security forces blocked the exits of the sit-in site before opening fire on protesters.
During the last talks with the opposition, the Council had promised to transfer government control to civilians, but the two sides had not agreed on how to do it.
A sad morning for #Sudan. Footage from Blue Nile Bridge Rd & Al-Mahdi Streets show moment when security forces broke into sit-in. Street you are viewing is here: https://t.co/a2We8myTzg H/T to @ashgaaly for 📹 #اعتصام_القياده_العامه #تسقط_بس #مجزرة_القيادة_العامة #SudanUprising pic.twitter.com/NuIpVDvsxp

— Benjamin Strick (@BenDoBrown) June 3, 2019
On May 15, the Military Council agreed with the opposition political forces to carry out a three-year transition period, after which the management of power would pass entirely into civilian hands.
On Thursday a spokesman for the military council said the protesters' sit-in in Khartoum was becoming a threat to the security of the country. On the same day, the army ordered the closure of Al Jazeera offices in central Khartoum without explanation.