The Fiji PM Josaia Voreqe Bainimarama on Wednesday left  many Kenyans talking after turning up for a Kenyan government function in what appeared to be a skirt suit and sandals.
Mr Bainimarama who is in the country for the UN-Habitat conference in Nairobi appeared clad in the attire not knowing that Kenyans were all over the social media sites expressing their humorous comments on his 'rare' kind of suit.
On Tuesday, he made a tour of the affordable housing project site in Ngara. KOT were however, seemed dumbfounded by the Prime Minister's attire. He wore a sulu suit, a popular attire among his countrymen.
The Sulu is regarded as Fiji's national dress and is seen as an expression of ethnic Fijian identity. It is a kilt-like garment worn by both men and women in Fiji. Women Sulus are known as Sulu-i-ra.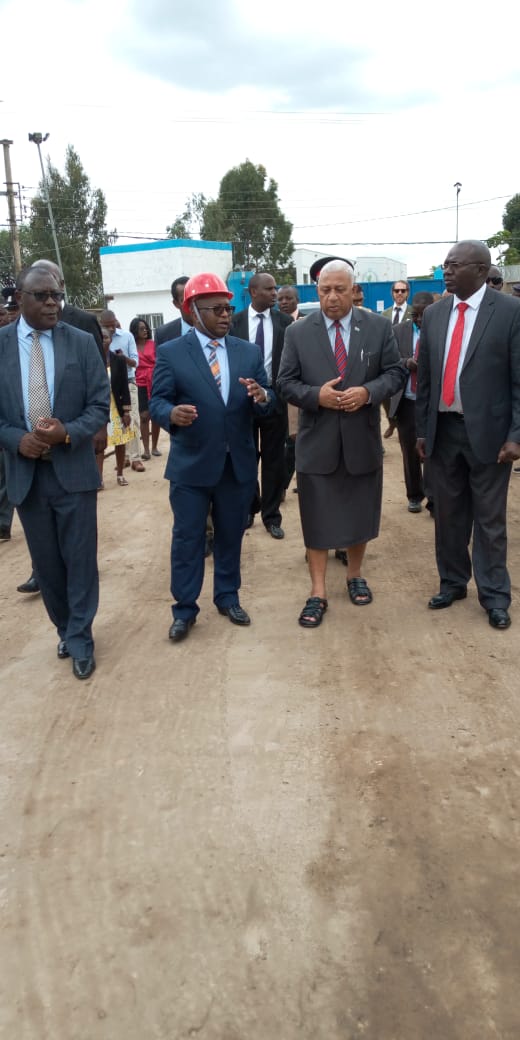 The cloth comes in varying lengths from below-knee to ankle-length.
Fiji Prime minister H.E Frank Bainimarama during UN habitat General Assembly in Gigiri, Nairobi.
His dressing code has caused an online stir among Kenyans.
Skirt suits is a common dress code among men in Fiji.https://t.co/yvzTPJc7JS pic.twitter.com/XnghCMOIAf

— The County (@TheCountyKE) May 29, 2019
Disturbed netizens thought out loud and wondered why a man would comfortably walk in a skirt. The whole fashion choice just did not make sense to some social media users and their curious minds tried to understand it.
Mbona amevaa skirt

— King of Gusii, EBS (@obnoxiousKisii) May 29, 2019
Ever since the country was colonised, both men and women wore the clothes to signify their conversion to Christianity. Women also wear it and their version of the Sulu is referred to as Sulu-i-ra.
Here are some of the comments:
Attended the Participatory Slum Upgrading Luncheon officiated by H.E Prime Minister of the Republic of Fiji Mr. Josaia Voreqe Bainimarama during the UN-Habitat Assembly. #UNHabitatAssembly pic.twitter.com/8arGcRyxvy

— CS James Macharia, EGH (@JamesMacharia_) May 28, 2019
Hii ndio skirt suit 🤔Aaaaah!

— (Davil Raju) (@njogu) May 29, 2019