For the Past few days, Kenyans have been treated to unending drama surrounding the fake Gold Scandal that has seen the Country become the center of attraction for allegedly having individuals that conned senior officials from the United Arab Emirates.
The Scandal has taken a Political twist with a number of Politicians taking on each other head on over their alleged involvement in the whole scam.
The Ruling Jubilee Party led by DP William Ruto has accused Opposition Chief Raila Odinga of being one of the masterminds behind the fake Gold Scam.
Well, Odinga has not taken the attacks coming his way lightly and has even hinted that he was the whistleblower in the whole scam.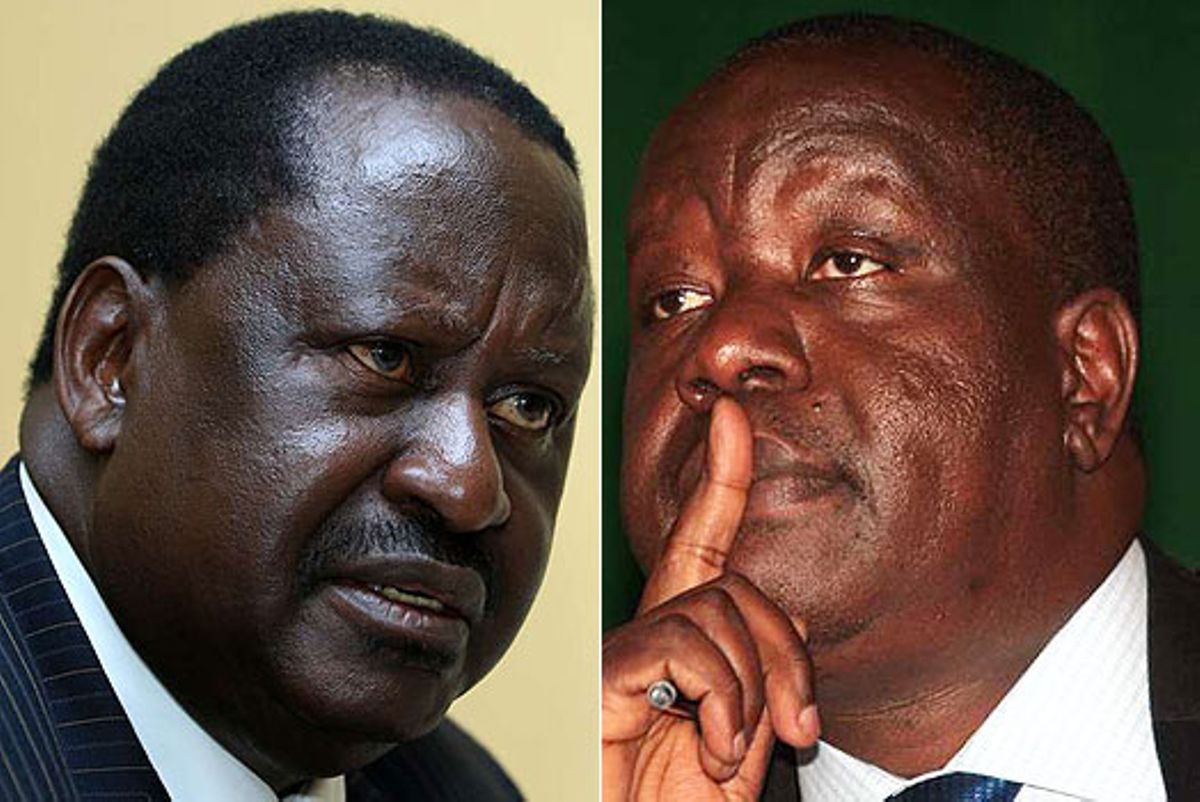 According to Odinga, he travelled to Dubai to meet the royal family only for himself to confront dubious businessmen from Kenya trying to con the Arab crown.
His sentiments would later incur the wrath of DP William Ruto who Yesterday asked the Former Prime Minister to carry his own cross and stop dragging President Uhuru Kenyatta to his mess.
Well, more revelations have been made and Raila Odinga will not be happy with the latest turn of events.
There have been claims that there was a man called Mukiri who is also at the center of the Fake Gold Scam. Mukiri is said to be the one who impersonated Interior CS Fred Matiang'i.
The Man who was alleged to resemble Matiang'i and even speaks like him is on the run even as Police launch a man hunt for him.
A Famous blogger has now linked the man to The Odinga Family.
According to Lord Abraham Mutai, the man now identified as Ogendo alias Biggy is a close Friend to Raila Odinga and Oburu Odinga.
He Shared a Couple of Pictures of Biggy together with Raila and Oburu Odinga to all but confirm his claims.
(See Photos Below)
(Article Continues Below)
The Latest revelations have once again Put Raila Odinga at the center of the Fake Gold Scam and it seems like it will take alot for the Former Prime Minister to convince Kenyans that he had nothing to do with the whole Saga.
This come in the backdrop of renewed calls to have Mr. Odinga record a statement with the DCI over what he knows on the Scandal.
Interior CS Fred Matiang'i has also been implicated in the Saga with a section of MPs allied to William Ruto calling for his resignation.
Raila has however defended Matiang'i from any wrong doing saying that the man from Kisii "Ni Msafi Kama Pamba".
"CS Matiangi ni msafi kama pamba," (The CS is clean from any blame or corruption in the fake gold business). We put him there so that he can assist us to fight corruption," he Said.
With the latest wild claims against Raila, do you feel like he should stop talking about the Fake Gold Scam and Help in Investigations?