Kiambu Members of County Assembly are on spot for colliding with their Governor Ferdinard Waititu escape with millions that the tying their governor in a graft case.
A report has revealed that the MCAs made a speedy plan to pass a supplementary budget on Wednesday despite concerns that had been raised by the public.
Waititu was arrested by EACC officers in connection with fraud in Kiambu County. His daughter, a Strathmore University student was arrested too, she had Sh 100 million in her account, deposited in the last 8 months or so. They have both been released.
Reports claim that the move was meant to sanitize funds used in the Kaa Sober initiative which is also part of the investigations by the Ethics and Anti-Corruption Commission (EACC).
The amount in question is Ksh772 million and it is reported that the first-term governor bulldozed the MCAs to award the money to the initiative which has been plagued by controversy since its inception.
After the raid on his Runda residence, the county head was bundled into the EACC van and taken to Integrity Centre for questioning.
Since his arrest, the besieged Waititu has remained silent about his family's involvement in the embezzlement of funds at the county coffers and all he had to say was that anybody is free to do business with the county.
His statement suggests that the family may have been involved in doing business with the county and provides a hint into why the Ethics and Anti-Corruption Commission (EACC) has accused him of conflict of interest.
Evidence gathered by the EACC sleuths suggests that some of his relatives got tenders.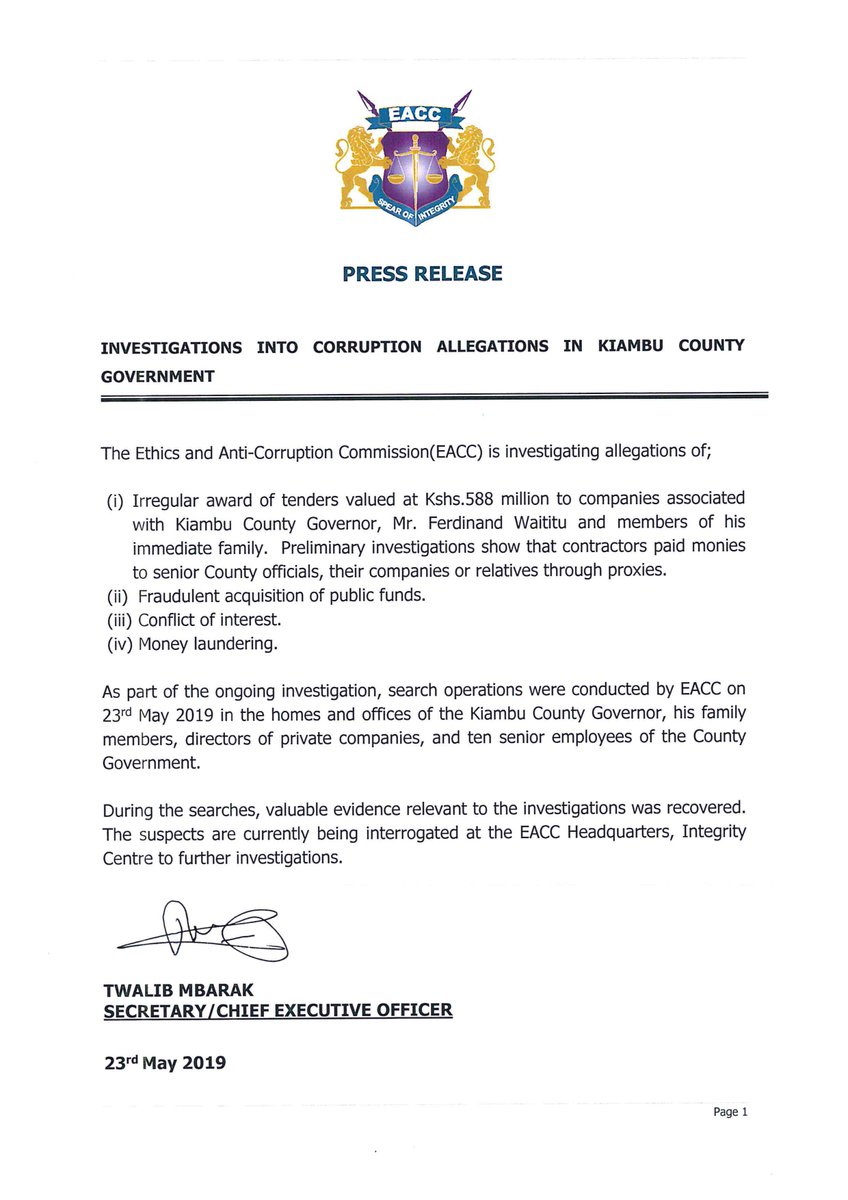 The governor's daughter Monica Njeri, a doctor at Kenyatta National Hospital, was a person of interest amid reports that millions of shillings were wired through her bank accounts.
"Preliminary investigations show that contractors paid monies to senior county officials, their companies or relatives through proxies," EACC chief executive officer Twalib Mbarak said in a statement.
The county boss bragged that Kenyans would "run mad or commit suicide" if they knew his massive wealth but it only a matter of days and he could be arraigned to answer to the charges once investigations are complete.