Older men have always used gifts, status, and influence to buy access to young women. The sugar daddy has probably been around, in every society, for as long as the prostitute. So you might ask: "Why even have a conversation about transactional sex in Africa?"
The answer is that in Kenya, and in some other African countries, "sugar" relationships seem to have become both more common and more visible: what once was hidden is now out in the open – on campuses, in bars, and all over Instagram.
Exactly when this happened is hard to say. It could've been in 2007 when Kim Kardashian's infamous sex tape was leaked, or a little later when Facebook and Instagram took over the world, or perhaps when 3G internet hit Africa's mobile phones.
But somehow, we have arrived at a point where having a "sponsor" or a "blesser" – the terms that millennials usually apply to their benefactors – has for many young people become an accepted, and even a glamorous lifestyle choice.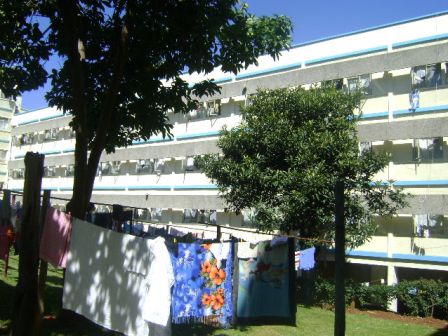 You only have to visit the student districts of Nairobi, one recent graduate told the BBC, to see how pervasive the sponsor culture has become.
"On a Friday night just go sit outside Box House [student hostel] and the see what kind of cars drive by – drivers of ministers, and politicians sent to pick up young girls," says Silas Nyanchwani, who studied at the University of Nairobi.
Until recently there was no data to indicate how many young Kenyan women are involved in sugar relationships. But last year the Busara Centre for Behavioural Economicsconducted a studyfor BBC Africa in which they questioned 252 female university students between the ages of 18 and 24.
They found that approximately 20% of the young women who participated in the research has or has had a "sponsor."
The sample size was small and the study was not fully randomised, so the results only give an indication of the possible numbers, they cannot be taken as definitive.
Also, only a small percentage openly admitted to having a sugar daddy; the researchers were able to infer that a number were hiding the truth from answers they gave to other questions, using a technique called list randomisation.
But interestingly, when talking about others, not about themselves, the young women estimated on average that 24% of their peers had engaged in a transactional sexual relationship with an older man – a figure very close to that reached by the researchers.
Jane, a 20-year-old Kenyan undergraduate who readily admits to having two sponsors, sees nothing shameful in such relationships – they are just part of the every day hustle that it takes to survive in Nairobi, she says.
She also insists that her relationships with Tom and Jeff, both married, involve friendship and intimacy as well as financial exchange.
"They help you sometimes, but it's not always about sex. It's like they just want company, they want someone to talk to," she says.
She says that her religious parents brought her up with traditional values, but she has made her own choices. One of her motives, she says, is to be able to support her younger sisters, so they won't need to rely on men for money.
But she has also been inspired by Kenya's celebrity "socialites" – women who have transformed sex appeal into wealth, becoming stars of social media.
Among them are the stars of the reality TV show Nairobi Diaries, Kenya's own blend of Keeping up with the Kardashians and The Real Housewives of Atlanta.
The show has launched several socialites out of Nairobi's slums and on to yachts off the coast of Malibu or the Mediterranean.
"Nairobi Diaries is like the Kardashians playing out [on screen] in real time. If I look hot, I look good, there has got be some rich guy who will pay good money to possess me," says Oyunga Pala, Nairobi columnist and social commentator.
The best known of the Kenyan socialites is probably Vera Sidika, who went from dancing in music videos on to the set of the Nairobi Diaries, and from there launched a business career based on her fame and her physique.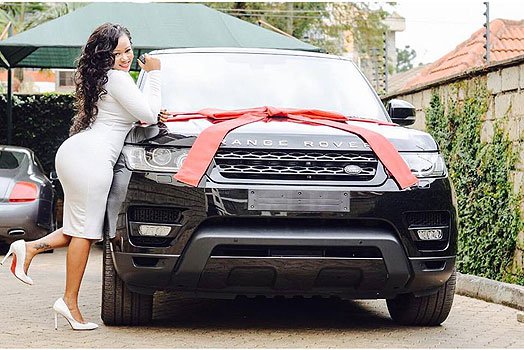 My body is my business – and it is a money maker," she said back in 2014, when discussing her controversial skin-lightening procedures. Nowadays, Vera is keen to promote herself as an entrepreneur and runs a successful brand of "detox" herbal infusions called Veetox Tea.
Equally famous is model and socialite Huddah Monroe, who also rose to fame on reality TV – in her case Big Brother Africa, in 2013 – and who now runs a well-established line of cosmetics.
"If you have to expose your body, make money out of it," she was reported as saying, referring to the semi-nude images that she shows off to her 1.3 million Instagram followers.
In the past, some of Kenya's socialites have styled themselves as #SlayQueens, and have been quite upfront about the financial benefits that have come from dating tycoons.
Having made it to the top, though, they often begin to cultivate a different image – presenting themselves as independent, self-made businesswomen and encouraging Kenyan girls to work hard and stay in school.
The millions of fans scrolling through their Instagram posts, though, are not blind. The sudden emphasis on entrepreneurship does not hide the fact that these women used their sex appeal to create opportunities in the first place. And many – quite understandably – are attempting to apply this methodology to their own lives.
One of those who has succeeded is Bridget Achieng, a woman from the sprawling Nairobi slum of Kibera, who worked as a domestic servant – a house girl – but who gained a social media following on the back of a sexy photoshoot, and then found her way on to the cast of Nairobi Diaries.
Her message to aspiring socialites, though, is that nothing is free. "You want a million bucks, you will do something that is worth a million bucks."
If one end of the sugar spectrum features young women with their sights set on a hot pink Range Rover, a luxury condo and first-class tickets to Dubai, at the other are women angling for little more than some mobile phone credit and maybe a lunch at Java coffee house.
But the gulf between them may not be so deep as it seems.
"Should I leave all these Gucci Prada? Na which young girl no dey fear hunger?" sang the Ghanaian singer Ebony Reigns, encapsulating the mixture of social aspiration and economic anxiety that many young women feel.
The desire not to go hungry and the desire to taste the good life can easily run side by side. And the fortunes of a woman dependent on a sponsor can change in an instant – either for better or worse.