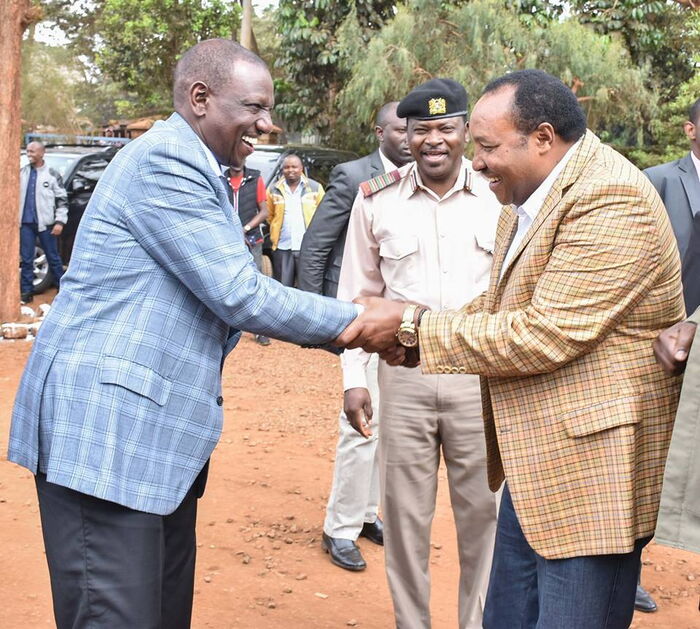 They Say that a friend in need is indeed and that a real friend will be there for you during your darkest moments in life.
It is no longer a hidden secret that now Embattled Kiambu Governor Ferdinand Waititu is friends with Deputy President William Ruto and as such it is expected that Ruto will defend Waititu and vice versa.
Waititu's woes all started after he was summoned by Senate's Public Accounts Committee that uncovered some bizzare expenditure in his Kiambu Backyard.
A seemingly shocked Waititu deniede having prior Knowledge of the unusual expenditures and blamed it all on his Political enemies who he said were out to tarnish his good name.
Among the Expenditures on Waititu's budget were allocations for Statehouse and Peace Keeping Mission in South Sudan.
Calls for the Governor to resign started filling the air only for one man, William Ruto to come to his defence.
Ruto said Waititu should only be asked questions relating to the county.
"Huyu baba yao ni governor wa Kiambu….kwa budget ya Kiambu hakuna mambo ya retired president, hakuna mambo ya South Sudan, hakuna mambo ya State house…Waititu anafaa aulizwe tu mambo ya Kiambu..hizo mambo zingine ni kazi yatu kule Nairobi," Ruto said.
Ruto said Waititu should not be asked "meaningless" questions.
"Hata nashangaa huyu baba yao atajuaje haya maneno na kazi yake ni hapa Kiambu? " he posed.
"Ile ya national government tuko na waziri wengi huku na watajibu hayo maswali… Bibilia inatuambia kila mtu atatabeba mzigo wake..Huyu Baba yao asiwekewe mslaba ambayo si wake." He added.
Well, today saw Waititu arrested by Anti-Graft Agency EACC.
The Governor is being accused of irregular award of tenders valued at Kshs. 588 Million to companies associated with him and his close family members.
He is also accused of Fraudulent acquisition of Public Funds, Conflict of Interests and Money Laundering.
Search Operations were conducted on the homes of Waititu, his family members, directors of Senior Companies and Senior members of the Kiambu County Government  (See Press Release Below)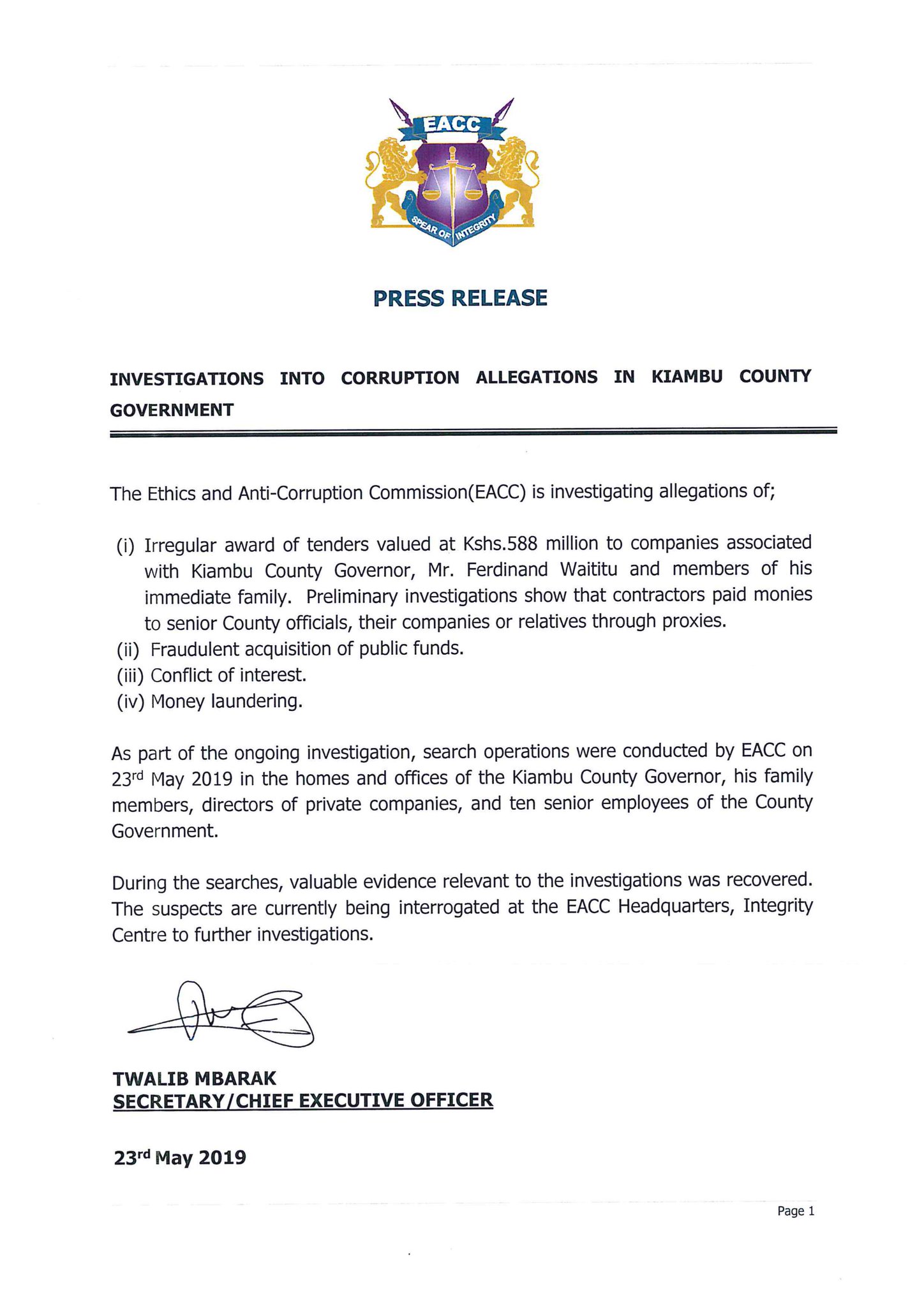 Well, with his latest shortcomings, Waititu will certainly be relying on his good powerful friends to come to his aid . Reports have already emerged that he has reached out to DP William Ruto to come to his aid at his hour of need.
It is alleged that Waititu called Ruto for assistance with the Deputy President Assuring him that they were together during this trying moments.
Waititu and Ruto are good buddies and as such, it will be no surprise if you see Ruto going to visit his friend who is now a guest of the State.
Babayao's arrest will certainly be a topic of disccusion across various political circles for the next few days.