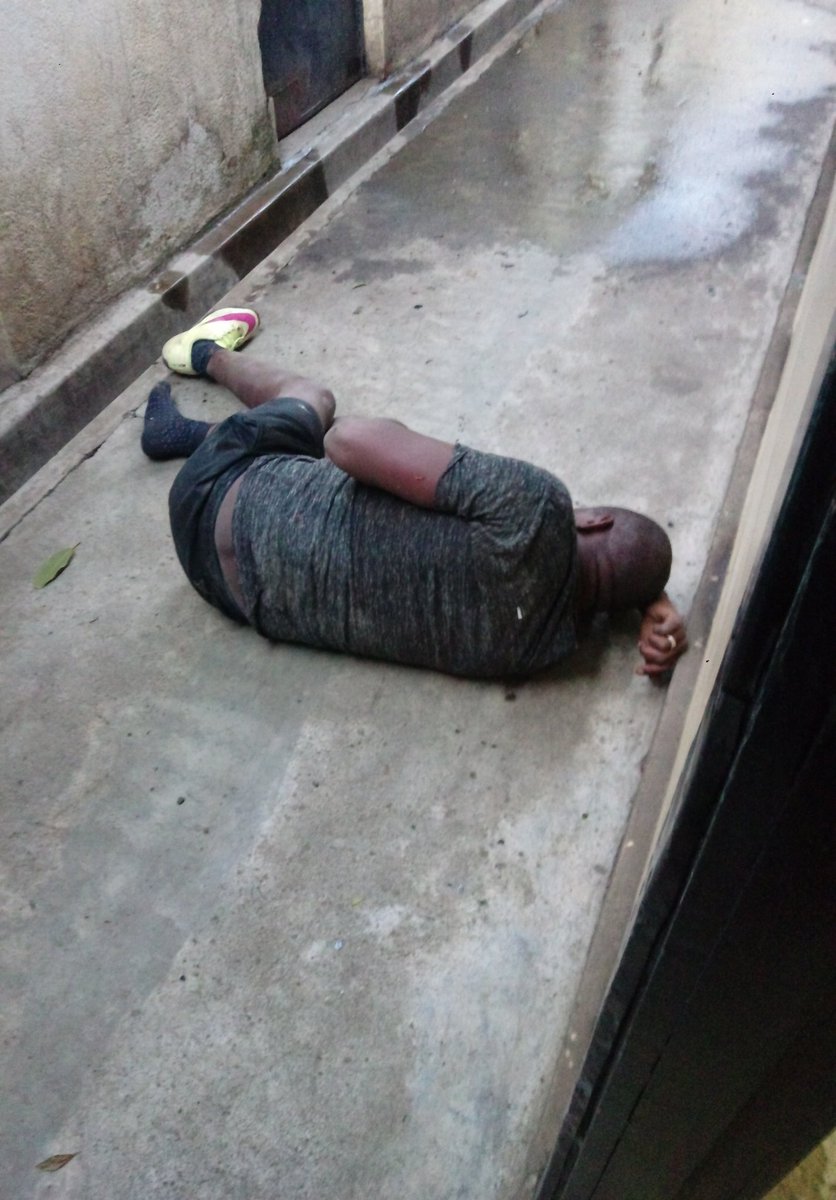 A photo of Nakuru Town East member of Parliament David Gikaria has surfaced after he was spotted lying on the dirty floor of a police cell in Nakuru moments after his arrest.
Gikaria was arrested in Nakuru town over the weekend following a land grabbing fracas and is expected in court for assault and the land grabbing saga that has followed him since 2017.
It is alleged that junior police officers mishandled him after the MP slapped a deputy sub-county police commander during the incident.
Deputy County Commander Kirinya Limbitu said that police swung into action to disperse the youth upon receiving reports that Mr Gikaria and area MCA Humphrey Mwaniki were planning to lead youths in constructing illegal structures on private property since the case on the ownership of the land had not yet been resolved by a court
The construction was to take place on part of the three acres piece of land belonging to former Nakuru mayor Mohammed Surraw.
MP David Gikaria in the Nakuru police cells. He assaulted OCPD forcing junior officers to manhandle him. pic.twitter.com/WYqNwW71ek

— Robert Alai (@RobertAlai) May 18, 2019
Mr Surraw who claims to be the owner of the property alleges that the MP Mr Gikaria and the MCA Mr Mwaniki were after his property and were planning to grab it by inciting residents against members of the Somali community living in Pipeline and asking them to invade his property.
"There are several pending court cases regarding this land. I fear my life is in danger as there have been threats to burn down my petrol station since the MP incited the youth to construct illegal structures," said Mr Surraw.
UPDATE: Nakuru town East MP David Gikaria arrested. More details to follow. pic.twitter.com/l9UpzVtJxF

— K24 TV (@K24Tv) May 18, 2019
"I urge the Inspector-General of Police to investigate the matter of incitement thoroughly because nobody is above the law, not even Mr Gikaria."
Police used teargas to disperse the group that had blocked Nakuru-Nairobi highway using logs and stones.
Several of the youths who were arrested while a massive heap of building materials and a motorcycle were impounded and taken to Central Police Station.
Mr Limbitu confirmed that Mr Gikaria slapped a sub-county deputy police commander during the fracas and that he will, therefore, be charged with assault.
Nakuru Town East Mp David Gikaria seized by Police after confrontation .. #FACupFinal pic.twitter.com/6w8PzdetUP

— Gilbert Ngenoh (@GilbertsNgenoh) May 18, 2019