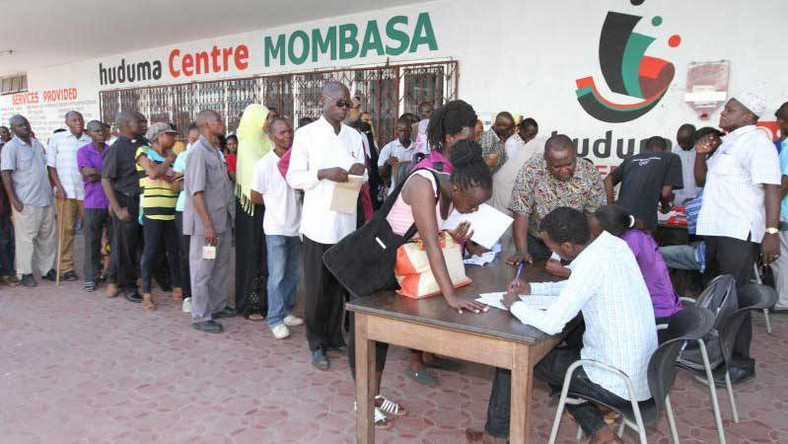 As the deadline for Huduma registration gets closer each day, so do the queues get longer as desperate Kenyans make a last minute rush to avoid being 'locked out' of government services. Interior CS Fred Matiang'i said on Monday that those without Huduma Namba will not get government services because it will be hard to look for physical files.
Matiang'i also said they will not extend the mass registration service because the government has not budgeted for the the extra days. The clerks earn 1000 shillings per day.
It is on this basis that some clerks have resorted to milking desperate Kenyans of their hard earned cash, before they register them to the controversial NIIMS system.
#HudumaNamba someone explain to me why an agent refused to register me because I did not have the ksh300 she was demanding. Is this a cash cow. I have proof that someone demanded money so as to register me…

— Chris Musau (@ChrisMusau4) May 15, 2019
We have received so many complaints that Huduma clerks are demanding for bribes and if you don't pay, you don't get the number.
Huduma Number officials are asking for bribes to register us here in Parklands City Park Drive. When we ask them why they tell us they have special requests.@RobertAlai @ItsMutai #HudumaNamba

— LINUS KEMBOI (@KemboiLinus) May 15, 2019
It is not only bribes, but some clerks have colluded with Cyber Cafe owners. When you go to register, they tell you to print the forms from a nearby cyber because they don't have forms. This means you have to part with some money.
I'm not vocal on social media but today I must say something. Weeks ago I went for my huduma number n was told there are no forms. Days passed and I was like now they have forms let me go apply. Shock on me! I was told to print the forms at a nearby cyber. #HudumaNamba

— J Glamorous (@lalleity) May 15, 2019
Blogger Robert Alai also revealed that the clerks are leaving their stations, to go register people in different companies after receiving something small.
If you have Ksh 500, Huduma Number team will visit your house/office to register you. If your clerks are missing from their spot, know that they have gone to people who paid them to register them. @FredMatiangi

— Robert Alai (@RobertAlai) May 15, 2019
Alafu pia hawa clerks hawapendi watu weusi. If you go to register and you are light skin, then you will get the number quicker than your darker sister.
Hello Alai, we are on #HudumaNumber line at Muthaiga Police Station. This light skinned woman has come, found a long line and just jumped the queue like we are trash. The clerks don't even care!! #AlaiSaidia pic.twitter.com/eDf1Hnh9tM

— Robert Alai (@RobertAlai) May 15, 2019
Despite the long queues, someone has acknowledged that he registered for Huduma Namba and got the acknowledgement form in less than 1o minutes after parting with 500 shillings.
This is the Huduma number acknowledgment slip which my boss has obtained in less than 10mins afer parting with 500ksh…system ya majambazi #HudumaNamba pic.twitter.com/zKAF779a2d

— Jack nguli (@n_nguli) May 15, 2019
Sasa kama wanataka bribes sai, what will happen when we start looking for these services? Si corruption will kill this country. Ama let's just say the country is already dead. Tunangoja tu Mazishi.
If they are already asking for bribes to be given a #HudumaNamba , how bad will it be when we start looking for those "Hudumas" 🤔

— Niko India !! (@Levogu_) May 15, 2019
This #HudumaNamba is torturing Kenyans. Someone woke up at 4.30am to go and apply. They've gone back home 1 pm. And to imagine that all the hustle is for nothing much.