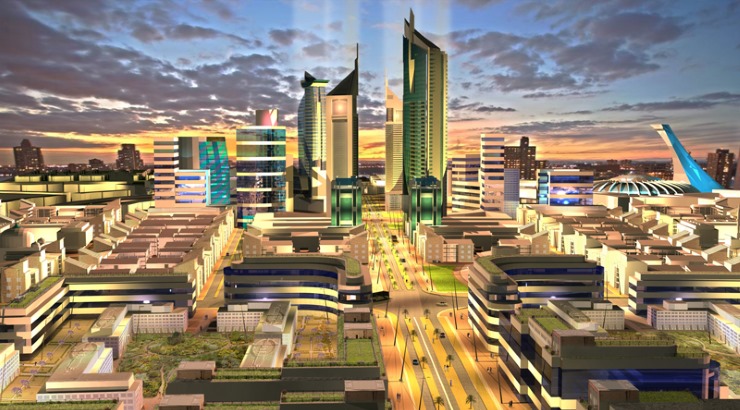 Kenyans, we love anything that sounds too good.. even when we know they would probably never take place.
Hence being duped, and tricked into all sorts of 'ventures' and 'investment' opportunities. Or worse, we leave it to the hands of our very own corrupt politicians, even when we know they are corrupt and would probably pocket the money involved.
It was an ambitious plan to create a technology based city in Malili, Machakos County billed to create over 200,000 jobs and attract multinational investments firms to Kenya.
Pomp and optimism marked the launch of what was touted to be Africa's Silicon Savanah in January 2013 with the Konza technicity finally getting its footing after years on paper.
In mind, the government had a replica of the Usa based Silicon Valley. A city that would offer both tax exemptions and holidays to investors and herald the country into one of the few global ICT zones in the continent.
Seven years later however, little activity has been recorded at the expansive Konza Technopolis and only the proposed administrative block stands on the 5,000 acre piece of land previously set aside for a cattle ranch.
Initially set at a cost of Ksh.850 billion this has gone up to Ksh.1.4 trillion.
The plan was to build the city through a four five year phase with government pledging to lay out infrastructure and interested private partners building their own facilities.
Years later this yet to be achieved.
"The main issues we have experienced are mainly finance related, lack of funding from has really affected the project and where we would have been in terms of progress. So far the government has given Konza Ksh.4 billion," said John Tanui- MD Konza Technopolis.
But according to Dr. Bitange Ndemo whose office at the time conceived the idea and birthed it, the challenge has not been finance
"Funding for the project has never been an issue. I managed to get Ksh.17.5 billion for the project without any problems. So funding isn't really the issue," said Ndemo- UoN Associate Professor.
"The institution had no idea how to handle Konza. It was complex and it still is. The NLC was saying we should follow the processes of acquiring public land, which would take years to complete,"
This was however dealt with and the land transferred to the Konza Technopolis Development Authority (KOTDA).
Among the initial global firms that showed interest at Konza included internet search giant Google, Chinese Network and handset maker Huawei and blackberry manufacturers— Research in Motion and Toyota.
Local investors included among others universities such as UoN, JKUAT, Safaricom and Nairobi Hospital
Their interests are however declining over time.
" If this project was not viable , the Koreans you see here today would not have bothered to set up an institution here," defended Jerome Ochieng- PS ICT.
"Investors have not lost interest with Konza. We have to make sure that the project is up to standard because some of these multinationals coming to set up here are very particular about their work environment," said Tanui.
According to Ndemo, Konza still vital to Kenya's economy especially in catapulting us to the next level.
"It is still valid , this project will take off because the country needs it. The forth industrial revolution is going to be in ICT and I don't want to sit back with regret that we did not take advantage of it," said Ndemo.
But as Kenya still grapples with turning the Konza dream into a reality, neighbouring countries such as Rwanda have ran away with similar concepts launching the Kigali innovation city in 2015.
Designed to host universities and tech companies and at a cost of ksh.200 billion shillings, it is well ahead of its 2020 completion date.