The clock is ticking and as usual the last minute rush is being witnessed by Kenyans all over the country queuing in long lines to register for the rolled out Huduma Namba government service requirement.
Those in diaspora have not been forgotten as the National Assembly Speaker Justin Muturi was reportedly in Kyiv, Ukraine, on Monday, to launch Huduma Namba registration for Kenyans living in the country.
This was an initiative by the Ministry of Interior and Coordination of National Government in a bid to make it easier for Kenyans in the diaspora to acquire e-passports.
The speaker expressed his concerns over the fact that most of the students on scholarship abroad might end-up with invalid visas when the deadline for the e-passports lapses on September 1.
Muturi also spoke on the hardships that Kenyans in the diaspora are going through to access the registration centres in embassies and consulates.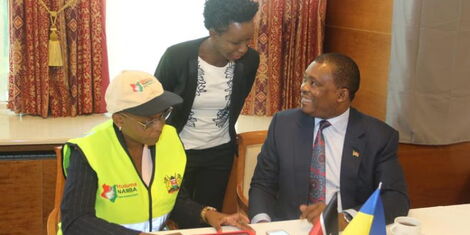 He went on to assure the Kenyans that Immigration PS Gordon Kihalangwa had informed him that the government has set up mechanisms to expedite the process before the set deadlines.
" I spoke to PS Kihalangwa last evening when I saw the list of the six stations that are currently registering Kenyans abroad, and he has assured me that they are scaling up efforts to reach out to as many of you as possible," Muturi added.